Chasing a green Jacket
Masters 2021: 5 players who can still scare Hideki Matsuyama come Sunday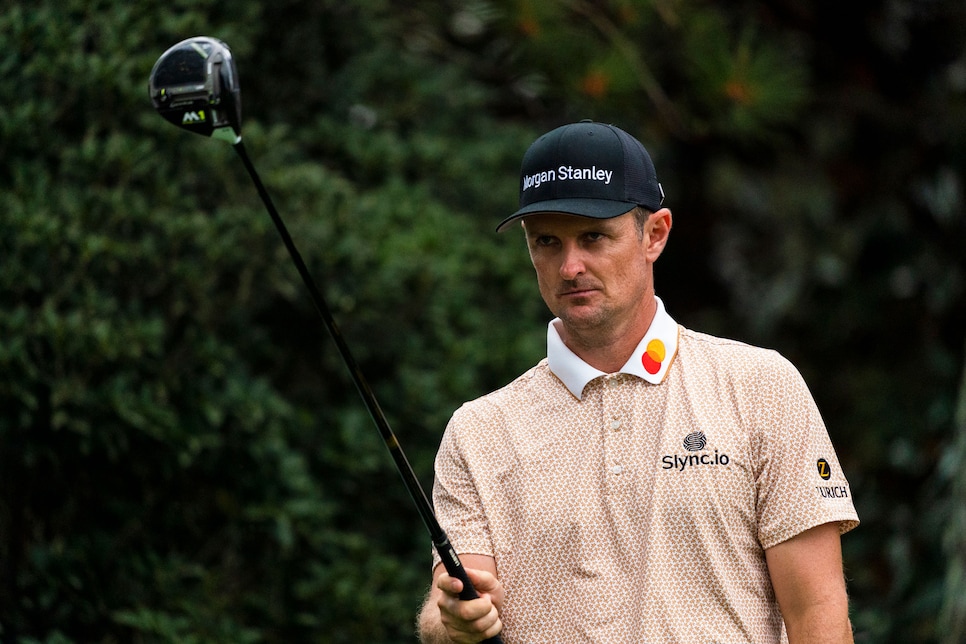 Justin Rose relinquished his lead on Saturday at the Masters, but is still a threat to win on Sunday.
JD Cuban
The next winner of the green jacket will likely emerge from a handful of men, with Hideki Matsuyama not quite having one arm in a sleeve, but he's definitely fingering the lapel and checking for loose threads.
The Japanese veteran, like all but one of his nearest competitors, seeks his first major title in the 85th Masters. And he has to like his chances, having built a four-shot lead over Xander Schauffele, Marc Leishman, debutante Will Zalatoris and Justin Rose, the first- and second-round leader who holds the only major in the bunch, the 2013 U.S. Open.
After a bogey-free 65 that delivered a jolt to the field—and had to reverberate all the way back to Ehime—the 27-year-old Matsuyama not only seized the lead at 11-under 205, but eliminated all but a few contenders. Then again, a four-shot lead can evaporate rather quickly. Just ask Rory McIlroy, who led by that margin in 2011 and crashed on the back nine on Sunday. (Because the Masters doesn't begin until the back nine on Sunday. Yada, yada, yada.)
So who out there is most likely to put a scare in Matsuyama come Sunday? It's possible that the most dangerous man behind him is Rose, who finished runner-up to Sergio Garcia at the Masters in 2017, losing in a playoff. The Englishman also finished T-2 in 2015, the year of Jordan Spieth's romp. At 40, Rose doesn't have many chances left, and as he said Saturday night, he'll be "freed up to take a run at it," after playing from ahead since Thursday. And it's hard to identify a player who is putting better—as those par-saving putts on the final two holes Saturday proved.
Then there's Schauffele, joint second behind Tiger Woods two years ago and owner of five top-five finishes in just 14 major starts. The Californian is in an intriguing position, one that might work to his advantage. Thirty-five of the last 40 Masters winners have come out of the final pairing, and the four-time PGA Tour winner gets to play alongside Matsuyama, which he also did on Saturday.
Interestingly enough, Schauffele can speak a little Japanese (his grandparents lived in Japan), and he was able to share a few words with Matsuyama on Saturday. "Just some proper words, nothing … some bad ones too, unfortunately," Schauffele said. "I'm not going to say now." No one, then might feel more comfortable playing with Matsuyama than Schauffele, who has eight runner-up finishes since his last victory. The man is more due than lost mail.
Two others to watch for are Zalatoris and Leishman, each less of a threat but neither to be overlooked.
Zalatoris is playing in his first Masters and looks rather cool in the moment. Having finished T-6 at the U.S. Open at Winged Foot probably has something to do with it. The kid can really whack it. And he probably left a few shots on the course in his third-round 71. But is the 24-year-old Texan ready? Better players than him found out they weren't.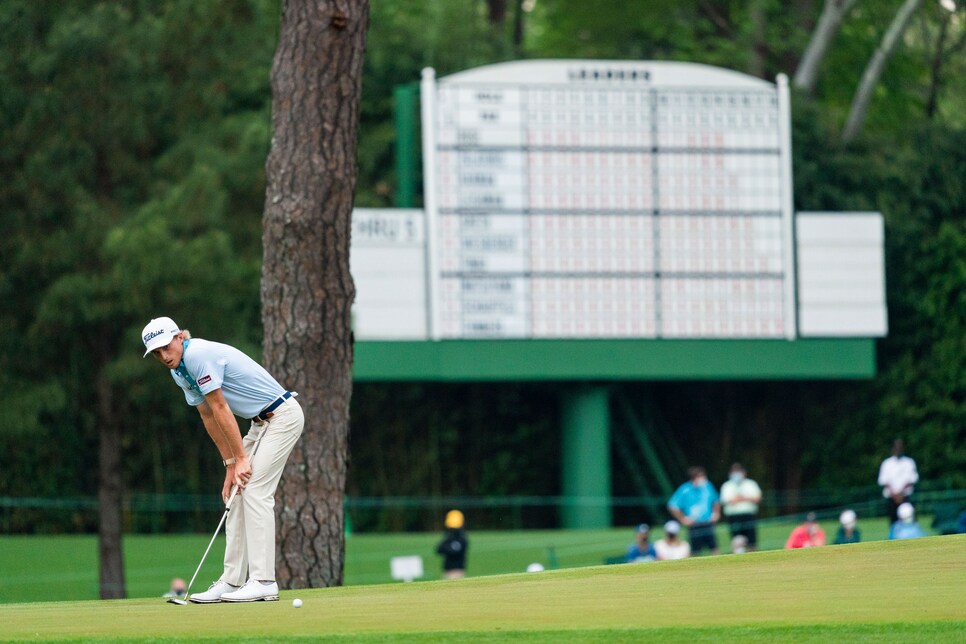 If Will Zalatoris could catch up on Sunday, he would the first Masters rookie to win since Fuzzy Zoeller in 1979.
JD Cuban
Leishman, 37, has a chance to transform his career from nice (he has five tour wins) to memorable, and the Aussie has the tools, obvious after a third-round 70. But his Masters record is mixed. He did mention playing with Adam Scott and Patrick Reed in the years they won. "I've seen what you have to, I know what you have to do … you have to make the putts."
We figure one other player could be a problem for Matsuyama. That would Jordan Spieth. Because he is Jordan Spieth, and he has rediscovered the ability to do Jordan Spieth things. Like Rose, the three-time major winner didn't have his best stuff on Saturday, shooting level-par 72. He sits at five-under 211 and trails Matsuyama by six. Buckle up for that potential charge.
Oh, yeah. There is one other guy who can beat Matsuyama, and that is himself. He hasn't won a tournament in four years. He's never won a major. No one from his home country has ever won a major in the men's game. There's a lot on his shoulders.
Whatever unfolds on Sunday, it likely won't be without drama.