News
Masters 2020: Justin Thomas broke his odd Masters curse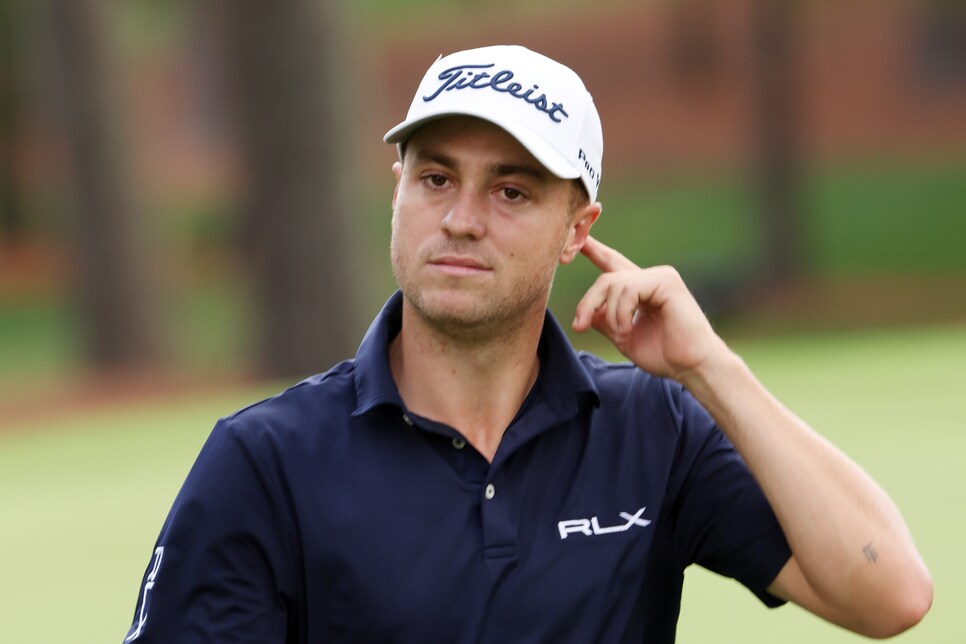 AUGUSTA, Ga.—Justin Thomas is incessantly animated, like an inflatable waving tube man in an auto dealership parking lot. He wears not so much his emotions as expectations when he plays, and those expectations are high and never to be satisfied. The man could win the Mega Millions lottery three times over, then curse to the skies at a bad take-a-number ticket for the deli.
So despite breaking par for the first time in the first round of the Masters, despite that score being a six-under 66 that left him one back of 18-hole leaders Dustin Johnson, Dylan Frittelli and Paul Casey … Thomas walked off the 18th green on Friday morning looking very much like he needed a few minutes with a speed bag.
The 2017 PGA Champ was five under through 10 holes when play was suspended Thursday night. A performance that left Thomas disgusted. "It's not like I'm playing particularly great," Thomas said. "I mean, obviously, my score is good, but just I made a couple of putts and took advantage of a couple of holes that I needed to." It is for society's best that Thomas chose golf as his line of work; imagine his grading standards if he decided to be a teacher. Egos of children would be crushed.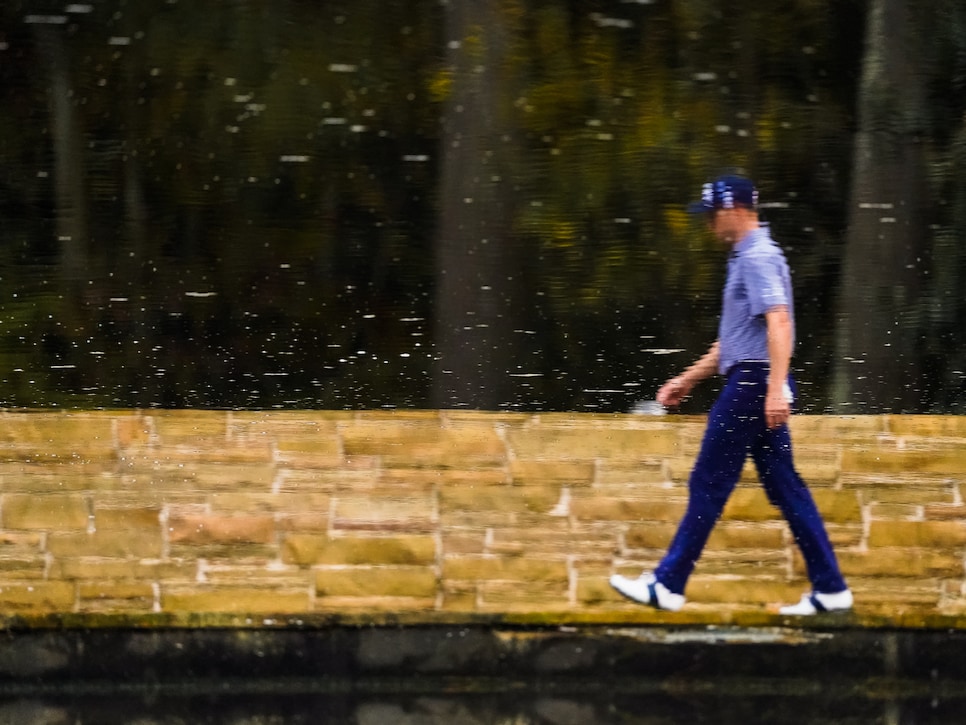 Justin Thomas, reflected in the pond, walks across the bridge on the 15th hole during the completion of his first round on Friday morning.
JD Cuban
Still, Augusta National remained gettable Friday morning, instilling the belief that Thomas—he of the "so so" game—might go low, real low. That didn't come to fruition, and he let the few on the property know his feelings about it.
Thomas restarted with a par Friday morning at the difficult 11th and followed with a beautiful tee shot at the par-3 12th, leaving himself an uphill 12 feet for birdie. The bird was not to be, his attempt coming up short and to the left. Thomas chased it with a full swing of the putter. At the 13th, which has statistically played as a par 4 ½ over the last few seasons, Thomas took 5. A wayward drive led to a punch out, and his approach was disappointing enough to draw a sideslap of the pants. He was indignant at the 15th when his second airmailed the green. Had the scoreboard not been there to tell us otherwise, one would have guessed he was five over by his disposition.
Here's the deal about Thomas, thoough. Two points, actually. One, that fire is self-directed. He takes it out on himself and himself alone. Two, it is not a hindrance. Quite the opposite. That fire is an extension of his drive, that gives him the conviction to do the fantastical things he's done in his short but stellar career.
He bounced back from the poor second at 15 by sticking his third from 40 yards to a foot, moving him to six under. He gave a small head nod to his caddie Jimmy Johnson and a glance at his ball as if to say "It's about damn time." Alas, that ball must have not heard him, Thomas' birdie attempt at the 16th failing to break into the cup from 12 feet. Another stare, his hand on his right cheek with a look of betrayal and anger.
After a workmanlike par at the 17th, Thomas had another birdie miss at the 18th, his seven-footer sliding by. Thomas didn't have time to talk after his round. He had to tee off in less than 30 minutes, just enough time for a quick bite and a reprimand to his golf balls that they work for him.
Disappointed as Thomas may be with his morning eight holes, he's miles ahead of where he's previously been at this tournament. Thomas entered averaging 74 in Round 1 in four previous Masters starts. Breaking par seems like a low bar for someone with green jacket aspirations ... but you can't climb on the mountain if you fall on your first step.
Now comes the hard part. Fifty-four holes against a loaded leader board at the Masters. It won't be harder than Thomas is on himself.
MORE MASTERS 2020 PREVIEW CONTENT FROM GOLF DIGEST: