News
Masters 2018: Why Tiger Woods is all smiles lately
There's something different about the 14-time major champion's latest comeback, and it's not just the success he's having on the course. It's the positive attitude he's showing off it, too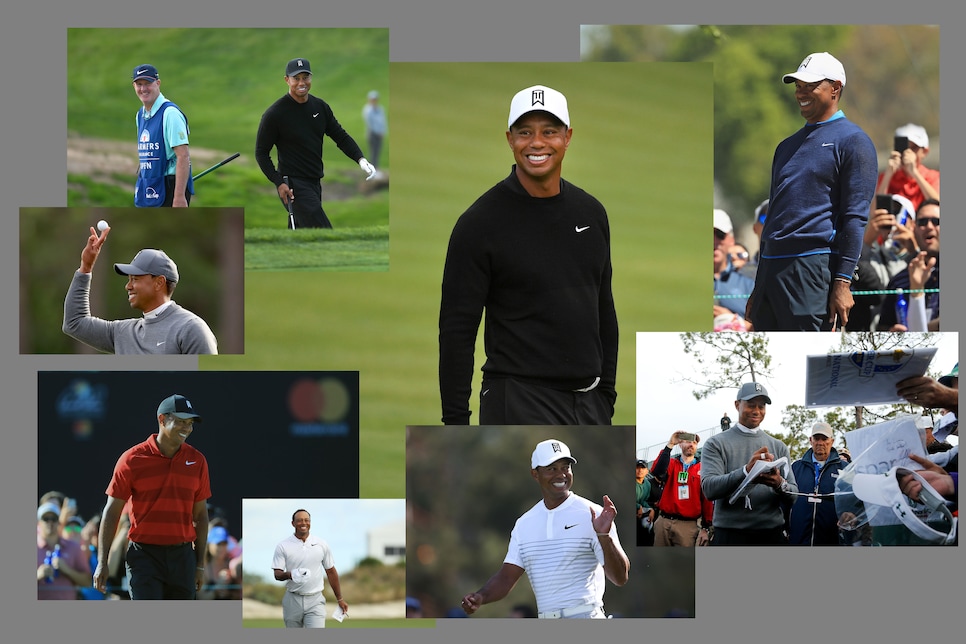 It was an early morning, the kind where the sky is still black and generator-powered lamps bathe the tees of a driving range with light to let PGA Tour players get loose for another pro-am. There were more people around than usual for that hour, by and large because a certain someone was there warming up: Tiger Woods, whose return to the tour has become an intriguing subplot to the 2018 season as he has moved from novelty to regular participant and sometimes contender.
Among those there was a prominent figure in the game who calls not only lives near Woods but has known the 14-time major winner for decades. After watching Woods go through his routine, it wasn't the power of his new swing or the trajectory of his shots that stood out. It was something far more ordinary: That when Woods walked past him, he said hello.
For most anyone, the gesture would be considered routine. Except that little about Woods' entire life has been that. For years, Woods had said nothing to this particular person, even though they ran in the same circles, had crossed paths hundreds of times and there was no particular reason for the silence, no beef, real or imagined. The acknowledgement was a small act, but not in relative terms. Coming from Woods, it carried weight.
"You can't be a normal human being when you're that young and thrust into what he had to deal with and be well-adjusted," the recipient said. "There seems to be a difference around him now, though. He seems more normal, as opposed to the way he used to be. Part of that was the level he was at, the community he was in, the circus that was around him. There's a lightness around him now, whereas there used to be a heaviness around him."
This person is not alone in this sentiment. Several tour pros we spoke to have noticed something different about Woods over the last few months as the former World No. 1 has re-acclimated himself to tour life. A proverbial chip appears to have been lifted off Tiger's broad shoulders.
"From a few years ago he looks happy, he looks at peace and doesn't look like he's in pain," said Jim Furyk, who has spent plenty of time with Woods as assistants together on the 2016 U.S. Presidents Cup team and preparing for the upcoming Ryder Cup in France. "He looks like he enjoys being out there again, and I think when he was struggling he didn't have that appearance. He seems like he's in a good place, and that's good to see just as a friend."
'I didn't think he was going to come back. At all. To even try to feel like a normal human was difficult.' —Jason Day
There's an old saying that Hollywood playwright and sage Wilson Mizner reportedly gave to a young up-and-coming actor and has been repeated often since: Be kind to everyone on the way up; you'll meet the same people on the way down. At 42, and after four back surgeries and myriad injuries and comebacks, Woods might not be on his way up—although his latest revival has been impressive—but evidence suggests he seems to have figured out another cliché: Better late than never.
"I think he's more at peace with his role in golf," says Brandt Snedeker, who was in his second year on the PGA Tour when Woods won his last major at the 2008 U.S. Open at Torrey Pines. This year the two have been paired for five of Woods' 18 rounds. "There was a time when he was so focused on winning he lost out on some of the relationships that go on out here. He's embraced that the last five years, kind of opened up to a mentor role to the younger guys."
Along those lines, Woods seems to have forged a different relationship with the game's current group of stars than those of his own generation.
"I've been a Tiger fan for the last 20 years," said Rory McIlroy, who teed it up with Tiger for a casual round last Thanksgiving and has played with him a few times since in South Florida. "I think anyone who is maybe my age and even a little bit older and a little bit younger was inspired by him because of what he did on the golf course and how he approached the game. He was golf for the better part of a decade, if not more. So it's cool to have been able to get to know him and call him a friend."
That this is the case is something special McIlroy wasn't sure might ever come to pass. "It's sometimes surreal," McIlroy said. "I remember meeting him for the first time, and then I remember playing with him for the first time. It is funny because I remember all the big moments that he's had, and you're teeing up alongside that guy. That was eight, nine years ago, so I've sort of gotten used to it by now. But still, whenever you get a chance to play alongside one of your heroes, it's always nice."
After Justin Thomas won the Honda Classic in February, he celebrated at Woods' restaurant in Jupiter. The owner wasn't there, but he did join Thomas at the Woods Jupiter after the 24-year-old won his first major last August at the PGA Championship at Quail Hollow. Thomas has since been a regular at the joint and has spent time at Woods' home and on the golf course with him.
"I didn't know what to expect," Thomas said of Woods. "I've just been blown away how open he is toward me and how willing he is to help me. I never would've thought I'd be flying with Tiger Woods on his plane to his golf tournament [the Hero World Challenge] because he wanted me to."
It's certainly a different picture than the one from last May, when Woods was arrested on suspicion of DUI near his home in Jupiter after being found asleep at the wheel of his black Mercedes, the engine still running and with fresh damage to the wheels and the vehicle, shortly after 2 a.m. The ugliness was captured on a police dash cam as Woods failed multiple field sobriety tests and didn't know where he was. The charges were later reduced, but a toxicology report showed five different drugs in his system at the time, including Vicodin and Xanax. It was clear that Woods, who just two years ago was said to be mostly a "ghost" around town and at his usual haunts, was in an abyss, one that even those who had spent time around him wondered if he'd be able to pull himself out of.
"What he's doing now to what he was doing a year ago, he'd wake up with pain every single day," said Jason Day, who had been at Woods' house on various occasions while he was recovering from spinal fusion surgery. "I didn't think he was going to come back. At all. To even try to feel like a normal human was difficult."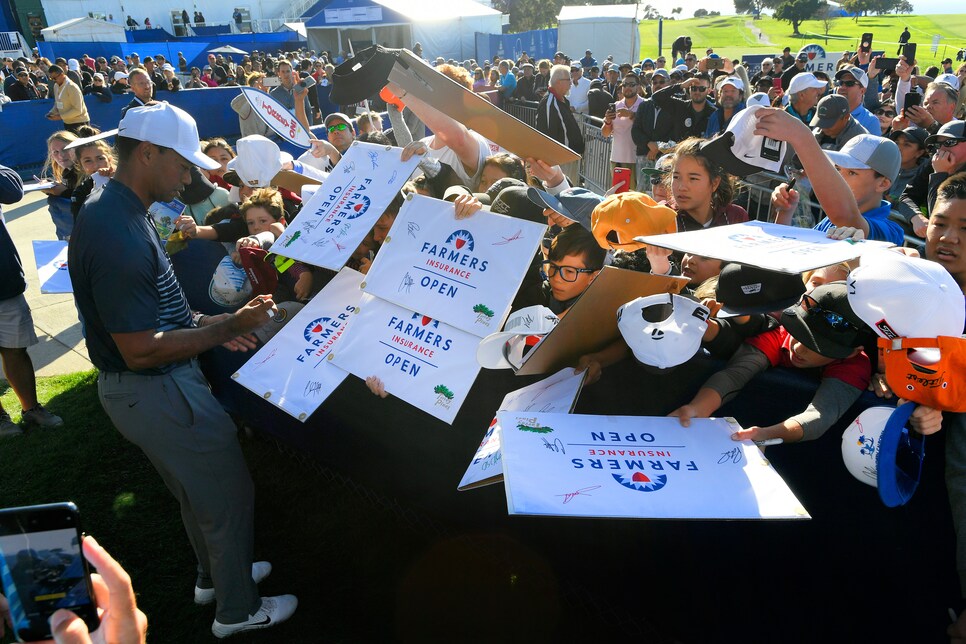 "Tiger is living life," noted player/turned broadcaster Paul Azinger. "Sometimes you need to ask yourself if you're in a good place. Tiger wasn't, but he seems to be in a much better place now. I've heard that getting off painkillers is as hard as getting off meth or crack. A fused back, too? He's a living, breathing miracle."
In the aftermath of the arrest, Woods, who was sentenced to one-year probation after pleading guilty to reckless driving charges, checked himself into an "intensive" rehab program to better manage his pain and sleep medication, and he seems to have come out the other side.
"The DUI was the beginning of the end," one source in Woods' orbit added. "And it was the start of something new. Pain is an epidemic in this country."
In the fall, as doctors allowed him to get back out on the course to practice, Woods was again a regular at his home club, The Medalist. At one point prior to his first competitive round last December at the Hero World Challenge, his tournament in the Bahamas, he played nine days in a row. Then came regular starts at Torrey Pines, another at Riviera, followed by another at the Honda Classic, where he played for consecutive weeks for the first time in nearly a year and fared well, finishing 12th. A couple of weeks later at the Valspar Championship, Woods found himself in contention throughout the weekend before taking one stroke too many to finish in a tie for second behind Paul Casey.
"I wondered if he would make it back and play again," Casey said. "It's not just the physical side effects, it's the mental side effects. Will he have mental scar tissue? Clearly not."
'Tiger's at a different point in his life right now. He's probably looking at it with some perspective, that this is a bonus that he's even playing. … It's a very different approach than 15 years ago.' —Adam Scott
All along the way of this latest, likely final comeback, there have been more signs, whether authentic or derived from other motivations, of a friendlier, gentler and perhaps slightly more open Tiger, be it with the media—where his answers have been more thoughtful and engaging—or competitors and even fans.
After finishing late Saturday to get within two strokes of the lead at the Valspar, a throng of Tigermaniacs waited through a series of post-round interviews with the press. Woods obliged by spending a sizeable chunk of time signing autographs, something he would have been far less likely to do from the same position in his heyday.
Early in the week at Arnold Palmer Invitational, his last start before the Masters, Woods was asked about heightened expectations given his good play and if he needs to play well to actually enjoy it.
"You guys are asking different questions than you did when I first came back and that wasn't that long ago, that's two months ago," Woods responded. "The narrative has completely flipped from how you guys ask me questions and I just wanted to remind you guys that it wasn't that long ago that you were asking a different set of questions and that you need to enjoy it. No, I enjoy just playing again after what I've been through. Playing feels good."
A few days later at Bay Hill, Woods was making a Sunday charge that felt an awful lot like his performances of old. That is, until he inexplicably hooked his driver left and out of bounds on the par-5 16th hole, unceremoniously taking himself out of contention. Afterward, rather than a brooding Tiger that would have greeted the media defensively, Woods gave what felt like a genuine answer about being uncommitted to the shot and unsure of what to do on the tee box in the moment. The admission of his mistake was a surprise—and another indication that Woods seems to be in a new place.
"He's been friendlier and more tolerant of the chaos around him," said PGA Tour veteran Geoff Ogilvy. "I don't know if it will wear off; we're all happy after a break to see our friends and he seems happy. Just the fact he committed to a tournament he hadn't played [Valspar] is a sign something cool is going on."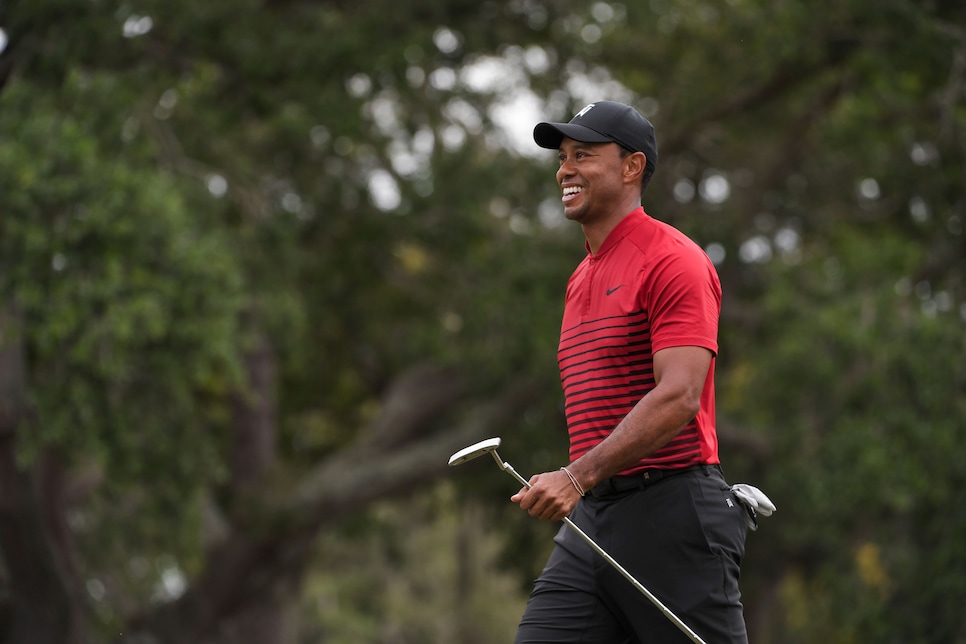 "Tiger's at a different point in his life right now," added Adam Scott. "He's probably looking at it with some perspective, that this is a bonus that he's even playing. He's done some vice captaincy stuff [in the Ryder Cup and Presidents Cup] and more than ever gotten to know players, and that's where he has put his priority. It's a very different approach than 15 years ago."
It's not just the positive things, like a smile and a wave, that Woods is doing more of. It's what he's doing less that's also being noticed, the swift walk to and from the clubhouse to the range, and the icy glares that accompany them seemingly disappearing.
"He realizes the bold approach he had all those years was necessary, but now it's not who he is anymore," theorized his former coach Sean Foley. "I think he's glad to have a chance to play after having been gone so long."
The dime-store psychology among many in and around the game aligns similarly. After all, Woods, for as long as anyone can remember, has been a golfer and not just any golfer but the best golfer. It wasn't what he was but who he was, who he has always been. A few months shy of his third birthday he made his television debut, appearing on the Mike Douglas Show, along with Bob Hope, Jimmy Stewart and of course his late father Earl. A couple of years later came another one on "That's Incredible," where Woods said he was going to beat Jack Nicklaus and Tom Watson by the time he was age 20. Both men were well past their prime by then, but Woods' assault on the record book actually ended up exceeding expectations.
Then everything outside the ropes—and soon inside of them—crumbled, some of Woods' own doing, some not. His father passed away in 2006. There was the extramarital scandal in 2009. Divorce. The mounting injuries and surgeries. The pain. The medication. The DUI stop.
"Who knows how disappointing it was and how bad it was," Ernie Els, who has known Woods for two decades and lives not far from him in South Florida, said.   Golf Channel analyst Brandel Chamblee has his theories.
"In the darkest hours of the last few years, he would've had to lean on his friends and he figured out life's a lot better with friends around," Chamblee said. "I never thought he'd manage an athletic comeback. I was worried about him as a person. You never know what's going behind the scenes. He's never been transparent, but he's nicer now. I think he reached out to his friends and got great support and imagine that's where this happiness comes from. He doesn't have things to hide, he's getting good help, he feels better. The golf is the final piece of the puzzle. If golf is your life, you're a lot happier when you can play well."
In that aspect, Woods, who will make his 21st trip down Magnolia Lane for this year's Masters, is back. To what and for how long, no one—including Woods—knows. And what will happen if he does return to his winning ways, even if he's not as dominant as he once was? Will the Mister Rogers routine last?
"I think it's going to be harder for [the younger generation]," Snedeker said with a wry smile. "They only know Tiger as their friend. They don't know Tiger as the cut-your-head-off-on-18-and-make-that-putt-to-win-the-tournament kind of guy."
The question in that moment is this: Will Tiger say hello before he tries to step on their throats?