News
Masters 2018: Nostalgia and reality converge for Matt Kuchar at Augusta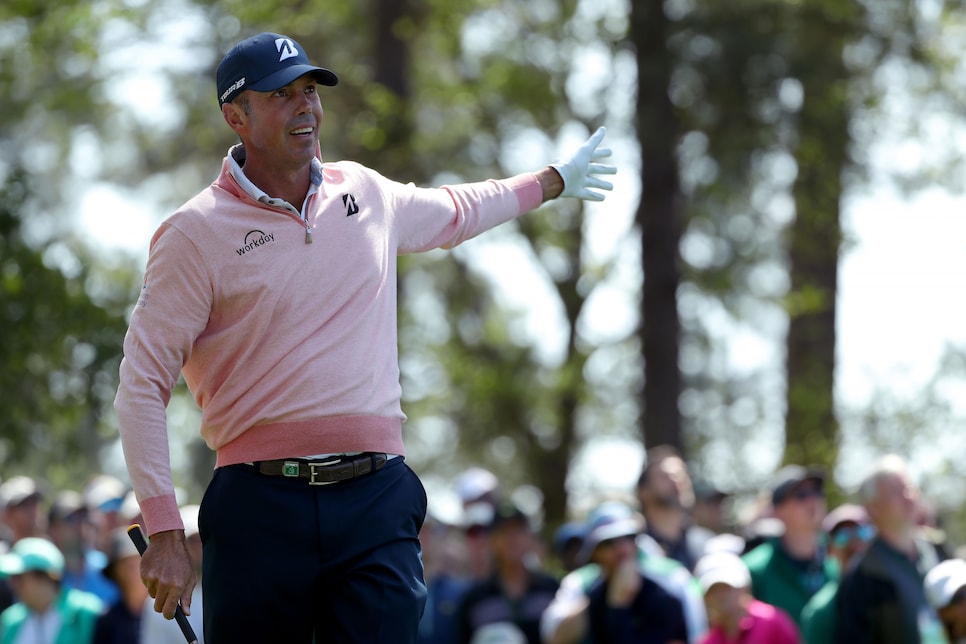 Photo By: Christian Iooss
AUGUSTA, Ga. — Matt Kuchar is one of those guys who always finds the silver lining. He rarely complains about a round of golf and, unlike a lot of wealthy athletes, he understands how fortunate he is to make a very good living playing a game. But even Kuchar—good ole smilin' Matt—looked whipped after spending more than five hours doing battle with Augusta National on Friday.
"I'm really looking forward to going home, kick my feet up and watch the guys coming in playing in this wind," he said, still smiling in spite of an often-frustrating three-over 75 that dropped him from a tie for second place on Thursday to a tie for 17th when he signed his scorecard. "Tough day from the get-go. I thought I hit a bunch of good shots, but 15 and 18 really got me."
Kuchar is playing in his 12th Masters. He finished T-3, two strokes out of the Bubba Watson-Louis Oosthuizen playoff in 2012, and T-4 a year ago. He understands how thin the margin is between birdie and bogey on this golf course, especially on a windy day on Augusta National's lightning-fast greens.
"At 15, I honestly didn't think I hit a bad shot," he said. "I had 233 to the back of the green for my second shot, and I can hit my hybrid 228. I hit it well and it just kept carrying—went at least 233—and carried well over the green. From there, all you're looking to do is find a place to hit it to give yourself a chance to get it up-and-down for par."
And then Kuchar smiled again. "I hit a good second shot, a good third shot, a good fourth shot, a good fifth shot and then I tapped in for 6. That's what can happen on this golf course."
His closing bogey at 18 was simpler: a three-putt. "Made a bad decision there on how to play the first putt, and it hurt me," he said.
In all, Kuchar knew that 68-75 didn't mean his chance to finally win his elusive first major title was gone, but he also knew it had not been a good day. "It may be that the winner has a 73, 74 along the way before this is all done," he said. "But Rickie [Fowler] showed you can string two pretty good rounds [70-72] together."
The third player in Kuchar's group, Phil Mickelson, did not string two good rounds together, shooting 70-79. "Just not a good day at all," said the three-time Masters winner with a shrug of his shoulders. "The course was just fine, very fair, just tough in these conditions, and I didn't play especially well."
It was 20 years ago that Kuchar first played here as a 19-year-old U.S. Amateur champion. He was something of a sensation, shooting 72-76-68-72, to not only win low amateur but finished T-21, which in those days earned a player an invitation to the next year's Masters for finishing in the top 24.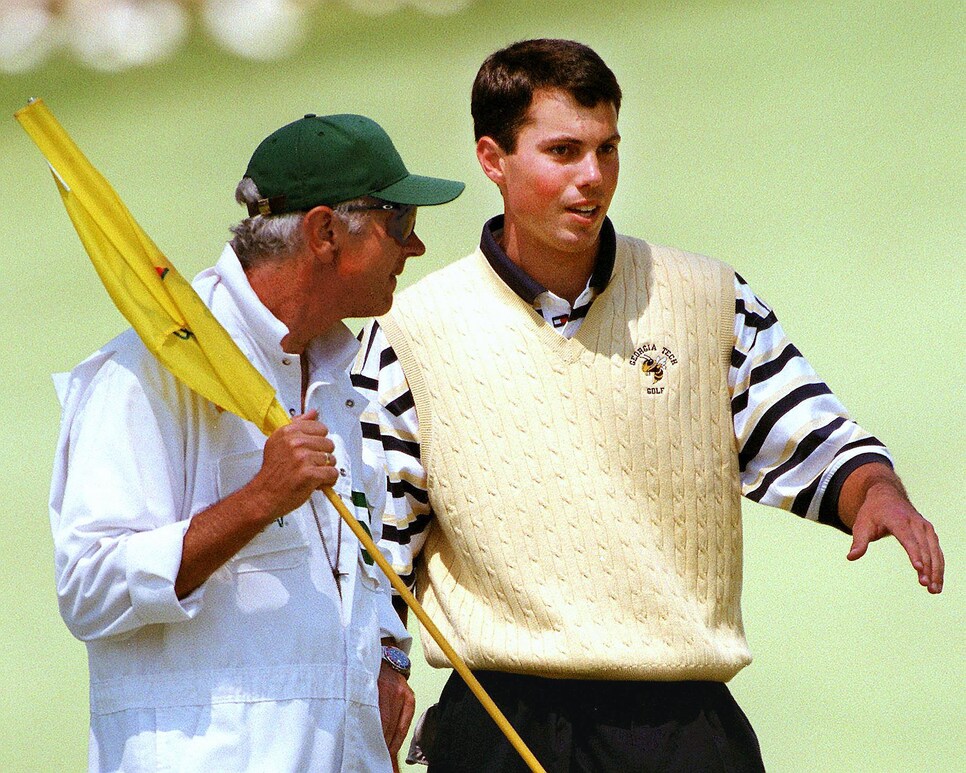 Roberto Schmidt/AFP/Getty Images
He was only a Georgia Tech sophomore at the time. After finishing T-14 in the U.S. Open at Olympic Club later that summer, he was inundated with offers from sponsors who wanted to make him very wealthy if he turned pro. Kuchar turned them all down, made the cut at the Masters again in 1999 and decided not to turn pro even after graduating.
"I wasn't certain if I wanted a job where I was on the road and in hotels all the time," he said. "I had in the back of my mind that Bobby Jones had gone to Georgia Tech, and never turned pro, and maybe I could be a little bit like him if I stayed amateur. Then I realized pretty quickly that sitting around in an office all day wasn't for me either. So, I decided to give the golf thing a try."
He won the Honda Classic in 2002—missing the cut in the Masters—and then struggled for the next three years, going all the way back to second stage of PGA Tour Q School in 2005. He hired Chris O'Connell as his swing coach, changed his swing and became a money-making machine. He's won six more times on tour since then, played on the last four Ryder Cup teams and is known as one of the tour's most consistent players—and the court jester of the locker room.
"No one on tour is more different from his public image than Kooch," Zach Johnson, one of his close friends from the so-called "Sea Island Mafia" likes to say. "You can never turn your back on him."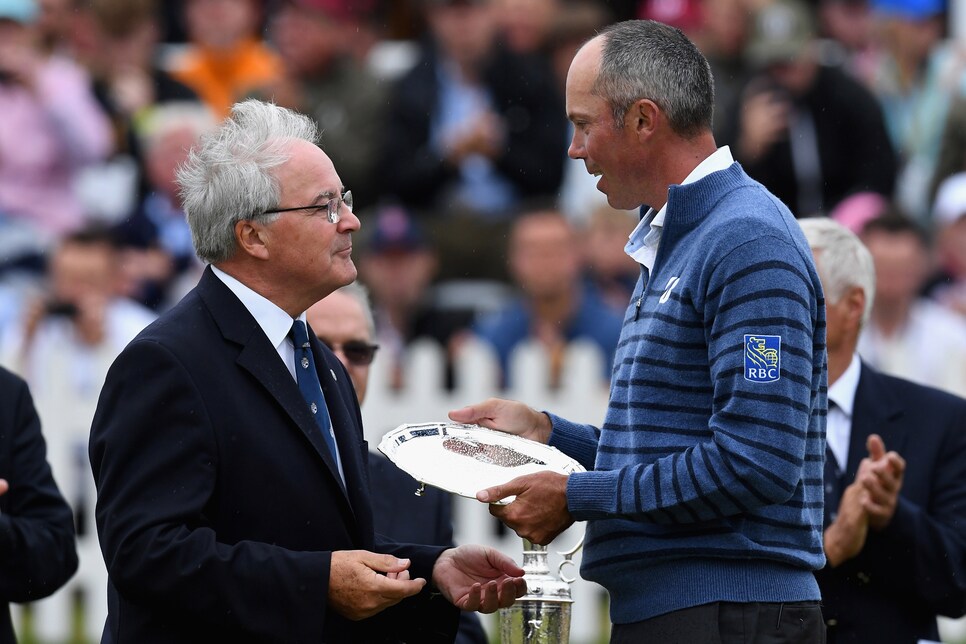 Kuchar is the guy who will put a poster of someone wearing no clothes—man or woman—in a locker when he knows a player is going to give a sponsor a locker-room tour. He is as quick with a one-liner as anyone, but can also be smart and serious when the time calls for it.
It was Kuchar who brought an easel into the team room on Saturday night at the 2016 Ryder Cup and demanded that everyone in the room stand up and talk about two things in their life they were grateful for—family, health and friends not allowed as answers.
"By the time he was done, everyone was in tears," said Brandt Snedeker. "He made us all think about how lucky we were to be right where we were with a chance to win back the Ryder Cup the next day. It put us in a perfect place going to bed that night."
Kuchar will be 40 in June and the one hole in his golf resume remains that elusive first major title. His best chance came last summer, when he lost to Jordan Spieth at the Open Championship at Birkdale—beaten when Spieth pulled off a miracle bogey at 13 and then played the next four holes in five under to win by three.
Kuchar hears the clock ticking, watches his sons (10-year-old Cameron and 8-year-old Carson) continue to grow taller and hopes he can put it all together once, the way Sergio Garcia did here last year.
"Hard to believe it was 20 years ago that I first played here," he said Friday. "I thought about that yesterday, when we started late and we were all playing well. We came to 18 in the late afternoon, and the shadows were long, and I flashed back 20 years to walking up late in the day with my dad [Peter] on the bag. It was such a cool thing and I couldn't help but remember it yesterday. It was a nice memory."
The weekend at the Masters is for making memories. Kuchar knows if he can duplicate the third round 68 he shot in 1998, he can get into the hunt for Sunday. There's no doubt that having a shot at finally winning a major, one that comes with a green jacket, would put a huge smile on his face … for a long, long time.