News
Masters 2018: A minute-by-minute recap of Saturday's action at Augusta National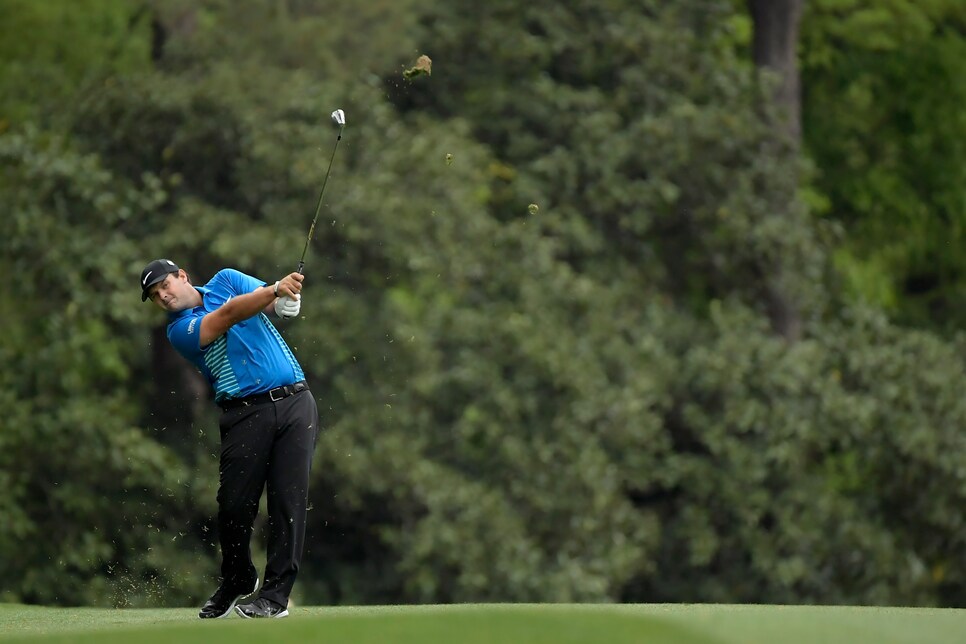 Welcome to Saturday at the Masters. Patrick Reed shined on Day 2, setting the pace after 36 holes with rounds of 69-66, including a nine-birdie round on Friday that puts him two shots ahead of Marc Leishman to start the day. This is the second time Reed has held the 36-hole lead at a major, as he also was the co-leader at the 2015 U.S. Open at Chambers Bay. He shot a third-round 76 and finished T-14.
Speaking of shining, there won't be much sunshine on Saturday at Augusta National. The forecast calls for rain pretty much all day in Augusta—with heavy stuff projected starting from 1 p.m. What does that mean? Golf journalists will pretend to be meteorologists all morning long. Oh joy! We'll stick to the golf here and get you ready for the action.
What that also means: The conditions will most likely test the competitors in ways they didn't see on Thursday and Friday. With the potential for steady winds of 10-15 miles per hour, plus steady rain, it could become a slog.
Who will shine in these conditions? Some of the best players in the world have positioned themselves to where they can threaten to make a move at Reed's lead. 2016 Open champion Henrik Stenson starts the day just four back. Four-time major winner Rory McIlroy and three-time major champion Jordan Spieth start the day five back (4-under). Major champions Dustin Johnson and Justin Thomas are at 3-under, and a plethora of elite players—Rickie Fowler, Justin Rose, Bubba Watson, Louis Oosthuizen, Tony Finau and Charley Hoffman are right there at 2-under.
Masters 2018, Day 3 Live Blog:
6:46 p.m.: Your final couple of Sunday pairings:
Rory is ready for a Sunday pairing with Patrick Reed.
And some other interesting quotes about tomorrow's pairing:
How about this stat on Rory's putting improvements this week? That's been clutch all week.
6:38 p.m.: Patrick Reed hadn't had a round of 60 at Augusta National until this week. He now has third straight sterling round—this one a 5-under 67—to stay at 14-under. His led will be three shots over Rory McIlroy.
Of course, nobody has had four straight rounds in the 60s at Augusta. Reed could etch his name in history in quite a way on Sunday at Augusta National.
It will be quite the Sunday. How about Rory's comments to CBS' Amanda Balionis? "All the pressure is on him." This could be a heavyweight battle.
6:23 p.m.: And Rory McIlroy takes advantage of his good fortune on his drive kicking back into the fairway and birdies the 18th hole! Rory pores in his fifth birdie of the day, along with his eagle at the eighth, to card the third round of 65 of the day (joining Jon Rahm and Rickie Fowler), putting Rory three back of Patrick Reed.
That Sunday pairing with Reed and Rory is a reality! Reed just had a classy up-and-down from behind the 17th green to save par and stay at 14-under. Rory is at 11-under, and ensured he'll be in the final pairing at Augusta for the first time since 2011. We've seen some amazing golf here on Saturday at Augusta National.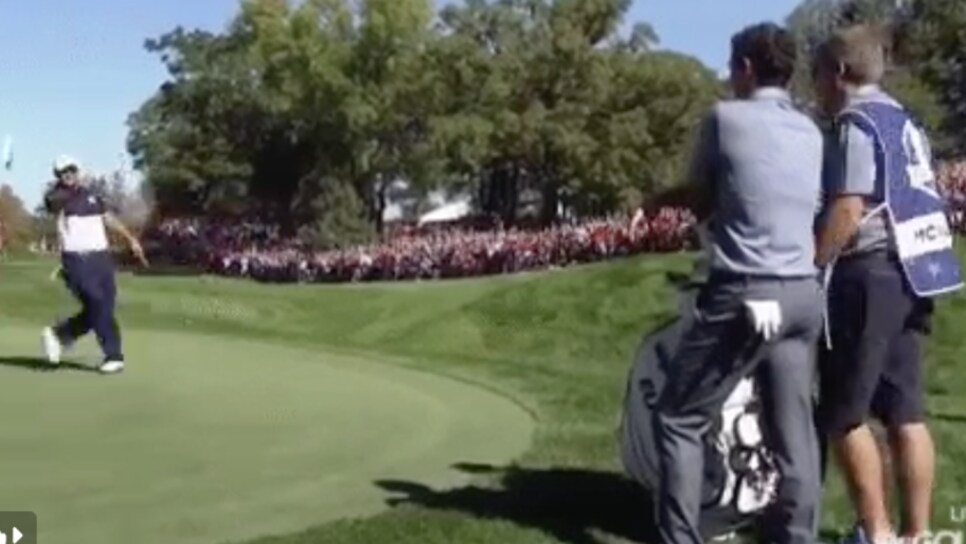 6:15 p.m.: Jordan Spieth with a 1-under par 71 on Day 3, which he'll consider disappointing, considering all the low scores on Saturday. He's currently nine back of the lead of his Ryder Cup buddy, Patrick Reed.
Meanwhile, Rory McIlroy got quite the bounce on his tee shot on 18. His drive was heading well right, but the trees spit it back into the fairway.
6:11 p.m.: Patrick Reed has three-putted for a bogey on the 16th hole for a second straight day. But he's still got a four-stroke lead on Rory McIlroy.
A Reed/McIlroy final pairing tomorrow? And a rematch of their Sunday singles match at Hazeltine? That will be must-watch TV.
6:01 p.m.: OH, MY Patrick Reed. Rickie Fowler and Jon Rahm did their part by shooting low rounds of 65 on Saturday. But it might not be enough to catch Reed.
Reed just holed out his pitch shot on the 15th hole for his second eagle in a three-hole stretch on the back nine. Unbelievable!
The guy just got to 15-under par. He now has a FIVE-stroke lead. That's 14 birdies and two eagles since Friday! And he didn't have a birdie until the fifth hole today, and yet he's still six-under on his round. Reed!
5:49 p.m.: Rickie Fowler just finished up his first-ever bogey-free finish at Augusta National—and boy was it good. His third-round 65 catapults Rickie into third place, currently four behind Patrick Reed and one back of Rory McIlroy for second.
Rory just rolled in an unlikely birdie at the 15th hole, after driving it into the trees, holing a 16-footer for birdie from above the hole.
5:47 p.m.: Joining Tommy Fleetwood in the clubhouse is two-time Masters champion Bubba Watson, who saves par at 18 for a four-under 68. Quietly lurking.
At the 15th, Rory McIlroy finds the green with his third and has a decent look at birdie. Rickie Fowler split the fairway with his drive at 18 and then knocks one to 28 feet, under the hole. If he holes that, it'll be a 64. Either way, big move from Rickie on Saturday.
Patrick Reed made his par save look easy, putting his 100-foot birdie effort to about five feet and holing the next one. Guy is on a mission. His playing partner Marc Leishman can't buy a birdie, but he's still hanging around at six under. Understandably, Jordan Spieth and Dustin Johnson have been ejected from the CBS broadcast, but they've each gotten back to five under with birdies at the 15th.
5:40 p.m.: After nearly jarring his approach at the 17th, Rickie Fowler rolls in his second birdie in his last three holes. Fowler is now nine under for the tournament, four back of Reed, who has a 100-foot birdie putt coming up at 14. If he can get it down in two, that'd be remarkable.
At the 15th, Rory McIlroy hits his drive way left. Eagle now out of the question, and making birdie will be a challenge.
5:36 p.m.: Here's where Rory saved par from before:
He did give up two shots to Reed on this hole, but that could prove to be a huge moment this week. Meanwhile, now we know why Reed has been unstoppable today:
5:32 p.m.: Ouch. Rory McIlroy misses the birdie putt and it looks like it may have hit something on the way to the hole. Tough break, but he heads to the 15th where he should make at least birdie with his length.
5:29 p.m.: At the 18th, Jon Rahm gets up-and-down for par for the round of the week, a seven under 65 that puts him at eight under for the tournament ... which is now FIVE back as Patrick Reed rolls in an eagle putt at No. 13! Wow, might be his week. Reed is four under on his round, 13 under for the tournament.
After that great par save at 13, Rory McIlroy knocks one close at the 14th. Likely needs that to keep pace with Reed. Rickie Fowler could use one more too, he's at eight under and in the fairway on No. 17.
5:19 p.m.: With heavy rain coming down, Patrick Reed drops his second shot of the day at No. 12, but then crushes a drive at the 13th. He's still the leader by two over Rory McIlroy, who looks like he's going to save par after hooking his approach into some azaleas left of the green at 13.
Up ahead at 15, Rickie Fowler is back on the board with his first birdie in six holes. Fowler is now at eight under along with Rahm, and has yet to make a bogey
5:07 p.m.: As well as Patrick Reed is playing right now, there are some players putting themselves in position for a Sunday charge. Perhaps the most impressive has been Jon Rahm, who has a clean card, and just rolled in yet another birdie to get to 7-UNDER for the day.
Rahm is now 8-under for the tournament, and currently four back of Reed. What a charge from the young Spaniard.
4:55 p.m.: Tommy Fleetwood loses a stroke at the 18th hole, but still—what a Saturday charge from the Englishman. He was 7-under on the day, which will put him in one of the last groups of the day on Sunday at Augusta.
Fleetwood carded a 6-under 66, which currently puts him six back of Patrick Reed, who hasn't shown any signs of faltering.
4:42 p.m.: Captain America is not faltering. In fact, he's charging ahead. Patrick Reed has his fourth birdie in six holes to get to 12-under with a birdie at the 10th hole.
Now Reed turns to Amen Corner.
4:28 p.m.: Patrick Reed has closed his front nine in fine fashion. The Ryder Cup star birdied the fifth and eighth holes—and just rolled in a 25-footer at the ninth hole to get to 11-under.
He has overcame that lone blemish at the third hole to rally for a front-nine 33 and to extend that lead to two shots over McIlroy.
Patrick Reed: 11-under (playing the 10th hole)
Rory McIlroy: 9-under (holing out on the 10th green)
Rickie Fowler: 7-under (playing the 13th hole)
Tommy Fleetwood: 7-under (has a chance for birdie at the 17th)
4:24 p.m.: Tommy Fleetwood is officially on fire! The Englishman just rolled in his seventh birdie of the day, and his fifth consecutive circle on the scorecard.
Fleetwood's now just three back of Reed. Wow!
4:14 p.m.: Patrick Reed has gotten back to double digits, just like he had after his birdie on the 15th hole on Friday, to grab sole possession of the lead once again. It's a one-shot lead over Rory McIlroy, who makes the turn in 31 (!).
Tommy Fleetwood also has four birdies in a row, and has stuck it tight at 16 for a potential fifth straight birdie. Fleetwood is currently 6-under!
What an exciting Moving Day this has been. And now we move to the back nine!
4:04 p.m.: Anddd all of a sudden we have a tie at the top! Rory McIlroy was in a precarious position at the eighth hole—but that didn't stop him from holing out for eagle. WOW.
Rory has tied Patrick Reed atop the leaderboard, and Rory hasn't even made the turn yet. Out of all the awesome highlights so far on Moving Day, that might've been the biggest one just yet.
5-under through 8? Rory's making a big-time push for his Grand Slam bid.
3:53 p.m.: Rickie Fowler is one of many of the big-time players making big-time moves on Saturday. A front-nine 31 has Rickie just two back of the lead as makes the turn. Rickie's in a tie with Rory McIlroy and Marc Leishman for that second-place spot.
3:47 p.m.: Look at this drive at Justin Thomas ... he almost hit the patrons walking below the fairway. Unbelievable! Not sure we've seen anyone down the fairway that far ...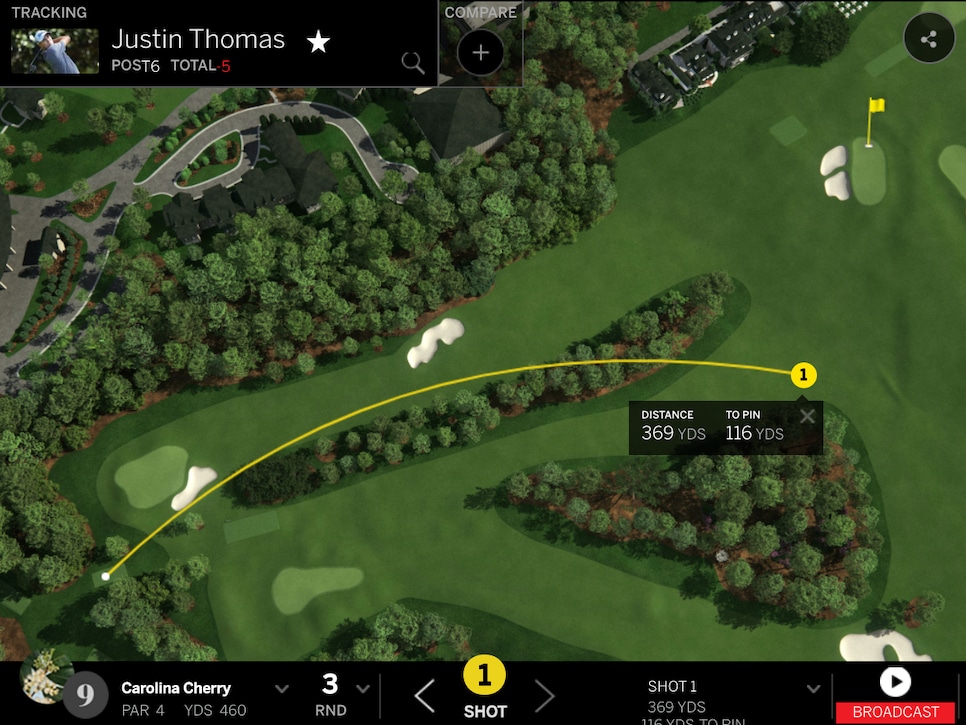 JT missed the birdie putt for tapped in for par. He makes the turn at 2-under, as he sits just four back of Patrick Reed's lead.
3:43 p.m.: STENSON! The Swede had been moving in the opposite direction—until this bunker shot at the seventh hole.
Jon Rahm has it going, too, sticking it tight on 11 after his birdie on 10. He couldn't get the birdie to fall, but it's incredible he has played into contention, when you consider he shot an opening-round 75. Rahm is now just three back of Patrick Reed.
3:33 p.m.: Just as Rory tapped in for his third birdie of his first six holes, Patrick Reed has extended his lead to two with a birdie at the fifth hole. He's now two up on Marc Leishman and Rory McIlroy ... and Rickie Fowler! Rickie just birdied the eight hole to grab a share of second place. And Jon Rahm has birdied the difficult par-4 10th hole to get to 6-under. IT'S ALL HAPPENING RIGHT NOW!!!
As Verne Lundquist would, probably, say: OH, MY.
3:30 p.m.: Rickie Fowler and Jon Rahm have been huge moves already on Saturday—with both getting to 4-under for the day (Rickie's two back at -6 and Rahm's three back at 5-under). But Rory hit another highlight-reel shot that's going to move him closer to the lead. Rory is now at 7-under!
Two feet! It was amazing this didn't spin back into the hole.
3:20 p.m.: Rory McIlroy just hit one of the most spectacular fairway bunker shots you'll see. Sitting in the first fairway bunker at the fifth hole, it appeared the Northern Irishman might've hit the lip on his escape—in the sand about 8 feet below the fairway—and somehow the ball hopped up the ridge in the front of the green, and ended up 13 feet away. Rory just missed, but he was working on two straight birdies. Still a nice, easy tremendous par as he heads to the par-3 sixth.
3:05 p.m.: At the par-5 eighth, Jon Rahm chips in for eagle! He's at five under. Rickie Fowler just dropped another birdie at the par-3 sixth to get to six under. Look at this start: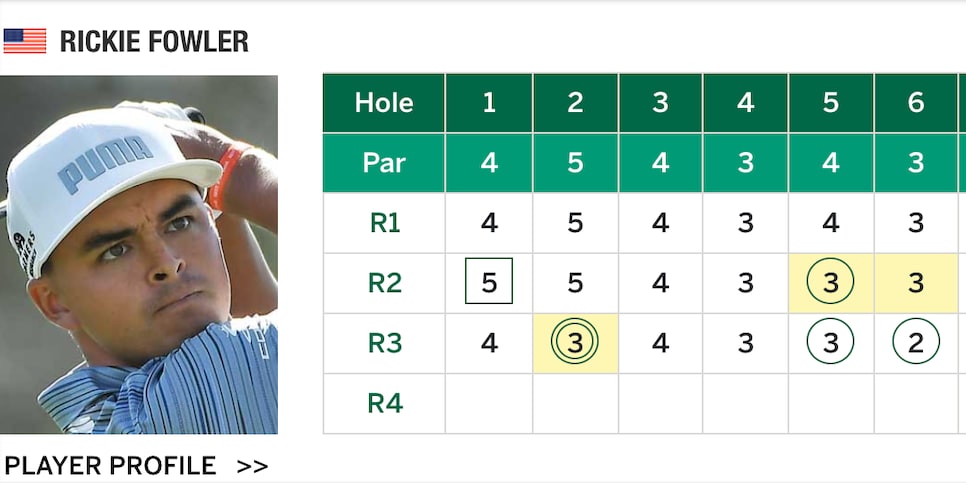 Who needs Tiger and Phil!? This is lit! (sheds a tear for Tiger and Phil)
3:01 p.m.: And now Rory is at five under after a birdie at No. 3! It's all happening now. Jim Nantz is ready, are you!?
2:57 p.m.: Right after that last update, Rickie Fowler dropped a birdie at the par-4 fifth. He's at five under, just four back of Reed.
2:56 p.m.: After Friday's rough start, Jordan Spieth would have signed for three straight pars to open his round today, but he had good birdie looks at No. 2 and No. 3 and missed both. Still at four under, but he's going to wish he had those back. His playing partner Dustin Johnson is also at four under after two-putting for par at the third.
That four under total is now tied for third after Henrik Stenson makes a bad bogey at the second, one that included a penalty shot after hitting his drive way left: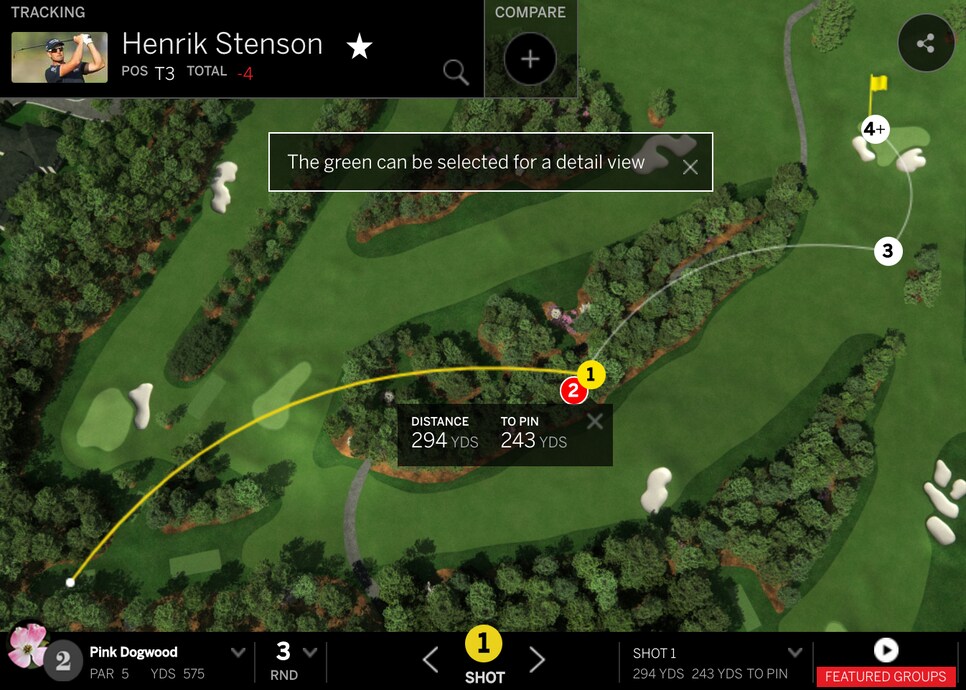 Seven players are now tied at four under. Jon Rahm is alone at three under, having made five straight pars after his birdie-birdie start
2:47 p.m.: Patrick Reed and Marc Leishman each par the first. Good start for the leaders, but a host of some of the world's best players lurk close behind. Henrik Stenson is at five under, while Bubba Watson, Rickie Fowler, Rory McIlroy, Dustin Johnson and Jordan Spieth are at four under. And then there's Jon Rahm and Tony Finau sitting at three under. It's shaping up to be an electric Saturday at Augusta National, even if Tiger Woods and Phil Mickelson are already in the clubhouse.
Speaking of Tiger, he saved par at the 18th to card an even-par 72, keeping him at four over for the tournament. Another grind.
2:41 p.m.: Dustin Johnson two putts for birdie at No. 2, giving him a four under total on the par 5s for the week. He's now at four under along with Jordan Spieth, who missed his birdie attempt at the second.
Behind them, Rory McIlroy punches out from the woods and his ball goes just left of the green. Going to be a tough up-and-down to make birdie.
2:35 p.m.: Justin Thomas joins the group at four under with a birdie at the second. All the marque names are taking advantage of the par 5 so far, don't be surprised if Rory McIlroy, Dustin Johnson and Jordan Spieth do the same.
2:26 p.m.: Tiger did knock in that birdie at the 16th to get back to even for his round, four over for the tournament. The guy never stops grinding.
All the big boys are out on the course except the final grouping, and Rickie Fowler just provided a roar at the par-5 second, dropping an eagle put to get to four under. Talk about lurking. We know Fowler can get hot, and a low round today could put him in prime position to get over the hump and get that elusive first major.
Also at four under? Bubba Watson, who just made back-to-back birdies at the second and third.
2:12 p.m.: The twosome of Matthew Fitzpatrick and Kiradech Aphibarnrat are in the clubhouse, and Fitzpatrick's five-under 67 could stand up as one of the rounds of the day. He's at even par through 54 holes, while Aphibarnrat's even-par 72 has him at five over for the tournament.
Meanwhile, Tiger and Phil are getting closer to the clubhouse, thankfully. Woods' par-5 struggles continued at No. 15, where he made a bogey to drop to five over, but he did just stuff one close at the 16th. Mickelson just cleaned up his bogey at the 18th to finish with a two-over 74. He's at seven over heading into Sunday.
The Chambers Bay playoff that never was, Jordan Spieth vs. Dustin Johnson, has just teed off at No. 1, and they've both found the fairway.
2:05 p.m.: Just as Jason Day started to claw his way back in he drops his first shot of the round at the par-4 10th. Back to even par for the tournament, but he did just crush a 327-yard drive at the 11th, leaving him 177 yards to the pin.
The real mover so far has been Spain's Jon Rahm, who birdied his first two holes and just made a par at No. 3. He's now at three under for the tournament.
The 1:30 p.m. pairing of Charley Hoffman and Cameron Smith are also off to a good start, both making birdie at No. 2 to get to two under. Behind them, the pairings of Bubba Watson and Justin Rose and Rickie Fowler and Louis Oosthuizen have gotten their rounds underway. Watson and Fowler are two under, while Rose and Oosthuizen have each dropped a shot to fall back to one under.
1:44 p.m.: We've got our first score in the clubhouse, and it's a good one. Paul Casey cards a three-under 69 with just one bogey to get to two over through 54 holes. But the real question is, did he beat Jeff Knox? Doubtful.
We'll continue to keep our eye on Jason Day, who just turned in three-under 33 and has yet to drop a shot. Even after a three-over 75 to start his week, the Aussie has battled back and is now in contention at one under. No surprise from a guy who has three top 10s in 7 starts at Augusta, two of those coming in the top 3.
1:35 p.m.: Tiger's chip rolls off the back of the green, and he leaves his birdie putt well short. Another par on a par-5, which has been the story of the week for Woods.
All the way back at No. 1, Jon Rahm makes birdie to get to two under.
1:28 p.m.: Tiger gets aggressive at the 13th, cutting an iron off the pine straw and around a tree and getting his ball up near the green. Bold, and it might pay off, as he's got plenty of green to work with on his upcoming chip.
1:25 p.m.: Not to sound harsh, but Tiger's birdie effort at the 12th was woeful. Never had a chance, and he stays at four over, then misses his drive right into the trees at No. 13.
Meanwhile, a couple of guys have gotten into red figures, including Jason Day, who is three under through seven holes and one under for the tournament. He's joined by Russell Henley and Tommy Fleetwood.
The round of the day belongs to Matthew Fitzpatrick, who began his day five over and just eagled the par-5 15th to get to even par for the day. Check out his card:

This is Fitzpatrick's third straight start at Augusta, where he finished T-7 in 2016 and 32nd a year ago.
1:13 p.m.: Just when the energy was getting low (Mickelson bogey at 13, Tiger par at 11) Tiger throws a DART into the par-3 12th hole. Finally, he keeps it dry, and raises his arms and gives the safe sign in amusement. Got to love it!
12:49 p.m.: Tiger hits maybe his best approach of the week to a back-pin location at the par-4 ninth, but he gets unlucky and it spins all the way back to the center of the green. Two-putt par for a front-nine 36.
Mickelson's drive at No. 11 actually ended up in a good spot, with a lane to the green, and he took advantage, putting his next shot to 17 feet. His birdie effort just misses again and he taps in for par. He also just found the green at the 12th. Would love to say he's righted the ship, but anything is possible with Phil.
Meanwhile, back at the 10th, Tiger smokes a 318-yard 3-wood (!) down the left side of the fairway. His approach finds the center of the green, leaving him an uphill 26-footer for birdie.
12:34 p.m.: Finally, the video of Mickelson's driver off the deck has arrived. Majestic shot:
Of course, just as that goes up, Phil pulls one miles to the right on the 11th hole. The roller coaster ride continues.
12:31 p.m.: Tiger displays some nice short game wizardry, spinning a wedge to about seven feet and holing a left-to-right putt for birdie. Back? Not quite, but he's back to even par for his round, four over for the tournament. Just needs to keep collecting birdies, avoiding mistakes, and anything could happen (glass-half full).
Up at No. 10, Mickelson just misses another birdie and taps in for par. We've got some energy early on Saturday!
Believe it or not, there are some other players on the course, including Jason Day and Kevin Kisner, who have each gotten back to one over par for the tournament. Kisner is two under on his round through four, while Day is one under through three. Semi-lurking.
12:23 p.m.: At No. 8, Tiger somehow flies the bunker with the driver, carrying it 314 yards. But he mishit his second badly, coming up short and right of the green. Doesn't look like he's going to match Phil's eagle, but still has an opportunity to get up-and-down for birdie.
Speaking of Phil, he drops a birdie at No. 9 to post a wild 37 on the front nine. A triple bogey-bogey start, capped off by an eagle-birdie finish, with five pars in between. Vintage Phil.

12:12 p.m.: Phil capitalizes on his ridiculous driver off the deck by burying his eagle putt to get back to seven over. Video should be coming in any moment now, once it does we'll have it here. Must-see stuff.
At No. 7, Tiger hits another mediocre approach into the green, leaving a 50+ footer for birdie, which he left well short. But he converts on the par putt to keep the momentum rolling. Par-5 eighth coming up next. Another chance to get one back.
11:55 a.m.: Tiger stuck his shot at the par-3 sixth hole to 7 feet, and just converted the birdie putt. He's back to 5-over for the tournament, 1-over for his round, and just hit a booming 324-yard drive at No. 7. The feels!
And Phil just hit one of the best drivers off the deck you'll ever see at the eighth hole. WOW -- you need to see the highlight to appreciate it. He has an eight-footer for eagle now. That'll be one of the shots of the day.
11:49 a.m.: The umbrellas had gone away temporarily at Augusta National. But it's now back, and it's raining harder now.
We'll continue to monitor what kind of conditions the leaders should expect as they tee off—but in all likelihood—the weather will be worse later. It could be a damp one.
11:40 a.m.: Tiger hits another green at No. 5—a vast improvement from his play at this hole yesterday. Tiger's second shot on Friday went long and left at the fifth green, which led to a double bogey—a lowlight of his second-round 75.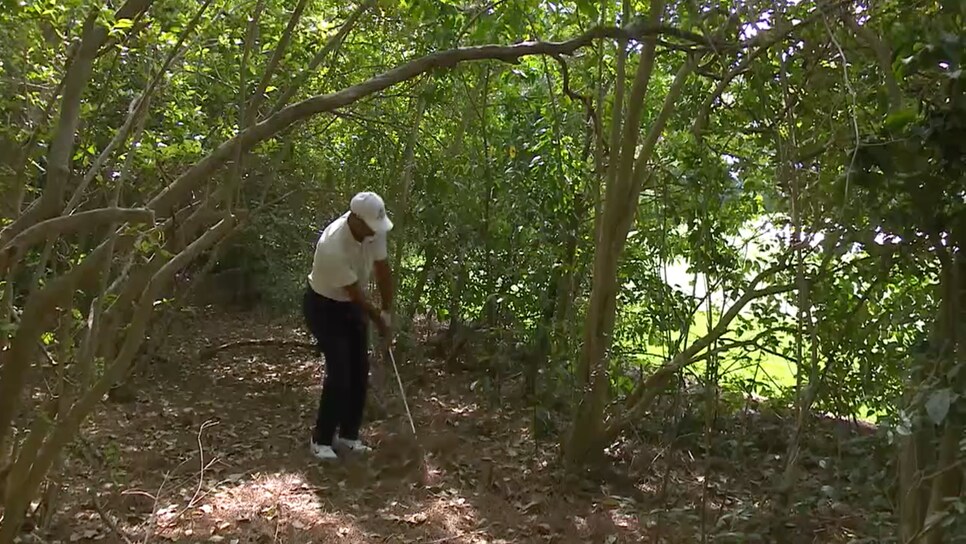 11:31 a.m.: Tiger has parred two holes in a row now at the third and fourth hole. He hit a great third shot from the greenside bunker. And at the fourth, Tiger hit his first green of the day, but missed the 14-footer for birdie.
11:08 a.m.: Another hole, another bogey for Tiger. He falls back to 6-over for the tournament. Take a look at the bottom of the leaderboard: Among those who made the cut, those with the most majors, Tiger Woods and Phil Mickelson, are currently occupying the very bottom of the field.
Not quite the week either of them envisioned, nor did most of the golf world expect both players to be 15 shots out of the lead early on Saturday.
11:02 a.m.: Another approach from the fairway, another miss by Tiger. The 14-time major champion came up short with his third shot from the second fairway after blasting out of the fairway bunker. Tiger'll have to get up and down for par to avoid dropping another early shot here.
Conditions appear to be tough early on—winds whipping up to 15 miles per hour already. Perhaps that's to blame for him hitting his approaches short thus far. There are only three names in red figures so far on Day 3: Webb Simpson is 2-under through 2, Paul Casey is 1-under through 6 and Kiradech Aphibarnrat is 1-under through 3.
10:50 a.m.: Tiger misses the 11-footer for par to drop a shot on the opening hole for a second straight day. Tiger falls to 5-over, which is 14 back of Patrick Reed's lead.
10:45 a.m.: For a second straight day, Tiger Woods hit a big-time drive at the first hole, and has found trouble with his approach shot. On Friday, it was an errant approach left of the green, after a booming drive left him under 100 yards, but he ended up with a bogey.
On Saturday, Tiger had a wedge in hand again—but deposited his approach way short in the bunker. He'll have to scramble for a par now.
Meanwhile Phil has bogeyed the second hole, so he's now 4-over in his first two holes. Lefty is moving the opposite way on the leader board on Moving Day.
10:35 a.m.: That's a triple bogey for Lefty to start. He's now at 8-over for the tournament. We're not good at math, but by our account, that's 17 shots shy of the current lead of Patrick Reed. Quite unbelievable, when you consider that Lefty was one back of the lead as he was about to make the turn on Friday. That was before his round took a turn with his triple-bogey 7 at the ninth hole.
10:29 a.m.: Phil Mickelson has had a tough first two days at Augusta National. And his first round is off to an equally tough start at the first hole.
Lefty may have whiffed on his second shot from the right trees at No. 1, with his backswing hitting a tree as he attempted to escape. He's on his way to starting with another big number, like we saw from him Friday—as Lefty compounded a couple disasters into big numbers, like we saw on the ninth hole in his second round, carding a triple bogey to take him out of it.
10:20 a.m.: It says on the tee sheet that Paul Casey is playing with a marker in the first twosome off the first tee. But it feels a little more like the Englishman is the one along for the ride on the first tee as Jeff Knox is announced to the patrons.
The applause for the Augusta National member who has infamously played as a marker in recent years when there is an odd number of players making the cut at the Masters is genuinely louder for Knox than for Casey. "He gets a kick out of it," says Catherine Knox, Jeff's wife, who noted that there was excitement in the house on Friday night when the cut landed on the odd number 53. "We all do. It's been a lot of fun."
10:00 a.m.: Here's a look at the hole locations for Round 3:
We promised we'd keep it all to golf here. But for those who are interested, you can digest this rather exhaustive weather report from Augusta. Cliffnotes: It's going to rain, intermittently between heavy and hard, and we'll hope we dodge any lightning, which would cause a stoppage in play.