News
Masters 2018: Jordan Spieth struggles on Friday, but also persists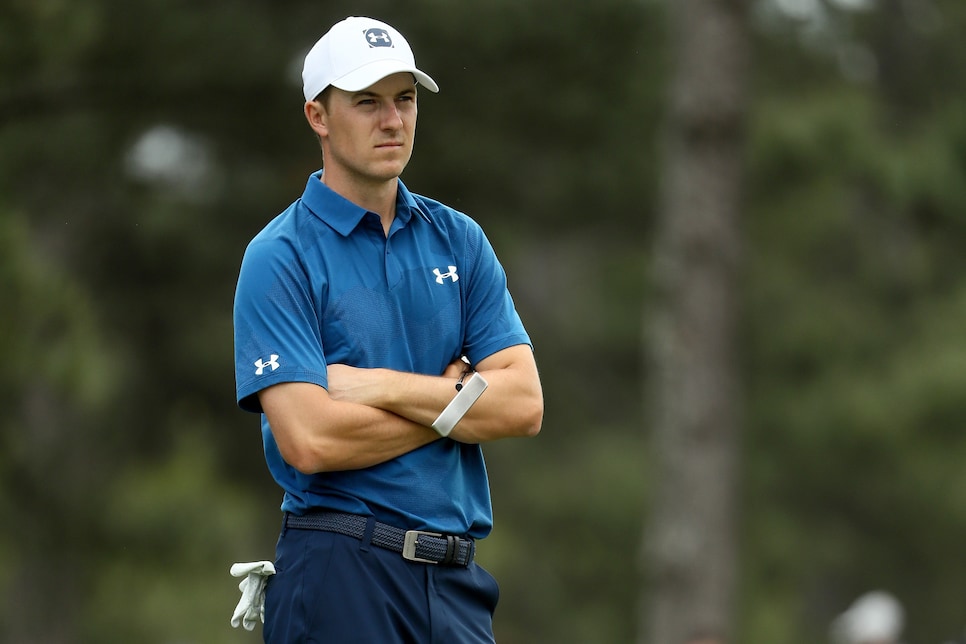 AUGUSTA, Ga. — The first hole, Jordan Spieth sent a line drive six inches off the ground under tree limbs 50 yards ahead. The second hole, in jail again, he hurried a shot off fluffy pine straw and the thing dove even further left into a valley with no hope. So, a double on one. So, a bogey on two.
Suddenly, Augusta National had said hello to America's Darling by punching him in the nose. Spieth won the Masters three years ago, a kid, 21, handsome as a sunrise, and all who looked upon him saw a charisma once owned by Arnold Palmer. Two years ago, Spieth had it won again, only to lose it with a quadruple-bogey 7 at the 12th. Of such are dreams and demons made, and it is the wonder of the Masters and the Augusta National course that we see those dreams and demons at every turn every day, this time beginning with Spieth's drive from the first tee Friday morning.
The shot sailed right of the fairway bunker, settled in pine straw. After his well-done escape, Spieth left a wedge short, pitched up and missed a 10-footer for bogey. Off the second tee, we saw him walking left, descending into the darkness there, no longer visible from the gallery rope on the fairway's right side. There was a glimpse of a clubhead rising and falling. There was a thrashing sound, and a ball coming out low, and next we saw Spieth walking, head down, through the valley's trees and bushes, in melancholy search for wherever that shot had slithered to earth.
It had careened ahead, along the azaleas bushes, maybe 150 yards. Now at the bottom of the valley. On pine straw. With loblolly pines standing in the way. Spieth had already doubled the first. Be easy to double the second from there. No way to start any round of the Masters, as Shakespeare's witches suggested at their caldron long ago: "Double, double toil and trouble."
From trouble, with 180 yards to a green hidden behind those towering trees, here's what Spieth did . . .
"My third shot was a fantastic shot to hit the green—because it was in the rough and I had to hit a big hook with a 6-iron, and if I left it short right, that's really tough spot."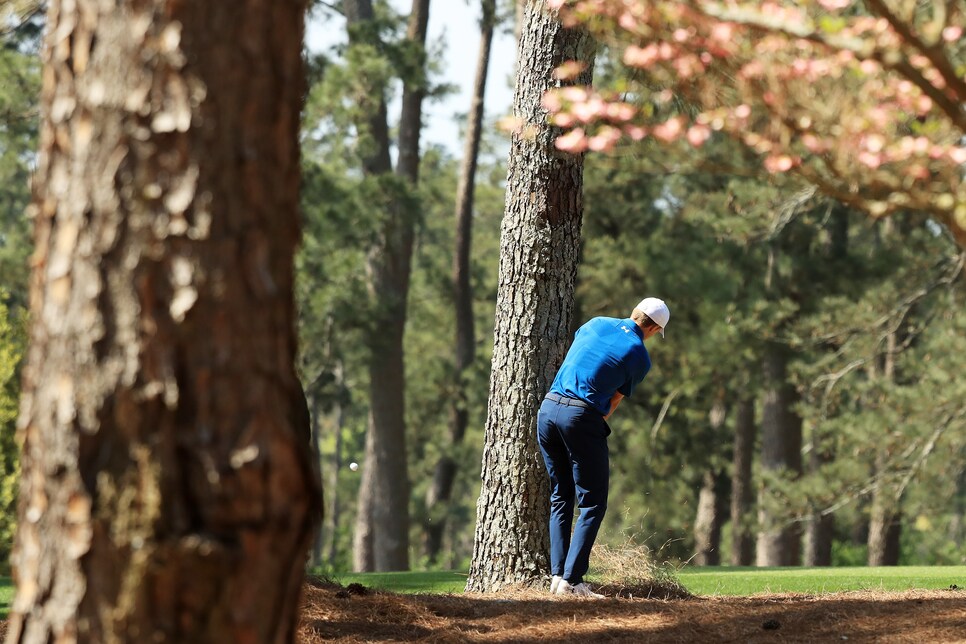 Rather than land it behind a bunker short right, Spieth got it between traps on the green's front edge. From there he three-putted for a bogey, never a good score on the par-5 second except, perhaps, when a man lost in the woods might have chopped, hacked and cursed his way to seven, eight or, praise God for tender mercies, a Sergio 13.
Later, a reporter asked Spieth, who often addresses himself during rounds, "Were you mad at Jordan after the first two holes?"
"I've taken a lot of punches on this golf course," he said."I told Michael [Gellar, his caddie], 'Look, when this course plays tough, I'm good for a double here or some bogeys there. Let's make these the only ones.' He was really good at saying, 'Man, you always take punches out here and come back stronger.'"
From that double, bogey start, Spieth went the last 16 holes one under par. He had only one more bogey, off a poor pitching wedge from the middle of the seventh fairway that produced a fried-egg lie in a front bunker. Two-putt birdies at the 13th and 15th were his only birdies of the round.
With rounds of 66 and 74, Spieth no longer is the tournament leader but he was content with the day's work that kept him in the hunt.
"So what's the first couple holes on Friday start mean?" he said. "It doesn't really mean much to me. It means, let's figure out what was wrong and fix it. But it's not going to affect the outcome of this tournament."
He called the course "very difficult today," "challenging " both for its intrinsic risk-reward principles and elements unknowable until the wind is up, as it was today.
"I hit some really good shots on a lot of holes and just got kind of gusted by an opposite wind, or were one or two yards away from being phenomenal," he said. "I didn't have very many really good birdie looks … four or five decent birdie looks the entire round. So, to come back from three-over through two holes and only shoot two over with a limited number of looks, it's not so bad. I'm still in this golf tournament."
Wait. Wait one minute. Let's go back a couple paragraphs.
Oh, how easily we say Spieth made a two-putt birdie at the 13th.
If we saw him thrashing about in the valley of darkness, we should also see him pulling off a Hero Shot, the kind of high-risk shot that most times would cause Jordan Spieth to tell Jordan Spieth, "No, no, kid, not from here, not today."
Instead, he recounted the second to the par-5 13th this way …
"There was a tree. … I was looking right into a tree … and that's very difficult to commit to. I had 210 to the hole with a left-to-right wind maybe a little into, and I just ripped a 4-iron. But I thought if I just, you know, committed to good, solid contact and I hook it, it hasds enough to carry to pin-high. … And when I hit it and it started to hook, I knew it was a really good shot. … I'm like, man, that was a really, really difficult shot to pull off, and I don't know why—I didn't have any nerves. I just kind of stepped up and hit it. It was probably the quickest shot I hit today, which is weird."
So, yes, the tournament is far from over.