News
Masters 2017: Dustin Johnson injures back on Wednesday, questionable to compete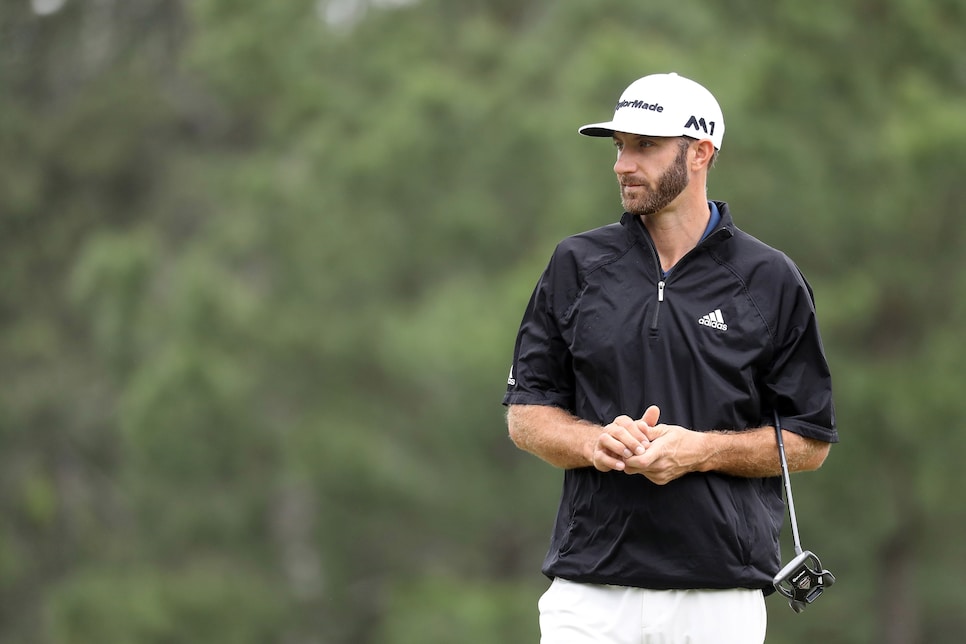 AUGUSTA, Ga. -- Dustin Johnson, the world's No. 1-ranked player and the favorite entering the week to win the green jacket, is questionable to compete in the Masters after suffering a freak back injury on Wednesday. According to a statement from Johnson's agent, David Winkle, Johnson was injured falling off some stairs at his rental home.
"At roughly 3:00 pm today, Dustin took a serious fall on a staircase in his Augusta rental home," the statement read. "He landed very hard on his lower back and is now resting, although quite uncomfortably. He has been advised to remain immobile and begin a regimen of anti-inflammatory medication and icing, with the hope of being able to play tomorrow."
Golf World's Tim Rosaforte reports Johnson was on a short staircase going into the basement when his feet went out from under him. Johnson's fiancée Paulina Gretzky said the fall "sounded like a huge thud." When Johnson's trainer Joey Diovisalvi walked into the house, Johnson's first words were, "Dude, I can't believe I did that."
Johnson is currently experiencing pain on the lower left side of his back below the rib cage, commonly referred to as the quadratus lumborum -- or QL -- muscle.
Johnson's team is going to assess the situation overnight, and plans to visit the PGA Tour medical trailer -- and possibly get an MRI and X-ray -- in the morning.
"He's a warrior, and if he can play at all, he's going to play," said Winkle. "Right now it's such a freak thing, we just hope he's okay."
"It could be a blessing he has the late tee time," said Johnson's coach Claude Harmon III.
Johnson briefly practiced at Augusta National on Wednesday before play was suspended because of storms in the area.
Johnson, the reigning U.S. Open champion, has won three straight starts dating back to the Genesis Open at Riviera Country Club and had his best Masters finish last year when he was T-4. He was scheduled to be honored for his 2016 season by the Golf Writers Association of America at its annual awards dinner Wednesday night, but dropped out because of the injury.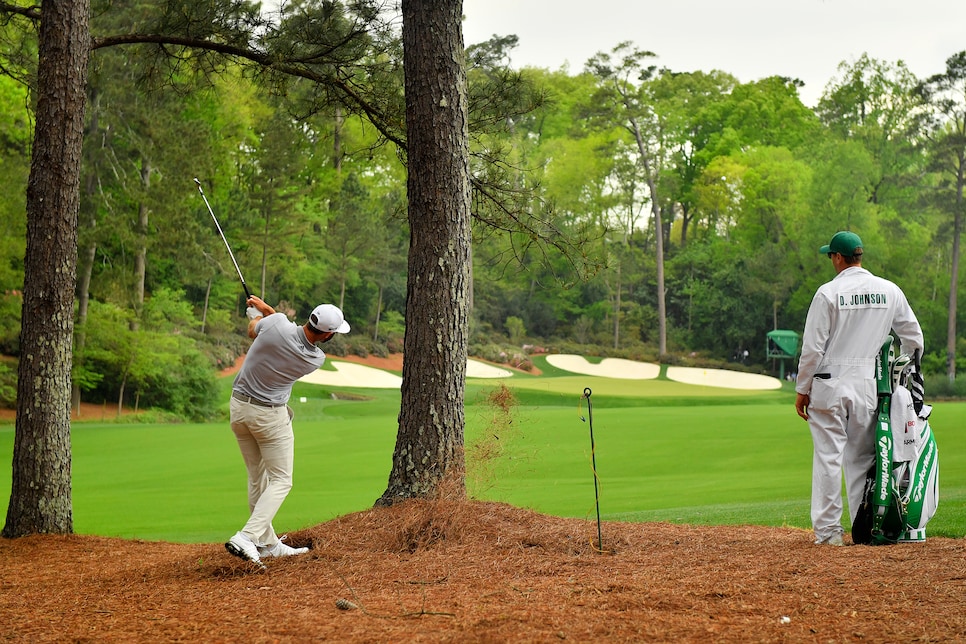 On Tuesday, Johnson discussed his recent hot play, but eerily said much is still subject to chance.
"I've got a lot of confidence in my game right now, especially with the way I've been playing the last few tournaments," he said. "But, you know, anything can happen."
This is not the first time Johnson has been injured due to a freak accident. In 2012, he withdrew from the Masters after his agent said he hurt his back lifting a jet-ski.
Tim Rosaforte contributed to this story.