Course Rankings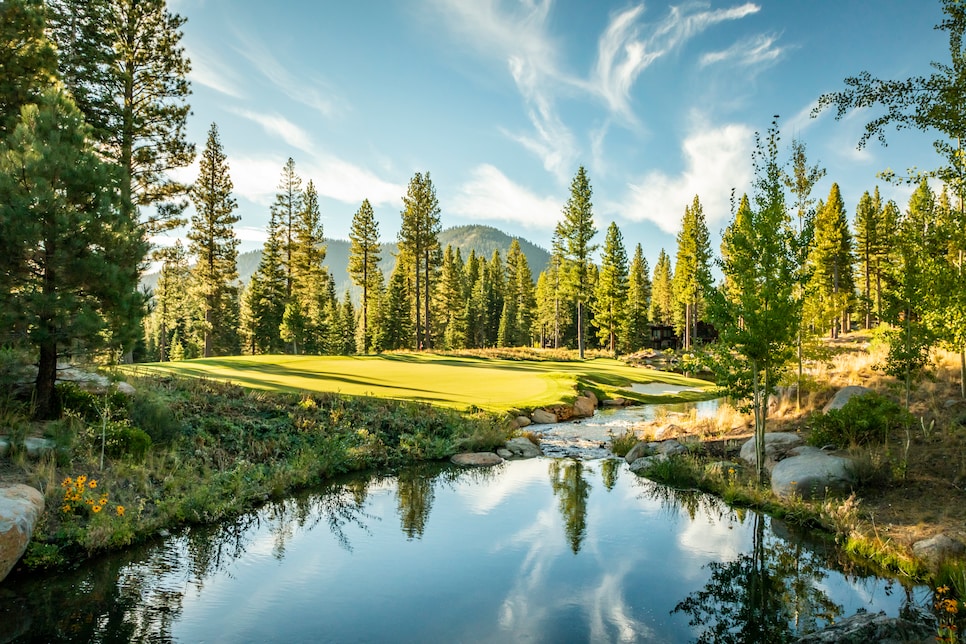 145. Martis Camp Golf Club
Back in the 1960s, a forest south of Truckee served as a location for the filming of the popular TV western "Bonanza." Now it's the locale for three diverse residential courses, Schaffer's Mill by Johnny Miller and the late John Harbottle, Lahontan by Tom Weiskopf, and Martis Camp by Tom Fazio. Fazio has called this site one of the finest natural pieces of property on which he's ever created a golf course. It has pines, firs, hemlocks and rocky outcroppings on nearly every hole, particularly the 18th, where the clubhouse sits atop a 70-foot-high wall of granite behind the green. Fairways are broad, though hazarded by squiggly bunkers in certain spots, and some greens have trunks of tall Ponderosa pines uncomfortably close. So gorgeous is Martis Camp Golf Club that one critic called it, "a private-gated national park experience."
Second 100 Greatest history: Ranked on America's Second 100 Greatest, 2013 to current. Highest ranking: No. 145, 2017-2018 and current. Previous ranking: No. 154.
Watch Golf Digest's latest "Every Hole At" course videos below:
Panelist comments, Martis Camp Golf Club:
"Martis Camp has set the bar for all Lake Tahoe, and Sierra Mountain golf club. In fact, this may be one of the finest mountain courses anywhere in the U.S.! Certainly in the conversation with Wade Hampton. Fazio has designed a wonderful course that utilized spectacular views of the mountains and the valleys as backdrop to most of the holes. Rock outcroppings are again brought into play as design features."
"Virtually every hole involves some risk reward, with mounds and knolls providing additional distance off the tee, but with strategically placed bunkers requiring accuracy to obtain the distance payoff. The greens were firm, fast, and smooth, but would accept crisply stuck approach shots. The surroundings were breathtaking, the ambiance of the clubhouse and grounds inviting, and the challenges never ending."
"Martis Camp is a very long course playing 7,766 yards and even with the elevation adjustment, it is very long and difficult. Many of the holes require you to shape tee shots because many of the holes are framed by large pines and the holes have sloping fairways that run pretty well, so you have to right a cut to hold a right to left sloping fairway or a draw to hold a left to right sloping fairway."
"The club doesn't necessarily boost this, but Fazio built some cape-like holes at Martis Camp. #3 is a downhill 'redan', #14 is the 'short' and #17 is Eden-ish but long and left is a good miss. Martis Camp also has a few Cape-type holes, but they play different because you're forced to move the ball right to left or left to right because of the trees that frame holes. The green on #6 is a bit of a boomerang or lion's mouth with trouble short and undulations that allow you to putt to both sides of the green—makes for fun and tricky approach shots and challenging putts and chips."
"Built above the 18th green on a granite outcropping, the massive clubhouse—I heard 50,000 square feet—is quaintly named 'The Camp Lodge'. The men's locker room boasts a stone fireplace, full bar, lounge, sauna, jacuzzi, and weight room. Naturally, the facilities offer access to all the modern golf training tools; simulators, and clubfitting."