The Loop
Martha Burk weighs in on Augusta National's new membership controversy
This is not a new story to Martha Burk. But she's hopeful for a new ending.
A Bloomberg article on Wednesday revealed a predicament for Augusta National Golf Club because of IBM's new CEO, Ginni Rometty. In the past, CEOs of the Masters' top three sponsors, IBM, AT&T and Exxon, have all received membership invitations from Augusta National. The club has never had a female member in its 80-plus year history, which prompted a series of protests led by Burk, a women's rights advocate, in 2003.
When Burk heard the news about Rometty, particularly that neither Augusta nor IBM commented on the situation, she felt it was a mistake and an opportunity lost.
"They should say they no longer participate [in sponsoring the Masters]," Burk told Golfdigest.com late Wednesday, speaking from a hotel room in Washington D.C. Augusta National's male-only membership "is an archaic policy that does not agree with their company's values. The board of directors has a responsibility here too. The board needs to distance the company from this club. But they've had that responsibility for the past nine years, and they haven't done anything about it.
"So if they don't do anything, that is a sign of disrespect for their new CEO."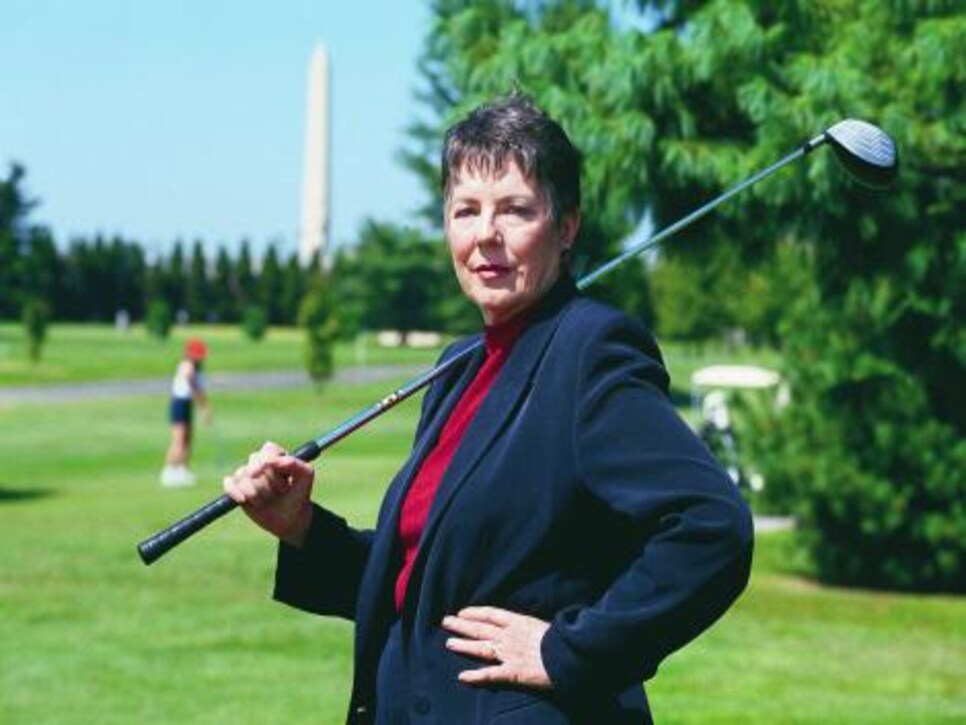 Photo: Burk photographed in Washington D.C., in 2002. Mannie Garcia/Getty Images
Augusta National's media relations director, Steve Ethun, declined to comment for the Bloomberg News story. Its chairman, Billy Payne, has said there's no timetable in place for when its all-male membership policy might change.
Burk's protests outside Augusta National in 2003 generated headlines around the world but didn't lead to any significant change. Now Burk would like to see Rometty take a stand on the issue, too. "Female CEOs are rare, and it's very hard for her to get where they get," Burk said. "They are subject to a huge amount of peer pressure. They have to conform to the norms or they don't get to where they get. So it's interesting to see how strong she is."
Rometty is "going to lose a lot of integrity and credibility if she goes along with this and allows them to come up with some sort of tapering over the problem," Burk added. "It would be as important for her own integrity."
Rometty is listed as a "No-Handicap" in the GHIN system at Shadow Wood C.C. in Florida. Her husband, Mark, is a 10.3.
While Burk lays blame on all PGA Tour players for not challenging Augusta's all-male policy, she particularly has gripes with Tiger Woods, whom she claims had the opportunity to make a statement nine years ago with the support of Nike, but refused. She said she has info "on high authority" that Nike was willing to release an ad campaign to support combating Augusta National's policies, although Nike "might deny this" today.
"Tiger Woods does not have the balls to even articulate an opinion on this," she said. "So I have no respect for Tiger Woods, he has no backbone, and I'm not expecting any shred of integrity from him on this issue." Woods' agent Mark Steinberg and Nike's global PR manager, Beth Gast, declined to comment for this story.
Burk takes issue with three-time Masters winner Phil Mickelson, too, calling him "chicken [expletive]".
According to Burk, "They all have a moral obligation here. Look at Mickelson, he has kids, two of which are female, and Woods does too, and they all claim to be big champions to get kids into golf, both girls and boys, and that First Tee organization, and what are they going to do, bring kids along until they reach a certain age and then say 'Sorry, girls, we were just kidding all along'? This is not about one private club. This is about the image of golf and the statement golf makes the qualities of those kids, and those kids when they get to be adults."
Mickelson's agent was not immediately available for comment.