Go long, kid
Marquez Callaway hauls in two of the most ridiculous touchdown grabs you'll ever see. Michael Thomas, who dat?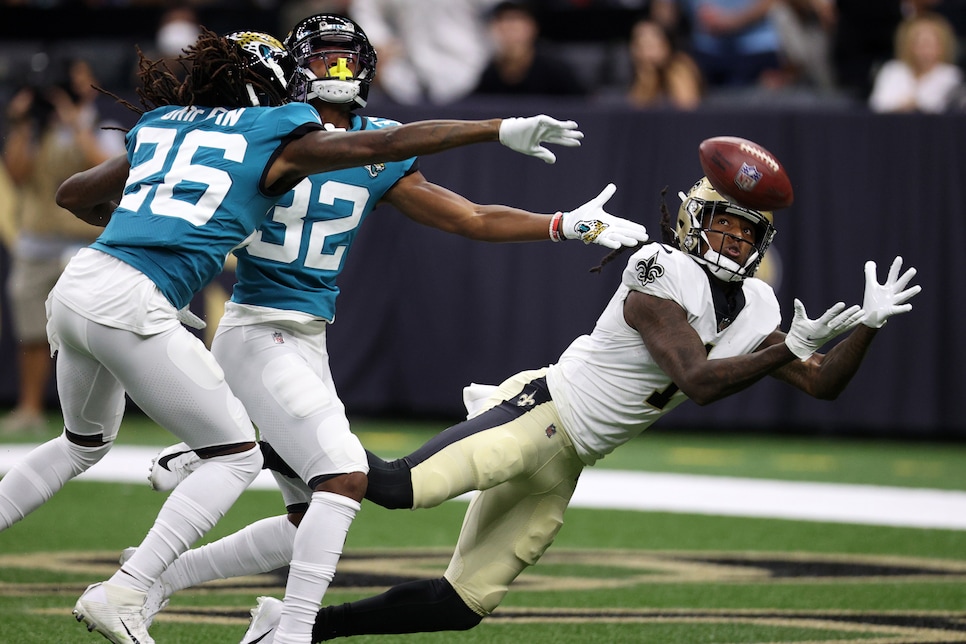 Stop us if you've heard this one before: It's been a rocky offseason for Michael Thomas and the New Orleans Saints. Back in 2019, Thomas held out of camp, seeking to become the NFL's first-ever $20-million-per-year receiver. He eventually got that deal. Saints GM Mickey Loomis acknowledged it was all part of the business of football. All was well. But then last season, Thomas suffered an ankle injury and torn deltoid in Week 1. He played nine injury-riddled games at the behest of the team, but when the season was over, it was expected that Thomas would have surgery in order to be ready for Week 1. The star receiver delayed his surgery, however, seeking a second opinion while attempting to rehab on his own. The rehab didn't take and eventually Thomas elected for surgery earlier this summer at a date that will keep him out well into the upcoming season.
That pissed head coach Sean Payton off something fierce, telling reporters, "It's disappointing. We would have liked (the surgery) to have happened earlier rather than later. And quite honestly, it should have." Those comments then lit the fuse of Thomas' timebomb, detonating in an array of Twitter activity implying that Saints were shaming him for not getting a surgery they asked him not to get.
All in all, a very messy situation and a VERY longwinded way of explaining why second-year wide receiver Marquez Callaway hauling in not one but two rafter-scraping Jameis Winston bombs in a Week 2 preseason tilt against the Jacksonville Jaguars on Monday is a noteworthy NFL development. Check these bad boys out, Saints nation.
It is extremely unlikely you'll see a better pair of touchdown grabs in a single game all season long, and it couldn't have come at a better time for Saints fans, who were wondering not only who their starting quarterback would be, but who that starting quarterback would be throwing to. Based on Monday's evidence, Callaway—who had just 21 catches as a undrafted rookie out of Tennessee last year—is that guy, leaving just one question unanswered: