The Loop
Marquee group hopes Phoenix is just the start of a big 2012
SCOTTSDALE, Ariz. -- While over the last year or so it has begun to seem like the marquee pairing on any given day on the PGA Tour is whatever group has Webb Simpson in it, the biggest draw on Thursday at the Waste Management Phoenix Open was the troika of Phil Mickelson, Dustin Johnson and Rickie Fowler. Aside from their star power, the threesome had at least one other thing in common -- they all could use a big 2012.
The 41-year-old Mickelson, distracted a week ago by a health issue involving his daughter Sophia, was coming off a missed cut in the Farmers Insurance Open in his hometown of San Diego. Last year, he and Johnson, who share both their teacher, Butch Harmon, and a penchant for big money games, had their private battle scheduled for early in the week at Whisper Rock GC. This year on Wednesday afternoon, Mickelson had a different mission. He ran into Kyle Stanley at Whisper Rock and if anyone understands what a 72nd hole disappointment feels like, it's Phil. They played a few holes and talked about Torrey Pines. "We were just out there practicing. He was there so we played a few holes. I wouldn't say it was organized but it was nice," said Stanley. "It's nice to play with an older guy who has a lot of experience and you can always learn from it." They decided to play again after their opening rounds on Thursday.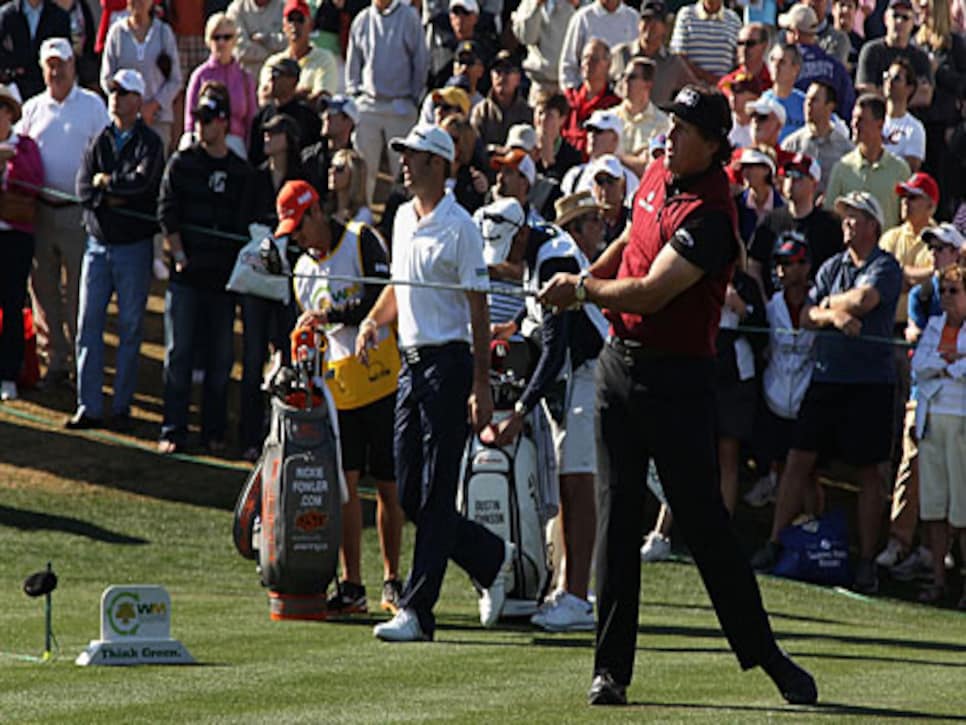 Big crowds followed Mickelson, Johnson and Fowler on Thursday. (Photo: Getty Images)
Mickelson is also dealing with a lawsuit involving a Canadian man who has been posting comments about him on Yahoo. "I'm all for freedom of speech," said Mickelson after his opening round 68, "but I won't tolerate defamation and so I've got a great attorney, Glenn Cohen, who's on it."
For his part, Johnson is coming off the November surgery on his right knee. After having close calls in both the U.S. Open and the PGA Championship in '10, his only victory last year came in the Hurricane Irene-shortened Barclays. He wasn't able to tee it up in the Tournament of Champions in January and had to withdraw from the Humana Challenge after 27 holes when his lower back tightened up. His opening round in Palm Springs was the first 18 holes he'd walked since the surgery.
"The knee is good, everything is good," said Johnson, who also shot 68. "Looking forward to this week, getting back at it."
Fowler finally broke into the winner's circle last year -- in Korea. His best finish on the PGA Tour was T2 in the Bridgestone Invitational. While his wedges are all holdovers from the old set, the rest of the bag is full of brand new Cobras. "We went through a couple sets getting everything right," said Fowler. "This set went in the Saturday before San Diego. Getting the first week out of the way with new clubs and playing well (T-13), I think was a big step in the right direction. Knowing that everything in the bag is working the way it's supposed to, I'm really looking forward to this year."
Thursday morning Fowler made a scrambling birdie on the 15th, the hole where he was so roundly criticized for laying up when he was in contention two years ago. He hit a 4-iron second into the water, took a drop and holed out from 68 yards. "That was a little makeup from another wedge shot a couple years ago," said Fowler, who finished with 69.
Though he lost his longtime instructor last year after the passing of Barry McDonnell, their work together was always designed to make Fowler self-sufficient when it came to his golf swing. "I still go through what we used to work on. He's still in my head talking," said Fowler. "Just the fundamentals. Whether I'm warming up or working on something, it's still all the same teaching stuff."
There was one other thing the Mickelson-Johnson-Fowler threesome shared. Their best finish in a major championship last year came in the British Open won by Darren Clarke at Royal St. George's. Fowler was T5 while Johnson and Mickelson tied for second. That's something they all want to change.