Editor's Note: This article first appeared in Fire Pit Collective, a Golf Digest content partner.
In golf, as in life, you take your victories where you can find them.
Enter Mark Baldwin, play-the-world touring pro.
Enter his entourage, on this particular Saturday, at Pebble Beach, one year ago.
Baldwin's friend and caddie, Ryan French, patron saint of Monday qualifiers wherever they may be.
Peter Jacobsen, golfer-musician.
Steve Young, the retired Hall of Fame quarterback and surfer.
Huey Lewis, musician-golfer.
Willy Wilcox, the former tour player and close friend, who was following Baldwin's scores on the Internet while entering a drug-rehab facility.
Baldwin's mother and mother-in-law. His wife, Sarah. The couple's young son, Miles.
This unlikely gang had gathered, virtually and in physical life, after the third round of the AT&T Pebble Beach Pro-Am last February. Mark Baldwin, a journeyman pro to those seated next to him on various Southwest flights but a legend to all of us here at the Collective, had shot a Saturday 66 at Monterey Peninsula Country Club, one of the three courses used for the tournament. Of the 52 professional golfers who played that course on that windy day, all of them trying to make the 54-hole cut in one of the historic events on the PGA Tour calendar, only one shot lower than Baldwin.
Go out there on Sunday and make a check, Willy Wilcox said to Mark in a telepathic text message.
Steve Young was Baldwin's amateur partner. Peter Jacobsen, playing in his final PGA Tour event, was the other tour pro in Baldwin's group. Jacobsen was aided and abetted by his longtime caddie, Mike Cowan. That is, Fluff. (Ryan French can now say, for the rest of his life, he caddied for three days alongside Fluff.) Ryan, you may know, is a Fire Pit Collective writer and podcaster and a video star-in-the-making, and in recent years he and Baldwin have gone from being virtual acquaintances to a two-man band of brothers.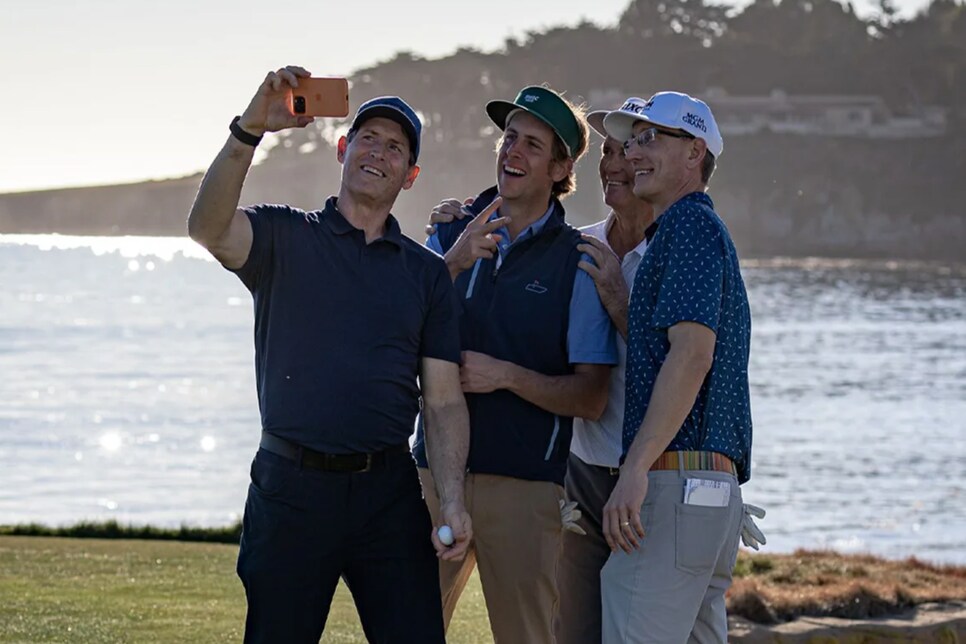 Baldwin got in the Pebble Beach tournament by way of a sponsor's exemption. You've heard of the famous double-play trio celebrated in rhyme, Tinkers to Evers to Chance? There's a poem-in-progress called M-Q to Matty to SJ. French, founder of the Monday Q Twitter feed, told Matt Ginella, the Fire Pit Collective founder, about Baldwin. Matt pitched his friend Steve John, the ultimate Pebble Beach insider, about giving Baldwin a coveted sponsor's exemption into the tournament. John did. Baldwin seized the Saturday.
If you want to learn more about Baldwin's path to Pebble, click here and watch the first episode of the FPC original series, "The Grind."
If you want to learn more about what Baldwin did once he got to Pebble, click here and watch the second episode of the FPC original series, "The Grind."
If you want to read Baldwin's haunting and hopeful story about Willy Wilcox's life in golf and struggles with drug addiction, click here. In 2022, no story was more read on the Fire Pit Collective website. Not even close. Most FPC stories are published on GolfDigest.com as well, and Mark's piece on Willy was the best-read feature on that site in 2022.
Yes, a story written by a professional golfer about another professional golfer, neither of them remotely famous.
If you want to hear Mark talking about his life in golf in a revealing FPC podcast with Ryan, click here.
Yes, Mark Baldwin can talk golf and he can write golf. He can carry a documentary and he can shoot 66 with a tour scorecard in hand on a windy day with difficult pin placements. Talk about your golfing polymaths.
Move over, Bob. (Bobby Jones could play and write golf at an unimaginably high level and starred in a superb series of instructional shorts for Warner Bros.)
This Mark Baldwin—a son of New Hampshire and a brainy Notre Dame graduate—can do it all. But what he wants to do most is play. He's 39 and has played in five PGA Tour events, making the cut in his last three.
Jacobsen, former frontman of the band Jake Trout and the Flounders and the winner at Pebble Beach in 1995, is surprised that Baldwin has not played far more on the tour. "I played with him for three days, and for those three days he looked not just like a tour player, but a guy who could win on tour," Jacobsen said in a recent phone interview, almost a year after meeting Baldwin. "Now that's not the same as playing 20 tournaments with him. What I told him is he needs self-confidence. He needs to look in the mirror and say, 'I can win on the PGA Tour.' Because I believe he can. But he has to believe it."
Making it in professional golf is ultimately about getting the ball in the hole as fast as possible, but the obstacles are what make the game such a fascination, and such a mind game. Jake knows it one way and Baldwin another.
Jacobsen's late mother was an alcoholic and his late brother was a drug addict, and their compulsions contributed to their deaths. Out of their lives, and their struggles, Jacobsen found his own drive while addressing his own insecurities. Baldwin lost his father to alcoholism when the son was a senior at Notre Dame. Peter and Mark didn't dwell on it, but Jacobsen felt a connection to Baldwin by way of family history, and in other ways.
"He's a wonderful guy, highly intelligent," Jacobsen said. "He writes about golf and talks about golf with so much passion. You just hope he stays with it. If that's what he wants."
One year after rooting so hard for Baldwin telepathically, Willy Wilcox is in a different place in his life than he was a year ago. In mid-April, Baldwin's story about Wilcox's drug use went viral. It changed Willy's life. After the story was published, he no longer had to carry his dark history in secret. But he also became known throughout the sport as the guy who played professional golf as a drug addict. He's not, for a minute, blaming Baldwin. Wilcox wasn't talked into going public by anybody.
Then, about six months ago, Wilcox was in a multi-car pileup, crushing a knuckle and killing his grip. For now, he considers himself done as a competitive golfer. He's at Pebble this week, caddieing for his close friend Lanto Griffin. They made the cut last week at Torrey Pines.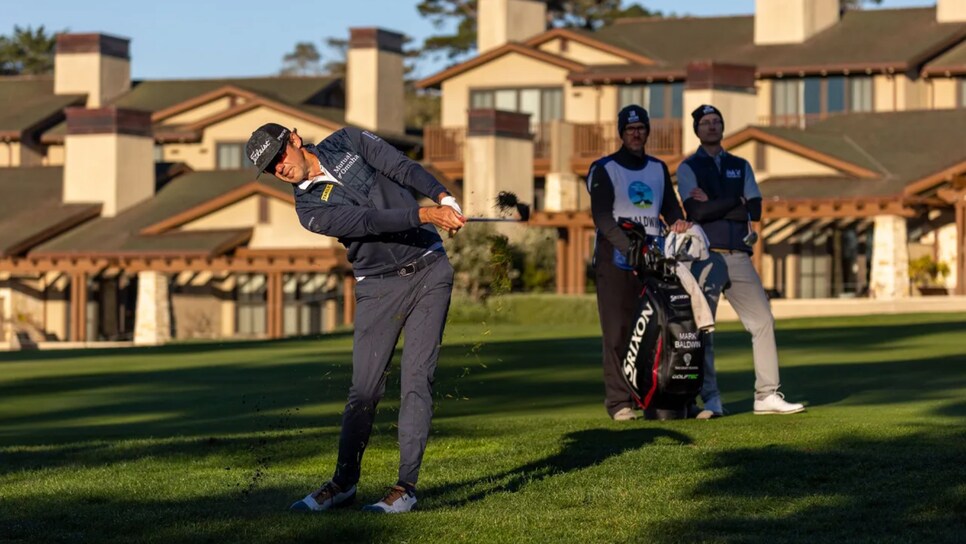 Mark Baldwin and Ryan French watch Lanto Griffin play a shot from the final round of the 2022 AT&T Pebble Beach Pro-Am.
Last year at Pebble, by coincidence, Baldwin played the fourth round with Griffin. Griffin shot a final-round 70 and made $120,000 for his T-16 finish. Baldwin shot a final-round 75 and made $21,000 for a T-49 finish.
"I'm no expert," Wilcox said recently, "but I think Mark is a real good writer, and we had been talking about my drug issues since like 2018, 2019, and I just thought, after going to rehab, that it would be a good time to clear the air and get everything out in the open. Mark's been like a therapist to me. He's been a good friend. He's thoughtful. He's funny. He could be a stand-up comic. He can talk to anybody, anywhere in the world.
"To be honest about it, I have some regret about doing it," Wilcox added, about his decision to go public with his drug issues. He mentioned a stranger attempting to hug him in an act of solidarity and public shouts directed at him to stay sober as he has tried to blend into the background as a caddie. But when he weighs everything, he's glad he talked to Mark and gave him his blessing to tell his story. "If my story can help another person, then it's worth it," Wilcox said.
Ryan French first met Willy Wilcox in 2010, when Wilcox was playing in, and winning, a four-round Hooters tournament in Conover, N.C. Ryan and his father, Howard, were caddieing in the event and staying in a tent at a campground. The wind was hellacious during the Saturday round, and when Ryan and his father returned to the campground that night they found their tent in a tree. Willy made $28,000 that week. A fortune.
In the summer of 2017, Ryan began his Monday Q account on Twitter. Soon after, Baldwin and Wilcox started following him. French now has 117,000 followers on Twitter because he has created a beat out of the intersection of talent and grit. Wilcox and Baldwin know all about those traits. If you could combine Wilcox's talent with Baldwin's grit, you'd have Jim Furyk. Something like that. You could say that Wilcox bears a passing resemblance to Jeff Spicoli of "Fast Times at Ridgemont High" and Baldwin to Furyk. But Baldwin takes that look and runs with it, courtesy of his wire-framed glasses that give him the look of a night-class accounting professor. Like a lot of good golfers, he's good with numbers.
Ryan often meets people virtually first and later in-person. That's what happened with Mark. "I met him in Chicago a few years ago," Ryan said recently. "I was living there and caddied for him in a Korn Ferry event. You see him for the first time and he looks kind of gangly, kind of nerdy, and then he gets on the golf course and his swing is long and powerful. He catches it flush and he kills it with the driver.
"Last year at Monterey Peninsula, we're on the 12th hole, a par 5, and it's 308 to carry a creek and we're talking about what to do for like a minute," Ryan said. "And then Mark hits driver, carries it no problem, sets up an easy birdie. We're walking down the fairway and Fluff goes, 'If you got a gun like that, let it go.'
"When we got in, Jake pulled Mark aside and said, 'You can't give up.' You know, here's Peter Jacobsen, with all these wins and everything else, and then Mark, winner of the Sioux Falls Pro-Am on the Dakotas Tour, and he's telling Mark he can't quit."
In Mark, Ryan has found a friend who is always there for him as well. "We talk almost daily," Ryan said. "He has so much insight. He's always asking, 'What can I do?'"
Ryan and his wife, Stephanie, and two young children live in a rural setting on the far outskirts of Alpena, Mich., where Ryan grew up. They moved there from Chicago last summer so that Ryan and Stephanie could help look after Ryan's father, Howard, who was dealing with complications from a stroke, most notably dementia.
For years, Howard caddied for Ryan when he played in the Alpena City Open. Howard was in no shape to caddie for Ryan this year. Mark flew in from his home in Phoenix to caddie for Ryan and to fill the hole left by Howard's illness. All of this came out of, among other things, the residue magic of the week at Pebble.
"I knew how much it meant to Ryan, to have his father on the bag for that tournament, and it made me think of my dad caddying for me in our state championship, so I was honored to do it," Mark said. "Howard had this lucid moment where he said to me, 'Stay out of the way.'"
As his dementia became more advanced, Howard would repeat certain phrases and sometimes, by some sort of miracle, he would say exactly the right thing. Shown a photo of Ryan and Mark at Pebble Beach, Howard said of Mark, "He better be playing well. His wife is really going through it."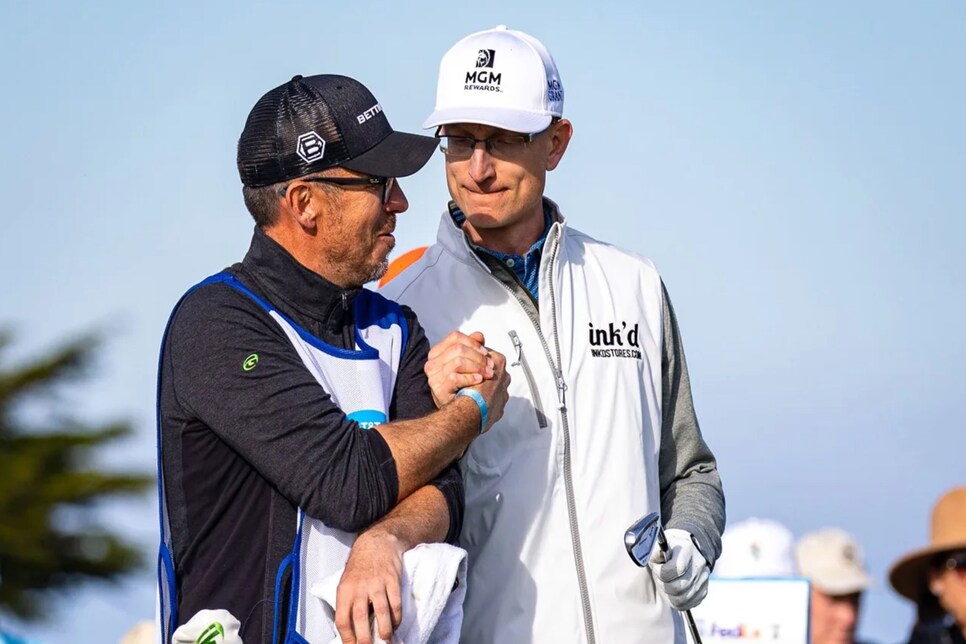 Ryan French and Mark Baldwin.
In the year since last year's Pebble Beach tournament, Mark Baldwin wrote one of the most significant golf stories of the year. He has had an ongoing correspondence with one of the most accomplished quarterbacks in the history of the NFL, Steve Young. He has had a chance to reflect on the insights of a vastly experienced tour winner, Peter Jacobsen. He was able to comfort his brother-in-arms, Ryan French, after Howard's death last Friday.
"In terms of experience, my life has advanced over the past year," Mark said the other day. "What we view as success in the professional game, creating more opportunities through your play, in that sense my life hasn't advanced. But the experiences I've had, those I wouldn't trade for anything."