Courses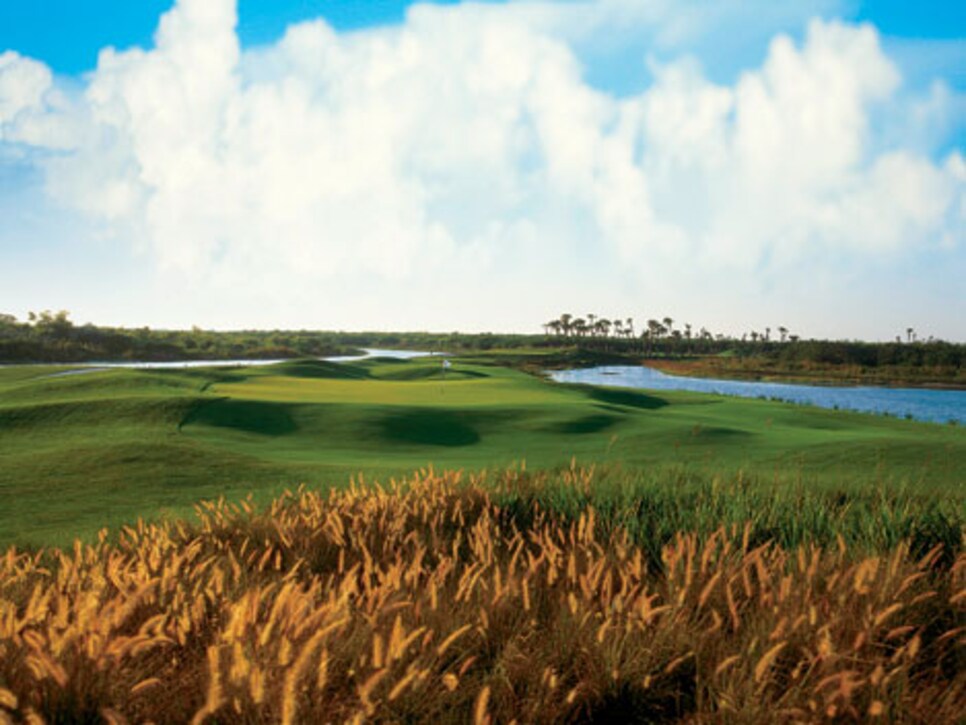 Elevated greens, reeds and a lot of water make the 204-yard 10th at Fiddler's Creek a brute.
Southwest Florida is one of the fastest growing regions of the United States, but you can still get a taste of what the area used to be like by visiting Marco Island, the sleepy little land mass off the coast of Naples. And when you're not relaxing on some of the best beaches in Florida, play the three-year-old Creek Course at The Golf Club at Fiddler's Creek and the recently renovated The Rookery at Marco. They are just off the island, a 10-minute drive north on State Road 951 from the bridge that connects Marco to the mainland.
The Arthur Hills-designed Creek Course ($138 with cart) can be played only by guests of the Marco Beach Ocean Resort, which is 15 minutes south on Marco Island. The Creek Course was designed with strategically placed mounds, tricky greens and wetlands features that can gobble errant shots. And with alligators, sandhill cranes and deer hanging around, playing there is like taking an Everglades wildlife tour.
The Rookery ($45-$99 with cart) is aligned with the Marco Island Marriott Resort (next door to the OceanResort), but anyone can play the Robert Cupp Jr. course. The 14-year-old linksy track was renovated in 2002 and has massive waste bunkers, expansive fairways and water on every hole.
Stay here: Marco Beach Ocean Resort (800-715-8517, marcoresort.com) has rates from $169 to $500 until Dec. 21, or stay two nights in a one-bedroom suite with two rounds at Fiddler's Creek for $450.The Marco Island Marriott Resort (239-394-2511, rookeryatmarco.com) has rates starting at $240 a night.
Eat here: Marco Beach Ocean Resort's Sale e Pepe ("salt and pepper") is a terrific, upscale Italian restaurant with an impressive wine cellar. At Fiddler's Creek, Caxambas is ideal for steak and seafood. For things a little more casual, the Snook Inn on Marco has an outdoor bar and restaurant on the water.
Visit here: Everglades National Park (nps.gov/ever) and the Big Cypress National Preserve (nps.gov/bicy), with entrances less than 30 minutes from Marco Island, are uniquely Florida. Boating, cycling, hiking and even kayaking through swamps add to the area's appeal.
Travel advisory: Though Naples has a small airport—Atlantic Southeast Airlines (Delta) flies there from Atlanta—your best bet is Southwest Florida International Airport (45 miles north in Fort Myers). From the airport, take Interstate 75 south to SR-951 west. Marco is crowded in the winter, steamy in the summer. Autumn is ideal.