News
Marathon day at the U.S. Girls' Junior ends with Yealimi Noh winning her second straight big title
It's an exaggeration to say that Yealimi Noh's toughest opponent during the U.S. Girls' Junior Amateur at Poppy Hills Golf Club was the fog. But only a mild one. Nearly 16 hours of delays during the week in Pebble Beach, Calif., led to a bumpy schedule of stops and starts. It meant that the 16-year-old from Concord, Calif., needed to play 49 holes on the final day—believed to be the most ever for a winner in a USGA championship—before finally walking away with the trophy.
Despite the chaos, Noh shinned, beating Gina Kim in the semifinals, 3 and 2, and then taking down Alexa Pano in the final, 4 and 3. It was the second significant title the high school senior-to-be claimed in the past week, having won the Junior Girls' PGA Championship nine days earlier.
"I mean, it really hasn't sunk in yet," Noh said. "It's been such a long day, too. I just haven't gotten to chance to fully realize what this all means, but it really means a lot to me. And to be able to win it right after Junior PGA, which is a really big accomplishment of mine. I knew I could do it, but I was a little unsure because I haven't always had the best results in match play."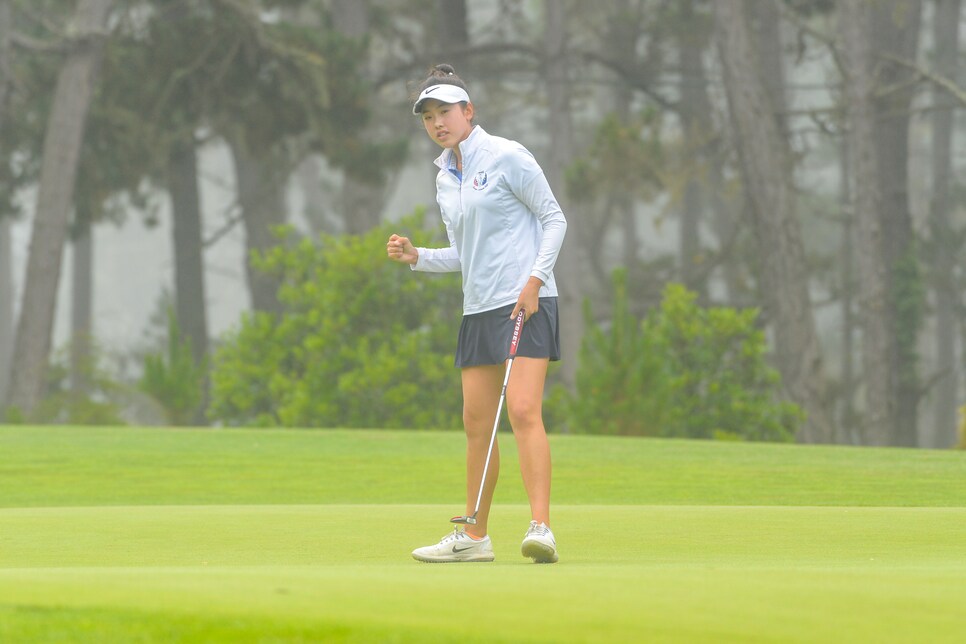 Due to all the fog delays, the USGA's altered plan called for the semifinals (originally set for Friday afternoon) to be played Saturday morning and then 18 of the 36-hole final to take place Saturday afternoon, the other 18 then pushed to Sunday morning. But when both finalists inquired about playing as many holes of the final as possible on Saturday—each had another tournament then planned to travel to on Sunday—championship officials agreed, setting up the marathon day.
The burden was even tougher on Pano, who had to play 51 holes on Saturday. To reach the final, the 13-year-old from Lake Worth, Fla., made a birdie on the 18th hole for a 1-up victory over Lucy Li, the top-ranked junior in the country who had shot a 62 in stroke-play qualifying to earn the championship's No. 1 seed. Afterwards, Pano said she had no regrets about trying to get everything in on Saturday.
Pano took an early 2-up lead in the final, Noh trailing by the largest margin she had all week. But then Noh won Nos. 8, 9 and 10 with birdies and began her victory march. She'd win three more holes, two more with birdies, to take a 4-up lead after the first 18.
Noh was able to extend her advantage to 6 up after 23 holes, then made eight pars and two bogeys to close out the match.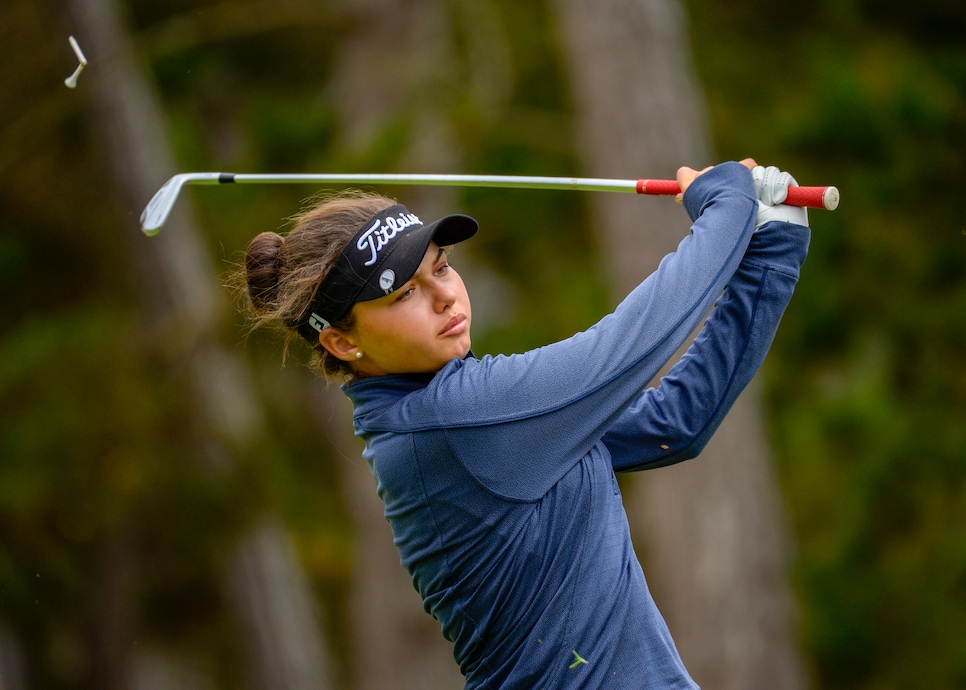 "She played really solid the whole day," Pano said. "I think in the beginning I was just making some birdies, and she had some advantages on the par 5s being able to be longer and to have easier shots into the greens. But I mean, overall, she just killed it the whole week and played insanely well. I can't really complain with even par or one under and losing."
Earlier in the summer Noh, who had given a verbal commitment to go to UCLA in the fall of 2019, decided that she would turn pro instead after finishing high school. Upon making the choice, she began hearing whispers for some that it might not be the best decision. But victories in arguably the two biggest junior events of the year should help quiet the chatter.
"Just having this win and last week's stroke-play win [with a 24-under 264 total] and then a match-play win, it means so much to me because I feel like I've kind of at least a little bit proven that I can do it," Noh said.
As to when she'll turn pro, that date is uncertain, but it won't likely come before May, now that Noh has earned an exemption into the U.S. Women's Open for her Girls' Junior victory.