Women's Golf Style
How Malbon's new women's line is reimagining golf looks in the modern age
*All products featured on Golf Digest are independently selected by our editors. However, when you buy something through our retail links, we may earn an affiliate commission.*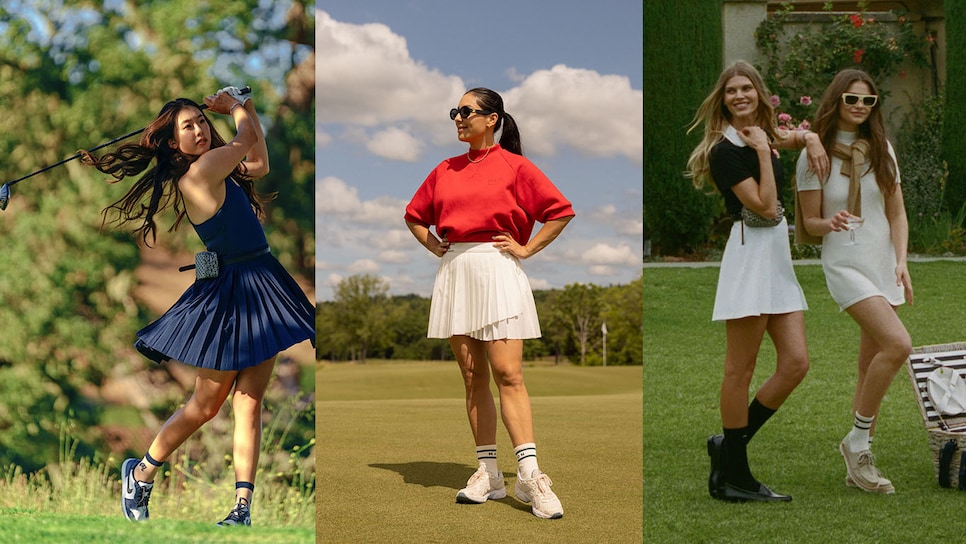 After a two-year development process, Malbon recently released its first women's-focused collection, Malbon Women. Similar to the 6-year-old golf brand's menswear and unisex collections, it's a blend of old-school golf styling with L.A. street-style with edgy modern touches. Golf-ready performance fabrics and technologies pull it all together, giving golfers new and unexpected ways to express themselves on the golf course. Malbon as a brand has been a part of the evolution of golf fashion in recent years away from the tradition uniformed khaki look toward more curated and runway-worthy looks. Women's golf fashion has seen an even bigger resurgence with brands paying more attention to details women's apparel has been missing for decades (pockets, flattering silhouettes that don't impede mobility, lightweight fabrications, etc.), which is why the Malbon design team, headed by co-founders Erica and Stephen Malbon, took a little extra time to make sure they got the women's line right. We caught up with Erica Malbon to review some of her favorite pieces in the line and learn more about how she worked with designers to bring back classic golf looks with a modern twist.
Malbon on the design process:
"Our design process was meticulous and it was important that we were 100 percent confident in the fit, how it laid on the body, the fabrication and it was something we would want to wear and feel confident in," Malbon said. "That took a lot of iterations and that's why it took some time for us to launch Malbon's first women's collection."
Malbon on how her struggle to find women's golf clothes influenced the line:
"I was struggling to find pieces that I felt comfortable in and I would buy apparel that wasn't specifically golf apparel to wear on the course," Malbon said. "I got together with our design team and brought in some pieces I love for golf and brought them back to life and optimized them for golf."
Malbon on designing women's golf apparel for what women need:
"We know women want to feel comfortable in what they are wearing, we don't want to feel overexposed and we want to look put together," Malbon said. "That was really our ethos of creating this collection."
Malbon on how vintage golf style inspired designs:
"What you'll see in this collection is a lot of pieces with a classic silhouette," Malbon said. "We were inspired by traditional looks throughout golf history and then challenged ourselves to bring those classic looks from the 50s, 60s and 70s into today and modernize them through fabrication, color and print."
Malbon on how designers modernized vintage looks for today's golfer:
"Bringing classic pieces into today had to do mostly with the fabrics and technology in those fabrics...namely stretch," Malbon said. "A golf dress from the 70s would have been made with a traditional cotton poplin or pique, which is great, but doesn't have the same kind of wicking abilities or stretch you would see in more contemporary fabrics."
Malbon on the collection's shorts:
"The shorts lead this line," Malbon said. "One of my favorites is the Frida. It's a short but feels very retro and is extremely comfortable. I'll be wearing those all year."
Malbon on the Helena V-Neck:
"I love them all, they are like children to me, but the Helena V-neck is such a staple," Malbon said. It's a long sleeve polo, but a knit. It's been a little cooler this summer in California, so I've been wearing it a lot. It's a piece that you can wear throughout the day and keep wearing when you head to the golf course."
Malbon on the Hannelore Vest:
"Oh I can't forget the Hannelore Vest, it's a great layering piece that's super versatile," Malbon said. "I've been wearing over skirts and dresses this summer, it looks super cute layered over a little tank or just a sports bra with a skirt, but I also love how it looks with a short sleeve polo and pant. It's one of those pieces that you can wear however you are comfortable wearing it and bring your own unique flair to."