The Loop
Major accomplishments for Kittleson, Lee
__PINEHURST, N.C.--__How long does it take for it to sink in that you've just earned a spot in the Masters and the U.S. Open? For Drew Kittleson, the blank expression on his face moments after he won his semifinal match Saturday at the 108th U.S. Amateur Championship suggested it might be a little while.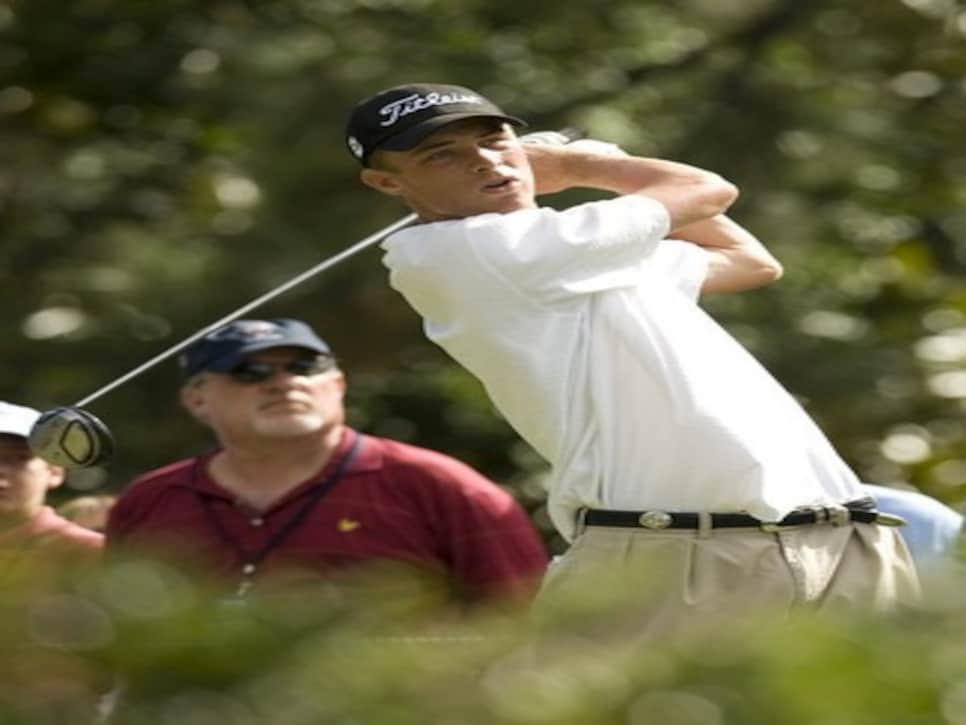 Even as his father, Kurt, and a half-dozen of Kittleson's friends who flew in from his native Scottsdale the night before were congratulating him after his 4-and-2 victory over Adam Mitchell, the 19-year-old Florida State sophomore still seemed to be at a loss for words.
"I thought about it, don't get me wrong," said Kittleson (right) of the spoils that come with advancing to the finals of the U.S. Amateur, "but the match is done and I guess that's it. I can't believe it."
For New Zealand's Danny Lee, the emotions of what he had accomplished by winning his semifinal tilt with Patrick Reed, 3 and 2, seemed more apparent. The 18-year-old who could break Tiger Woods' record as the youngest winner of the championship, rejoiced by speaking to his parents back on other side of the world.
"[Mom] was crying," said Lee, who last saw her in early May before coming to the U.S. to play the summer amateur circuit. "She was really, really happy. And so was my dad. And I'm really excited."
The Kittleson/Lee final here at Pinehurst No. 2 seems only fitting. The two have been taking care of business the entire week, neither player having a match that's extended past the 16th hole. Lee has made 18 birdies with match-play concessions in five matches; Kittleson has 21 birdies. Lee has trailed just one hole during the entire championship, Kittleson only 12 holes.
Kittleson actually found himself in new territory, however, when he fell 2 down through four holes versus Mitchell, a senior at Georgia, after his opponent holed out his third shot from 109 yards for eagle on the par-5 fourth. "I had to flip the switch and turn it around and get something positive going," Kittleson said.
He did just that, winning the ninth and 10th holes to square the match. But when he took real control was on the 11th hole, where Mitchell, after hitting it to 10 feet from the waste area right of the fairway, three-putted while Kittleson converted for par to take the lead.
Behind KIttleson's match, Lee was battling with incoming Georgia freshman Reed, both players not quite as sharp as in previous days. A birdie on the third hole gave Lee an early lead, which grew to 2 up when Reed missed a 2 1/2-foot par putt on the seventh. After the two exchanged holes on the eighth and ninth, Reed cut Lee's lead to 1 up with a 30-foot birdie on the 13th.
On the 14th, however, Reed let any momentum he was gaining slip away when he missed the green from the fairway after Lee was already lie three on the putting surface. Both players bogeyed, and when Lee made an 18-footer for birdie on the 15th, the match was all but decided.
"I'm feeling really comfortable around the greens," Lee said. "I think that my short game's improved quite a lot."
Come Sunday's final, the two competitors will be playing for a spot in the British Open to go with the other majors, not to mention the Havemeyer Trophy and a place in USGA history.
"I'll be nervous, but I'm sure it's going to be fun out there," Kittleson said.
Maybe by then he'll have come to grips with what he's already accomplished.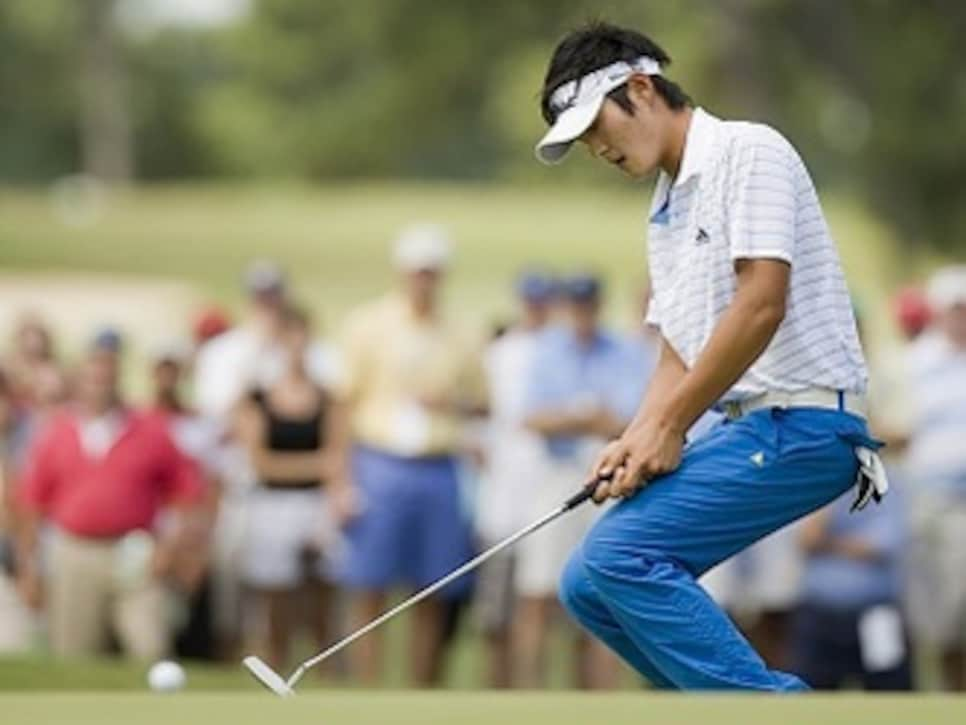 After feeling a "click" his left shoulder while warming up for his quarterfinal match Friday, Danny Lee said that there was still some soreness but that it wasn't an issue while playing his semifinal match against Patrick Reed.
"It was feeling much better than yesterday, but it still hurts a little bit," Lee said Saturday. "It will be OK tomorrow."
For precautionary reasons, Lee (right) went to Moore County Regional Hospital after his match Friday and had an X-ray taken of the shoulder, which confirmed no damage had been done to the bone.
That Drew Kittleson was even in the field at the U.S. Amateur, much less advancing to the finals, is thanks to a bit of good fortune. In his sectional qualifier at Camp Creek GC in Watersound, Fla., Kittleson hit an approach shot on his final hole from a fairway bunker 185 yards away to six inches to make a birdie and get in a three-player-for-two-spots playoff. He then made a birdie on the third playoff hole to punch his ticket to Pinehurst.
Can't say either Lee or Kittleson aren't willing to put in the work to win the U.S. Amateur title. Lee was already on the driving range Saturday morning at 7:15 a.m., his tee time two hours later. Kittleson, meanwhile, was on the range at 4:10 p.m. Saturday afternoon, three hours after the end of his semifinal match. He then walked over to Pinehurst's supersized practice green to work all alone on his putting.
"You know what they say about a caddie, you need to show up, shut up or stay up," joked Bill, who traded places with Exber on the 10th green. "Well, I couldn't stay up anymore."
"I was glad to help," Exber said. "Patrick is a good kid. And he's a good player. you can see it in his game."
Patrick was appreciative of Exber's service ("Great guy, great gentleman.") but was proud of his pop as well. Said Reed: "Without my dad, though, on the bag this whole week, there's now way I would have gotten all the way here to the semis."
Aside from spots in the first three majors of 2009, the winner of Sunday's championship match receives an invitation to play in the 12th annual Georgia Cup, an 18-hole match pitting the winner of the British Amateur (this year it's Reinier Saxton of the Netherlands) against U.S. Amateur champion. The event takes place at the GC of Georgia's Lakeside course in Alpharetta, Ga., and is set for March 31, 2009.
Photos: John Mummert/USGA