lpga tour
LPGA player pours in 11 birdies at Kia Classic—after a nightmare first hole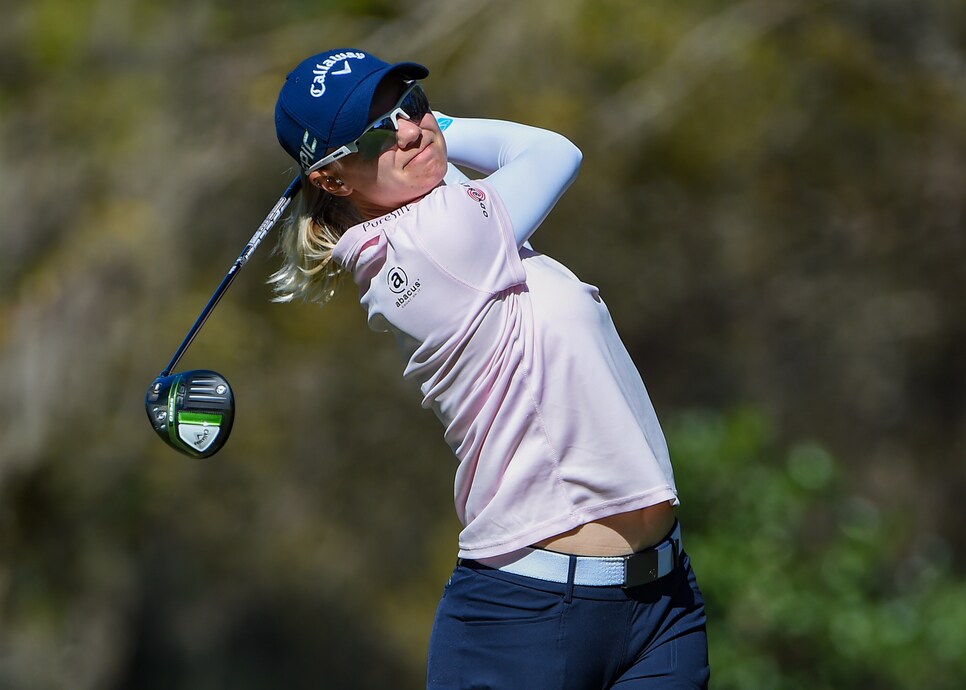 Madelene Sagstrom, shown in the 2021 the LPGA Drive On Championship, made 11 birdies on Saturday in shooting 64 in the Kia Classic.
Ken Murray/Icon Sportswire
When Annika Sorenstam made 13 birdies in shooting the only 59 in the history of the LPGA Tour in 2001, she set an impossibly high bar. Since then, only five 60s have been recorded and no one has even approached the birdie count, with the best being 11 in a single outing.
It was another Swede who was chasing records on Saturday in the Kia Classic in Carlsbad, Calif. Madelene Sagstrom, a 28-year-old who notched her first LPGA win last year, got off to a horrendous start in the third round at Aviara Golf Club by hitting a drop-kick hook off the first tee. She was just happy to find her ball and make double bogey.
The rest of the round was something out of a dream. Sagstrom birdied six of the next seven holes, including making five straight birdies to end the back nine. She made four more birdies on the back while suffering one bogey, and the result was 11 birdies in a round of eight-under 64 that vaulted her from 50th when the day began to inside the top five.
Interestingly, it's not the first time Sagestrom has made 11 birdies in an LPGA event. En route to winning the Gainbridge LPGA at Boca Rio in 2020, Sagestrome shot a 62 in the second round and made 11 birdies that day. Prior to that it happened 14 times, the last coming when Sei Young Kim shot 11-under 61 in the 2019 Cambia Portland Classic. Sagestrom is just the second player now to do it twice, joining Juli Inkster.
Sagstrom's reaction to the feat? "Wow."
"Just after the first hole, I hit a really good shot," she said. "I hit it almost dead on 2, and I made a putt on 3. Kind of momentum started—I got it back really quickly. So I just knew if I keep getting out of my own way, get out of my own head, and just give my swing the chance to perform, I'm going to have a good day."
Sagstrom and the rest of the field got some big help in scoring on a course that was set up about 300 yards shorter than in the first two rounds, which were cool and windy. Saturday greeted the players with clear skies and warm temperatures, along with some inviting tees.
Sagstrom drove the green on the par-4 ninth to make birdie, and she came up just short of the green on the par-4 16th, notching another easy 3.
"I just hit some really, really good iron shots that were quite easy, and then I made a few putts," Sagstrom said. "No bombs, nothing crazy. It was really steady play and really good iron play."
In the third round, the field was chasing 20-time LPGA winner Inbee Park, the 36-hole leader who extended her advantage to five shots by shooting a second straight 69. Park stands at 12 under, with M.J. Hur (67), Minjee Lee (68) and Mel Reid (71) at seven under.