News
Phil Mickelson: The Sixth-Best Player Ever?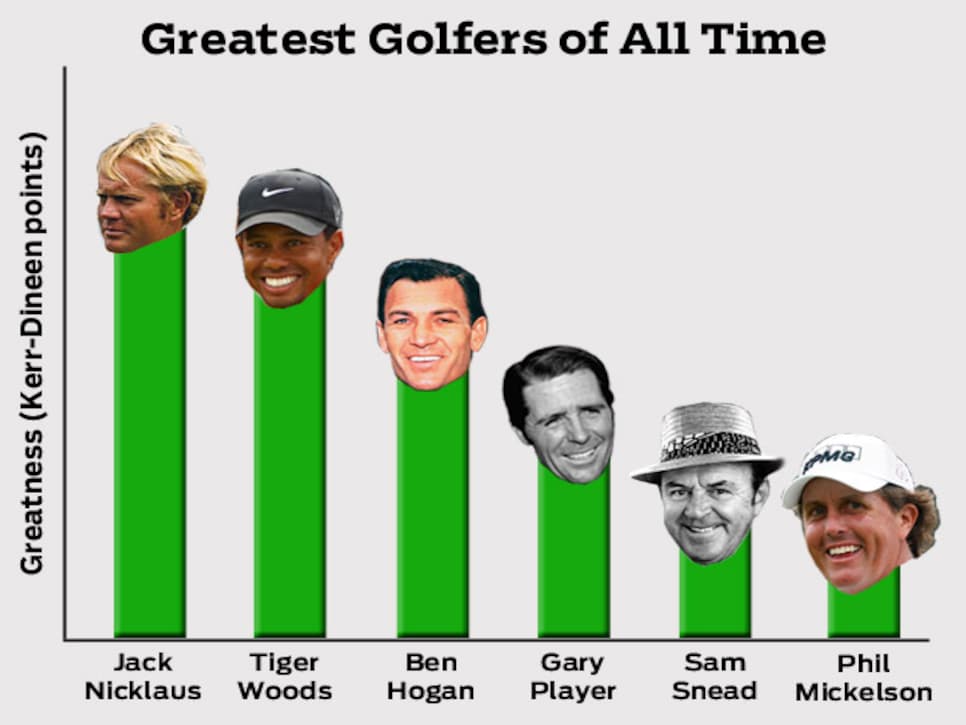 Nicklaus, Woods, Hogan, Mickelson: Getty Images; Player, Snead: AP
If he retired tomorrow (which he won't, but let's just pretend for a moment), Phil Mickelson would do so with 42 PGA Tour wins and five majors, placing him ninth and T-14th in their respective all-time rankings. That gives us a pretty good sense of how his career stacks up, but we think Phil deserves a more precise ranking. So, taking into account majors won, major finishes, PGA Tour wins, quality of competition, longevity and diversity of victories, it's safe to say that right now, Phil Mickelson would go down as the sixth-best golfer in history. If he continues down the track he's on he'll probably end up inside the top five, but we're not going there, because we're staying in our pretend present, where he just retired.
Using the all-time majors won list as a league table, here's how I got there. And it's important to remember that these rankings are based on how good these players are relative to each other, not to how good they were for their time:
Let's start by reserving the first two "best golfer of all time" spots for Jack Nicklaus and Tiger Woods (who we're also pretending retired this year alongside Phil) with Ben Hogan in third. Any guy who wins nine majors and 64 tour events despite having to relearn how to walk after a horrific car crash gets my vote.
I won't hear any of talk of how James Braid and John Henry Taylor, whose careers both ended in the late 40's, deserve places in this conversation. They may have been good for their time, but would you put money on them to beat Phil Mickelson straight up? Exactly.
The other five-time major winners, Seve Ballesteros, Byron Nelson, and Peter Thomson, are all interesting ones, but it's safe to say Phil's record is superior. Thomson boasted 82 professional wins, but only six of them came on the PGA Tour, and five of those were his Open Championship wins. Ballesteros' majors only came at two tournaments (the British Open and Masters). Like Phil's, his five titles spanned nine years, but Mickelson's came at three different majors and has produced more high major finishes.
Nelson, meanwhile, did win 10 more tour events and he also won his majors in pretty much the same manner as Phil's, but it was more the product of one concentrated period of good play than a sustained period of success like Mickelson's: Nelson won 26 events and one major in just two years.
Trevino may have won one more major than Phil, but it was more the product of a hot streak early in his career: four of those six majors came in just a four-year span. Phil also won 13 more PGA Tour events in roughly the same amount of time. Yes Trevino was playing against the likes of Nicklaus and Palmer, but Els and Woods aren't too shabby, either. Given the greater depth nowadays, Phil has the edge.
As for Faldo: Combine both his European and PGA Tour wins and he still doesn't have as many as Mickelson, and his six majors only came at two tournaments. Next!
These next five we can zip through pretty easily. As we did with Braid and Taylor, we're eliminating Bobby Jones (although much respect for winning the Grand Slam) and Harry Vardon immediately, because no way would these two beat Phil with the same equipment (they were part-time golfers, people!). Gene Sarazen is also eliminated. Yes he's older than Jones and Vardon, but his last major win was a year before the Snead-Hogan crowd arrived. Competition was nowhere near what Phil faces every week.
Arnold Palmer: Great player. Nicer guy. Not better than Phil Mickelson. Consider that only one of Palmer's majors (the 1964 Masters) came after Jack Nicklaus won his first major, and four of his seven came before Jack Nicklaus even turned professional. All of Palmer's majors also came in just a four-year span; we're not rewarding hot streaks, we're talking about the greatest players of all time. Mickelson, on the contrary, won his majors over a nine-year span, and has taken on Tiger Woods at the very peak of his career, with all five of his majors coming with Woods at or close to the top of the sport. Major brownie points.
Right now, it's close—really close—between Sam Snead and Phil Mickelson, but Snead has the edge. Phil has had more runner-up finishes in the major both he and Snead didn't win (the U.S. Open), he's played in two more Ryder Cups than Snead, and had more top-three finishes in majors in the first 21 years of their professional careers (the time Phil turned pro until right now). So why does Snead finish ahead? Because he won two more majors than Phil over a longer period of time, and boasts almost double the amount of tour victories than Phil, starting in the pre-Hogan-Nelson era and continuing until Palmer-Nicklaus era.
Yes, it's true. If things ended right now, Phil Mickelson would have had a better career than Tom Watson. Phil has had more top-three finishes in majors than Watson and he's had more high-place finishes in the one major he hasn't won than Watson had in the major he could never win (the PGA). Mickelson has also played in more Ryder Cups, won more PGA Tour events, and has won his majors over nine years compared to Watson's six.
This is the time when I eliminate Walter Hagen for the same reasons I did with Jones and all the others old-timers.
Finally, I can't say that at this moment, Phil would have had a better career than Gary Player. Player won nine majors over a 19-year-span compared to Phil's five major, nine-year-stretch—and all during Jack Nicklaus' career peak. He boasts the career Grand Slam and 97 combined Sunshine Tour-PGA Tour wins. There's still some time left for Phil to catch him, but right now, Player has been better. He's the fourth-best player of all time, one ahead of Snead, and two ahead of Phil. But with the way Phil's playing right now, if one thing's for sure, it's that neither Snead or Player's position is out of his reach.
Here's how things finished up: