Australian PGA Championship
A Presidents Cup snub and a Masters invitation are motivating Lucas Herbert to finish 2022 strong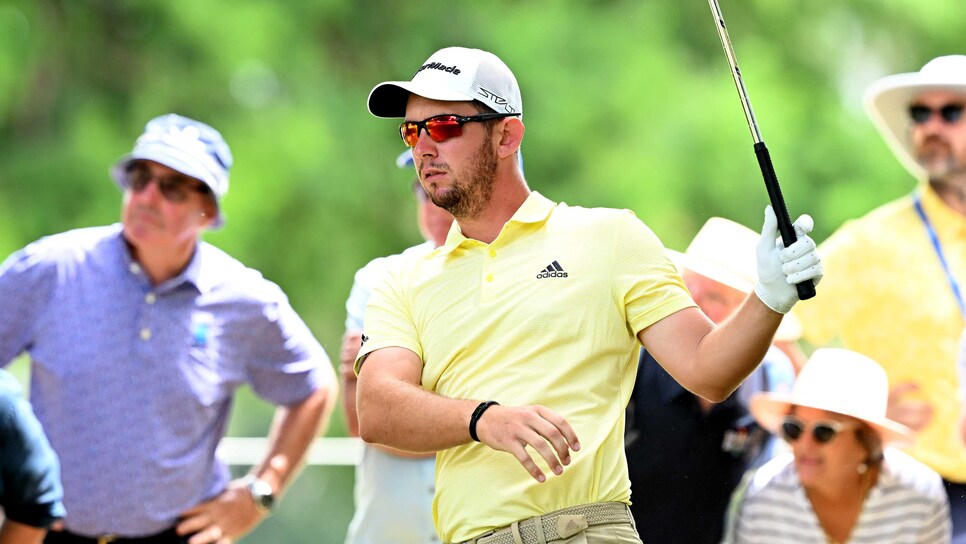 Lucas Herbert plays a shot out of the rough on the ninth hole during Day 1 of the 2022 Australian PGA Championship. He finished the round at one-over 72.
Bradley Kanaris
BRISBANE, Australia — Lucas Herbert thought he had a strong case to be a captain's pick for Trevor Immelman's International team in the lead up to last September's Presidents Cup. Herbert had won the PGA Tour's Bermuda Championship late in 2021, which came after two wins on the DP World Tour in the two years before that. The 26-year-old finished the 2021-22 PGA Tour season ranked No. 1 for strokes gained/putting, and he registered top-15 finishes at the PGA Championship at Southern Hills and Open Championship at St Andrews this year.
It's safe to say he was not happy when he missed out on one of six captain's picks for the biennial team event at Quail Hollow (six players had already automatically qualified for the Internationals).
"Yeah, I was really pissed off I didn't make that team," Herbert said ahead of this week's Australian PGA Championship, where he opened the tournament with a one-over-par 72. "I thought I had a lot to offer, and I felt like my form was decent leading up to it. I didn't think I was out of form, so I was pretty disappointed when I got the call to say that I wasn't in the team."
What hurt Herbert's chances were his tee-to-green stats—he finished the season ranked 159th off the tee and 192nd for approach play—given lengthy Quail Hollow is considered a ball-striker's paradise. The Internationals fought hard but ultimately lost 17½-12½ to a star-studded U.S. side. Herbert was under no pretenses that the result would have been any different had he played, but he wanted a chance.
"It's easy to sit here now and say that I could have offered more than what those guys did, but they obviously think they made the best picks they could leading into that week with the information they had," Herbert said. "The boys did really well to make it the contest they did, because a week out, the way the press was, they were talking about it being a bit of a whitewash. It was good to see it be a contest. I'd like to think that I'll play one of these eventually, but yeah, it was pretty disappointing to miss out on that one."
Herbert has moved on, though. He finished the DP World Tour season at the Nedbank Challenge in South Africa before a few weeks rest in his native Australia. He's now chanelling his energy into using the Australian PGA and next week's Australian Open in Melbourne, to shoot up the World Ranking in time to receive a Masters invitation for Augusta.
Herbert, who has slipped to world No. 55 down from a career high of No. 40, earned a Masters debut at Augusta this year courtesy of his PGA Tour win at Bermuda. He has yet to qualify for Augusta in 2023, but if he is inside the top 50 in the World Ranking at the end of 2022, he is expected to earn an invite. If that doesn't come to pass, there is likely to be another World Ranking opportunity to earn an Augusta start at the end of March right before the Masters.
Both Australian events are co-sanctioned by the DP World Tour and are fielding top players such as Cameron Smith, Adam Scott, Min Woo Lee, Rasmus and Nicolai Hojgaard, Ryan Fox and others.
"Yeah, absolutely. I'm not really even sure what the points will be worth this week," he said. "I haven't really looked at the field enough to know what it would be worth, but I know if I win, I'll probably move up in the World Ranking, so that's definitely the focus. Obviously top 50 at the end of the year will get to Augusta, so I'd love to get inside that and go back there again.
"I feel like my game's trending in the right direction at the moment, so whether it's at Christmas or one of the next cut-offs (March) for the World Ranking, I will be playing at Augusta in April, I'd like to think that. Obviously I can't control everything but I do feel like there's not as much pressure as probably what it looks like."