The Loop
Lucas Glover moved by a random act of good manners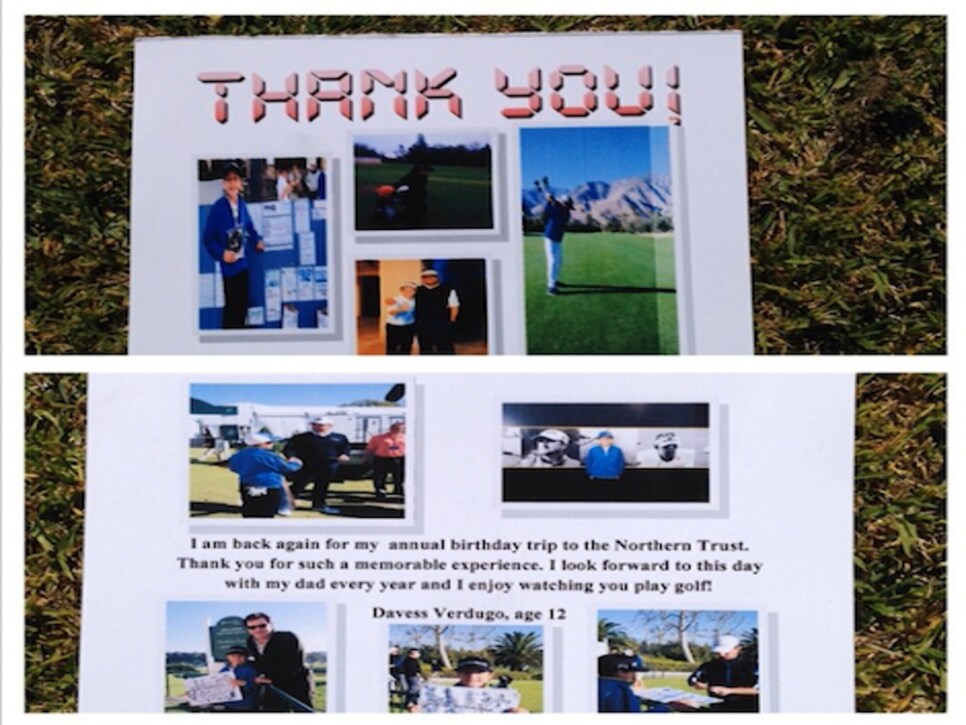 A boy approached Lucas Glover at the Northern Trust Open pro-am at Riviera Country Club on Wednesday and asked him for his autograph. That in and of itself is not unusual, unlike what happened next.
The boy, Davess Verdugo, 11, handed Glover a sheet of paper in return. On the sheet were photos from the pro-am the year before, and the words, "Thank you! I am back again for my annual birthday trip to the Northern Trust. Thank you for such a memorable experience. I look forward to this day with my dad every year and I enjoying watching you play golf."
Glover was so impressed that he posted the above photos of the sheet on Twitter with this response: "After this young man politely asked for an autograph he gave me this thank you card. Thank YOU Davess! One of the best things I've seen."
"Davess is a fantastic young man," his father, Cody, a teacher and the golf coach at La Habra High, said. "We've been going there about six years now, kind of a father-son trip. About four years ago, he came up with the idea of giving them a thank you card."
On Wednesday, Davess (pronounced Davis) gave out about 60 of them. "Every player that signed his flag got one," Verdugo said, including Fred Couples.
"Freddie, the coolest guy on the planet, he talked to Davess about 15, 16 minutes last year. This year, Freddie got the card, he stopped and said, 'hey, bud, didn't you give me one of these last year? I'm not that old. I can remember. But you're going to have to read it for me. I don't have my glasses.'"
Verdugo said that most of the time the player intuitively takes the thank-you note and attempts to sign it. "They're so used to signing anything put in front of their face," he said. "I don't know if they know how to react. It's so foreign to them. You see a million adults bombarding these guys, they're in automatic signing mode. I would hope there's a moment at the end of the day that they look at it and feel it's nice to be thanked."
One Instagram follower of Glover's wrote in response to his posting the photo, "I wonder if we'll see him on the Tour in another 10yrs or so."
"I sure hope so," Glover replied. "We need a few more grateful people out here."