Tough Break
LSU quarterback Myles Brennan misses out on starting job after breaking arm in freak fishing accident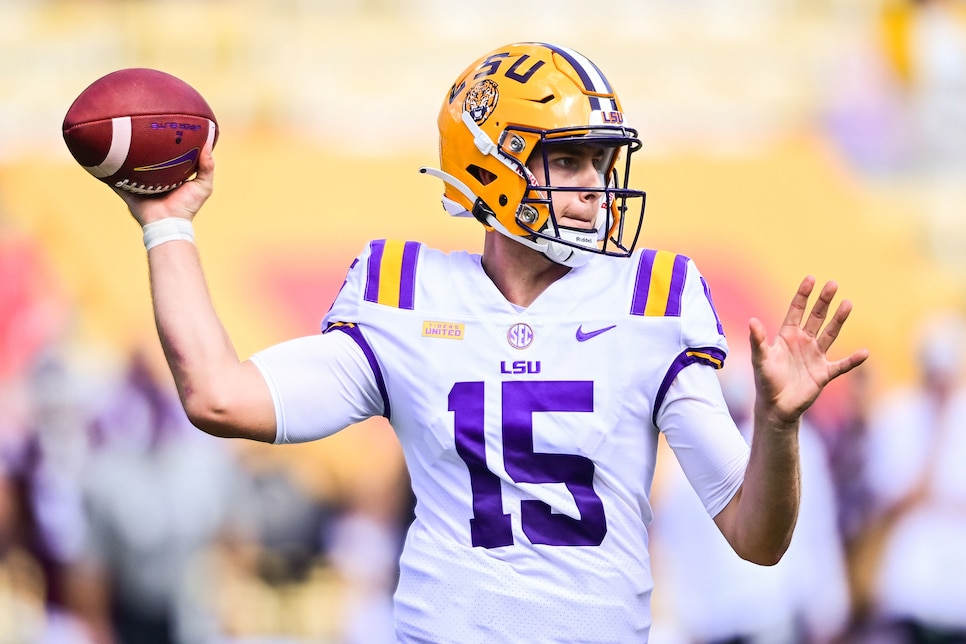 To quote Mr. Rocky Mountain Cold himself, Sam Elliot: Sometimes you eat the bear, and sometimes the bear eats you. This week, prospective LSU quarterback Myles Brennan was bear food.
On Monday, news broke that the fifth-year LSU senior, who also had his 2020 season cut short due to injury, had suffered a broken arm in a non-football incident. Brennan was expected to compete with Max Johnson for the starting job in Baton Rouge, but the fracture required surgery and, as he went under the knife on Tuesday, head coach Ed Orgeron named Johnson the starting quarterback out of necessity. All in all, a tough, um, break for the kid. But just wait. It gets worse.
According to Myles' father Owen Brennan, who appeared on WWL SportsTalk to explain his son's injury on Wednesday, Brennan didn't just break his arm. He suffered a compound fracture of the humerus ... in a freak fishing accident. Yes, we said fishing.
Myles reportedly had his hands full of fishing gear when his flip got caught in the dock. He tripped and, unable to brace his fall, took the brunt of the impact to his arm. He went to bed thinking it was just a bruise but the worst was confirmed by doctors the following day.
"He could have been anywhere, anytime, and this accident could have happened," Owen Brennan told WWL. "It was just an absolute freak accident. He was not doing anything that he was not supposed to be doing."
Like we said, sometimes (most of the time, honestly), the bear eats you.
There is a bit of good news, however. The injury occured in Brennan's non-throwing arm. Plates and screws were inserted into the broken bone and the hope is he can begin throwing again in two weeks. If the Curse of Joe Burreaux continues at its present pace, the starting job should be wide open again by then.