The Loop
LSU double dips as John Peterson wins NCAA title
__STILLWATER, Okla.—As the song says, the waiting is the hardest part. Well LSU's__John Peterson can testify to that.
The 22-year-old senior from Fort Worth had finished his final round of college golf at a little before 1 p.m. It wasn't until six hours later, however, that he officially learned he had claimed the NCAA individual title.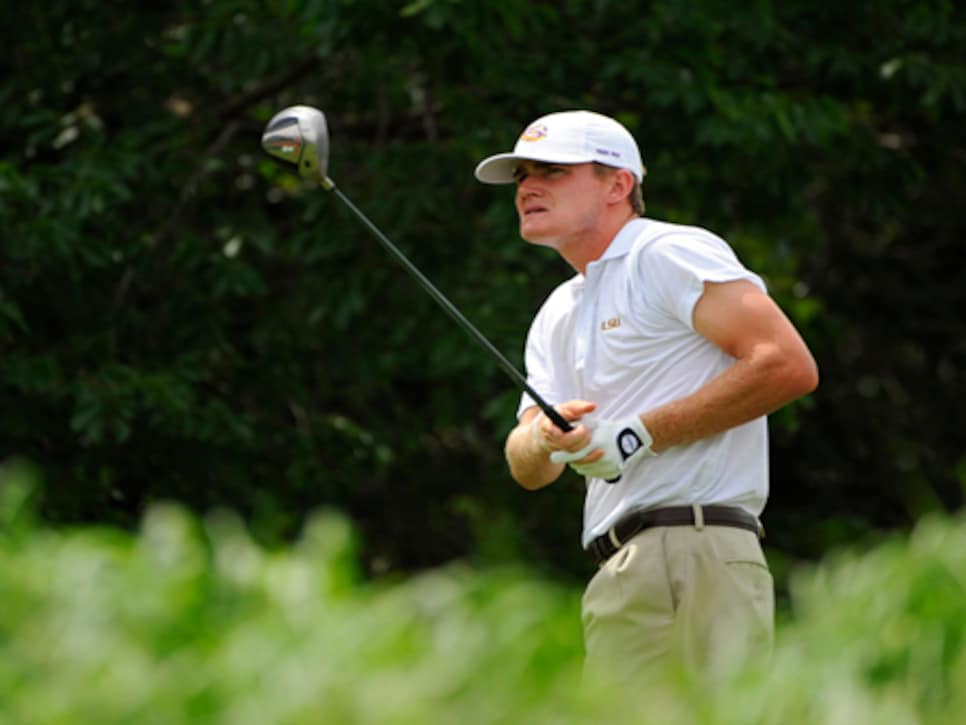 "He was pretty tense [all afternoon]," admitted LSU coach Chuck Winstead. "But how couldn't he have been. This is the tournament everyone wants to win."
Peterson had shot a final-round 72, complete with four birdies on the back nine including on the 17th and 18th holes, to post a five-under 211 total he had hoped would stand up against the afternoon wave at Karsten Creek GC. With an afternoon breeze making the course that much tougher, it wound up being just good enough, as UCLA freshman Patrick Cantlay missed a 16-foot eagle putt on the 18th hole that allowed Peterson to claim a one-stroke victory.
"It was definitely nerve-wracking," Peterson said. "But it's very satisfying, particularly being my last event."
While spending time in his hotel room as the afternoon wave trudged to the finish, Peterson tried to stay distracted by watching ESPN. Inevitably, though, he found himself back on his cell phone, logging on to the Internet to see if anyone was making a charge.
"I clicked the refresh button on my phone about 4,000 times," Peterson said. "I had to charge it because it went dead. I tried to keep my mind off of it, but I couldn't. Obviously it's hard to keep your mind off of that."
Peterson and the rest of his LSU teammates returned to the course later in the afternoon. Instead of going to the clubhouse, however, Peterson waited in the team van, finding it a little less stressful environment as Cantlay made his final charge.
The Bruins freshman, a leading candidate for NCAA player of the year, started the day three under par, teeing off roughly 40 minutes after Peterson had finished his round. But when he finished the front nine one over for the round, three back of Peterson, Cantlay appeared to have fallen too far back.
A birdie on the 13th was offset by a bogey on the 15th, yet Cantlay managed to make things exciting again when he rolled in and eight-foot birdie putt on No. 17, the hardest hole at Karsten Creek, to keep the drama going.
"I thought I had it locked up with two or three to play, and then he makes birdie on 17," Peterson said. "I thought he was going to make a par."
On the par-5 18th Cantlay split the fairway with his tee shot then carved his approach shot with an iron into the green setting up the tournament-tying putt. At that point, Peterson got out of the van and headed to the driving range to prepare for a potential playoff, something he has become familiar with this spring. Peterson won the Jones Cup in a playoff in Feburary but then lost a playoff at the SEC Championship in April and also lost a playoff at a Monday qualifier for the PGA Tour's Zurich Classic.
"I ran down to the range and immediately starting hitting 3-woods and hitting it horrible," Peterson said.
But when Cantlay's eagle try burned the edge of the hole, Peterson's teammates text messaged him that he had claimed the title.
"I couldn't tell if it was going in or not," Cantlay said of the final putt. "I knew where I stood and I gave it a good stroke."
Peterson's joy at the victory was defined in part by what it meant in the context of the LSU golf program. He is the third LSU men's golfer to win the title, but the first since Earl Stewart in 1941.
"David Toms didn't do this," Peterson noted before the trophy ceremony. "And I wanted to do something that he didn't do because he's done everything I have done. It feels good to 1 up him on something because I know he has all the other records."
Peterson's victory came less than two weeks after LSU freshman Austin Ernst claimed the women's NCAA title. The combined victories made LSU the first school to have players capture both the men's and women's medalist honors in the same calendar year.
While Cantlay made the last, most serious run at Peterson, a few others tried in vain during the afternoon wave.