LPGA Tour
Trio at top in World Invitational are each shooting for breakthrough LPGA win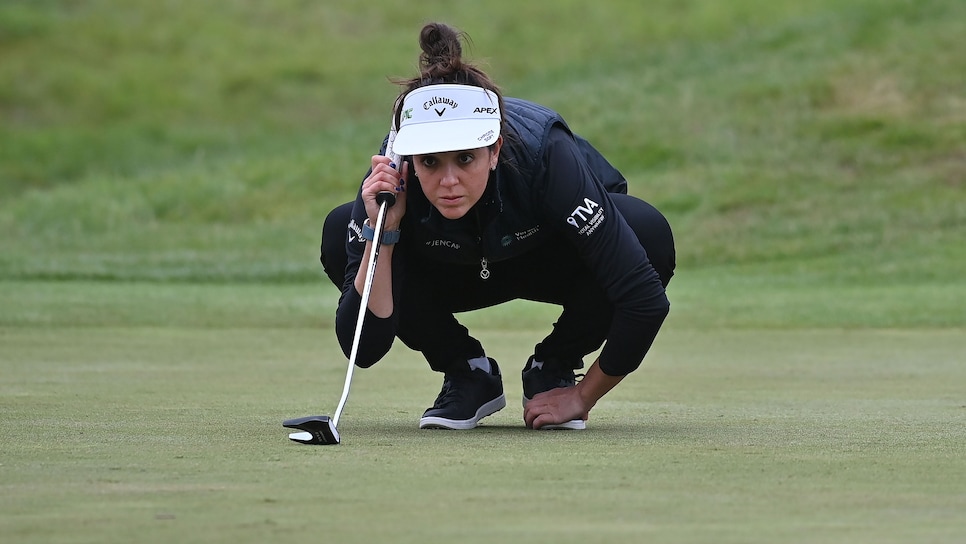 Emma Talley lines up her putt on the 18th green in the third round of the World Invitational.
Charles McQuillan
At the ISPS Handa World Invitational in Northern Ireland, the three-way tie for the lead at 13 under of Pajaree Anannarukarn, Jennifer Kupcho, and Emma Talley sets up a chance for the fifth first-time winner to emerge on the LPGA Tour in 2021.
"It's going to be a dream come true [if I win tomorrow], obviously," Anannarukarn said.
The 22-year-old Thai native is playing the best golf of her LPGA career over the last three weeks heading into the final round at Galgorm Castle Golf Club. Anannarukarn teamed up with Aditi Ashok for a career-best T-3 finish at the Dow Great Lakes Bay Invitational and closed the Evian Championship last week at T-10. She played alongside winner Minjee Lee in the next-to-last group.
Anannarukarn continued her strong play with a seven-under 66 Saturday, including an eagle and five consecutive birdies on Nos. 9 through 14 to surge into the final group. Anannarukarn applied the patience she said she observed of Lee's march in France toward her first major championship.
"It's just when you're at that point [in contention]," Anannarukarn explained, "In that position, where you're giving yourself good contention into that, she's [Lee] really playing really solid and patient, really focused and concentrate on her shot, every shot. I think that's what I learned because sometimes I wasn't really fully focused and not really fully committed."
Kupcho, 24, has the most experience in contention of the trio at the top. Ranked 27th in world, she has finished second three times in her two-year LPGA career, most recently in March at the LPGA Drive On Championship. Kupcho was in the final pairing that week with winner Austin Ernst, but shot 74 and ended up losing by five.
"I think to just stay in it and focus on my own game," Kupcho, who scored 70 on Saturday, said of how to handle the final round. "Come out with the score that I want to shoot instead of playing against someone else. I can't control what everyone else is doing, so just go out and play my own game."
Talley's strong play this week also came from working on her approach in contention with her sports psychologist, Paul Dewland. They processed how she felt during her T-4 performance at the Volunteers of America Classic in early July. She took a share of the lead after the first round and finished with a career-low 63 to close her best result of 2021.
This week, Talley played the first two rounds at 13 under, holding a three-stroke advantage for the first 36-hole lead of her four-year LPGA career. Playing from the top of the leader board on the weekend was an adjustment for the 27-year-old, who shot even-par 73.
"Today honestly threw me off," Talley said. "I was also very nervous. I haven't been in this position in a long time, and the fact that I kind of came back after the double [bogey] on 9, I kind of got mad again and used that energy to make a few birdies in a row."
Talley made four birdies, including three in a row from Nos. 11 through 13. Even though she lost her three-shot lead, Talley's father gave her encouraging words after play, "My dad said, 'Who wants to go in six ahead,'" Tally said. "'You want to come from behind or at least level with everybody.'"
The chasers have been in contention recently as well. Atthaya Thitikul, who lost by a shot to Ariya Jutanugarn at the Honda LPGA Thailand, sits three back at 10 under. Chella Choi, a shot behind the leaders at 12 under, could play spoiler for her second career LPGA victory. It'd be her first title since the 2015 Marathon Classic. The 30-year-old succinctly put the goal of all of the frontrunners on their opportunity for a breakthrough LPGA victory.
"Win," Choi explained. "I really want to make a lot of great shots and make putts and try to enjoy it tomorrow."