LPGA Tour
Nasa Hataoka makes six straight birdies, threatens 59, and takes Marathon lead with 61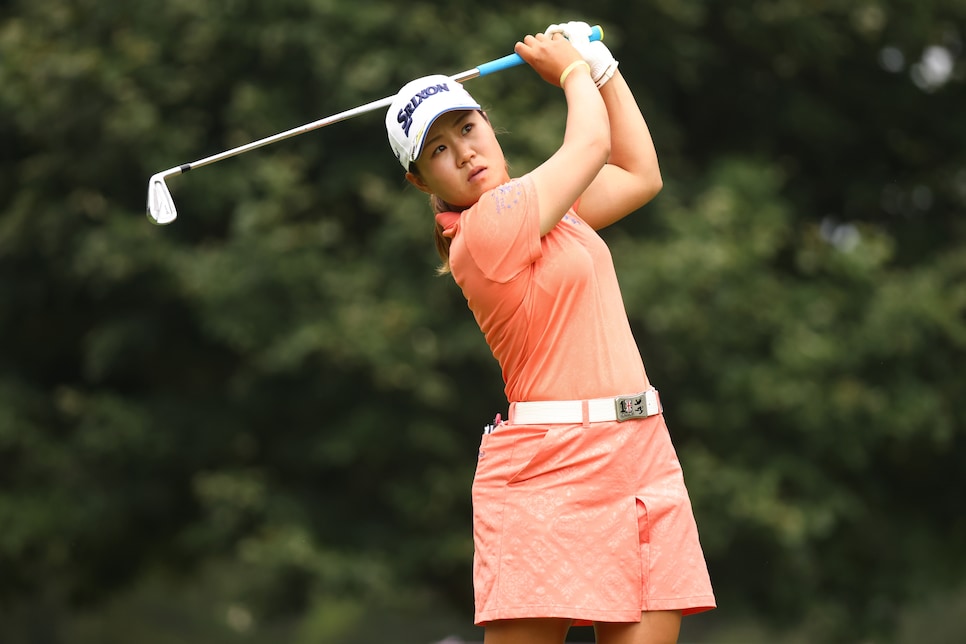 Nasa Hataoka watches her tee shot on the sixth hole during the first round of the Marathon LPGA Classic.
Gregory Shamus
Nasa Hataoka opened her first round back from missing the cut at the KPMG Women's PGA Championship on the 10th hole at the Marathon LPGA Classic on Thursday. Hataoka started off sitting one under through her first five holes, then took off. She birdied nine of her next 11, including six straight at one point, for a bogey-free, career-low round of 10-under 61.
"This would be my best having six birdies in a row, and I was really happy to be able to have such a wonderful round," Hataoka said. "(It) really made me happy."
Hataoka's hot round came after reflecting on why she missed the cut in the KPMG at Atlanta Athletic Club. Amidst an up-and-down season for the top-ranked Japanese player in the world (she's 11th), the 22-year-old identified the control of her irons were off this year. She's hit 66.7 percent of her greens in 2021, down from 70.2 percent last season. She focused on improving that part of her game at Lake Nona Golf & Country Club in Orlando, Fla., during her off week, where she practices. The effort paid off on Thursday at Hidden Meadows Golf Club, as she hit every green in her round.
"Everything was just right at the center, so I guess I would say it was [in] the zone," Hataoka said. "I was able to control everything."
Lake Nona is also the home of one of the best ball-strikers in LPGA history, Annika Sorenstam, who came to mind for Hataoka on Thursday because the Swede is the only player on tour to have shot 59. That number occurred to Hataoka after she notched her 10th birdie at No. 7 and needed to birdie both of the last two holes for 59.
"It kind of did come to mind," Hataoka said of 59. "But then after (7) I only have two holes. I just thought how great Annika was more than me getting it."
Hataoka's second appearance at the Marathon LPGA Classic presents an opportunity for the three-time winner to regain her momentum ahead of the Tokyo Olympics. Before missing the cut at the KPMG Women's PGA Championship, Hataoka lost a playoff to Yuka Saso in the U.S. Women's Open and got to the round of 16 at the Bank of Hope LPGA Match Play. She's looking forward to representing her homeland in early August.
"Having it delayed a year and all these things happening," Hataoka said. "I think being able to represent Japan and being able to play in that country really makes it exciting."