The Loop
LPGA hopes footgolf exhibition serves as fan funnel
RANCHO MIRAGE, CALIF. -- What would Dinah Shore think?
Well, given her love of sports, and the LPGA, the matriarch of the tournament that's become the ANA Inspiration likely would have been just fine with the Footgolf Faceoff that kicked off this year's event.
Nearly a thousand fans -- mostly young girls -- milled across the Palmer Course at Mission Hills Country Club following U.S. soccer legends Abby Wambach and Julie Foudy as they teamed with Paula Creamer and Jessica Korda against Japanese soccer stars Ayumi Kaihori and Yayao Kobayashi and golfers Ayako Uehara and Shihio Oyama.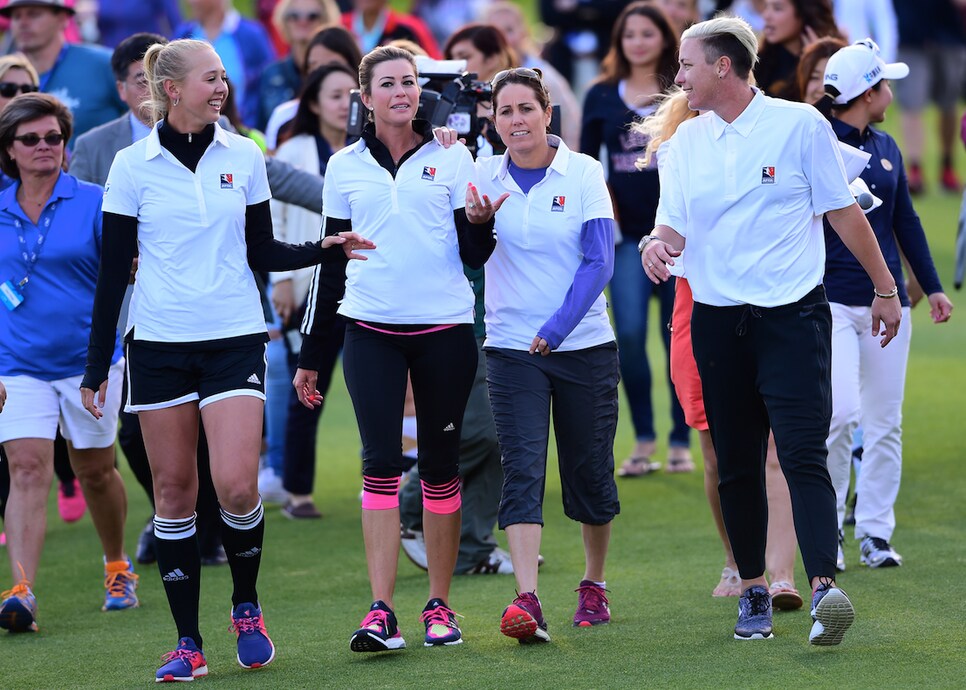 The fact Japan routed the Americans was not the point. What mattered was the enthusiasm of the crowd -- many wearing Team USA soccer jerseys -- fired up by Wambach, who walked along taking selfies with her fans.
The highlight for the Americans was a lengthy "putt" by Creamer that touched off a rousing celebration led by Wambach.
Footgolf, in which a soccer ball is kicked at a basketball-hoop size hole, is not golf, but it is fun. And it just may be that some of the girls who watched Tuesday's exhibition will pick up a club or at least turn out this week to watch the best women in the world play the first LPGA major of the year.
After all, when Dinah was first approached in 1971 by Colgate executive David Foster to lend her celebrity to a tournament she thought he meant tennis. Nearly a half century later, the golf event she created is one of the most important in the women's game, and the longest-running held at the same venue.
Shore, who would have turned 100 this year, probably would have found this to be a perfect way to celebrate such a milestone. After all, it's all about sports and getting girls to play them.