News
LPGA Championship kicks off with a bang
PITTSFORD, N.Y.-- It's probably only fitting that the year's second LPGA major began the same way the first one ended -- with an earthquake. On Wednesday, a rumbling that measured 5.0 on the Richter scale and had an epicenter 33 miles north of Ottawa, Canada, was felt during a practice round for the LPGA Championship Presented By Wegmans at Locust Hill Country Club in the suburbs of Rochester, N.Y. This one, however, was much milder and shorter than the quake that that rocked Rancho Mirage, Calif., an hour after the Kraft Nabisco Championship ended on April 4th. "I didn't feel it," said defending champion Anna Nordqvist after her round. "Maybe that was a good thing."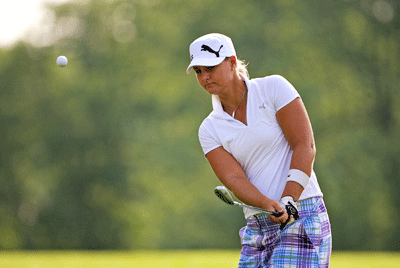 *Nordqvist finds herself in a unique situation this year, since she's defending her title on a different golf course than the one she conquered in 2010 (Bulle Rock CC in Havre de Grace, Md., which bowed out after McDonald's ended its run as the tournament's sponsor last summer). But Locust Hill is far from new territory for Nordqvist or any of the other LPGA players; this venue has hosted a regular tour stop, the Wegman's LPGA, since 1977. When asked if it feels disappointing to be defending on a different course, Nordqvist said, "No, Bulle Rock is always going to have a special place because that's where I won last year. But, you know, Locust Hill is a good golf course, and I believe it's playing similar in a lot of ways with the thick rough and kind of small and fast greens."
Soaking rains have made the already long Locust Hill (6,506 yards) play even longer, but the forecast looks decent for the next few days. "I think the course is in great shape," Nordvist said Wednesday. "I played at 6:30 this morning and it was a little bit wet. But as the day went on, it's in fantastic shape, even with the rain. It's playing pretty much carry from the tee. But it's in fabulous condition."
Nine holes into the first round of the tournament, Heather Bowie-Young holds the lead at -4, two shots better than Liz Janangelo, Jeong Jang, Seon Hwa Lee and M.J. Hur. For live scores, click here.