The Loop
The Los Angeles Chargers are now owners of the most painful active streak in sports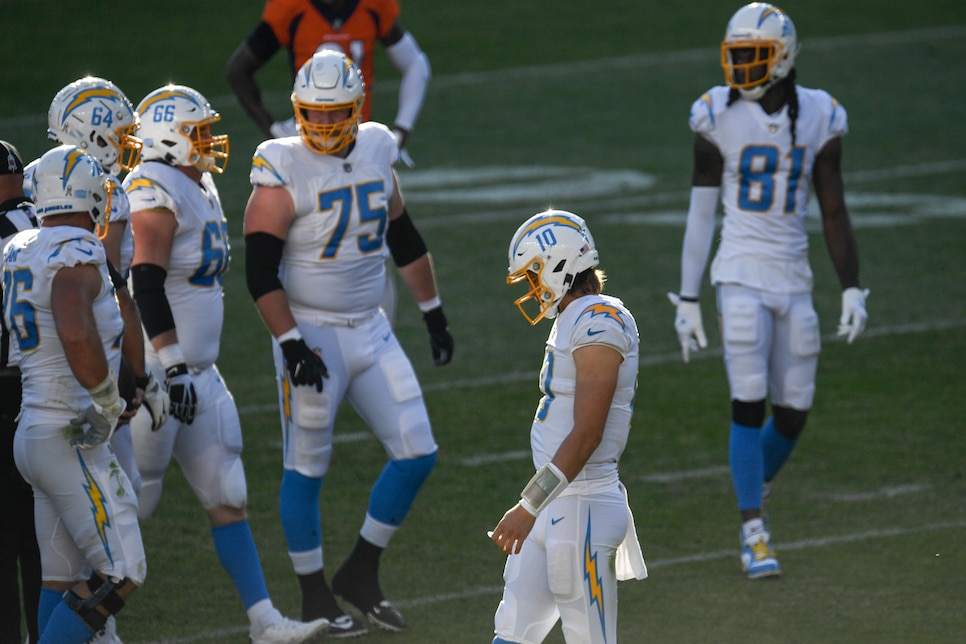 AAron Ontiveroz/MediaNews Group/The Denver Post via Getty Images
The Los Angeles Chargers lost on Sunday afternoon. For a team that's now 2-5 on the season, that doesn't exactly constitute "news." How they're going about it, however, most certainly does. In typical Chargers fashion, they're not just losing, they're losing in the most gut-wrenching, soul-crushing ways imaginable, summed up by this one unthinkable stat: The Chargers have now blown a 17+ point lead in FOUR CONSECUTIVE games.
We'd say pray for Chargers fans, but there can't be any left.
This all came to a head on Sunday when the Chargers urinated away a 24-3 third-quarter lead, giving up three fourth-quarter touchdowns to Drew Lock and co., including a go-ahead score with just five seconds remaining. That 21-point capitulation joined squandered leads of 17, 18, and 17 against the Jaguars, Saints, and Buccaneers over the last three weeks to become one of the most depressing streaks in NFL history. And the funniest part about it? They still beat the Jaguars.
A lot was made of the Falcons' record-breaking fourth-quarter collapses earlier this season, but the Chargers have made those look positively clutch by comparison. A "hold my beer" showdown of NFL ineptitude, if you will. Worst of all, the losses have all come with rookie first-round pick Justin Herbert playing lights out, throwing 13 touchdowns to just three picks during that span. Conventional wisdom says you want to teach these guys what winning feels like before the glue dries, so if the Chargers go out there and choke away another one against the Raiders next week, expect to see some re-casting in La La Land.