Courses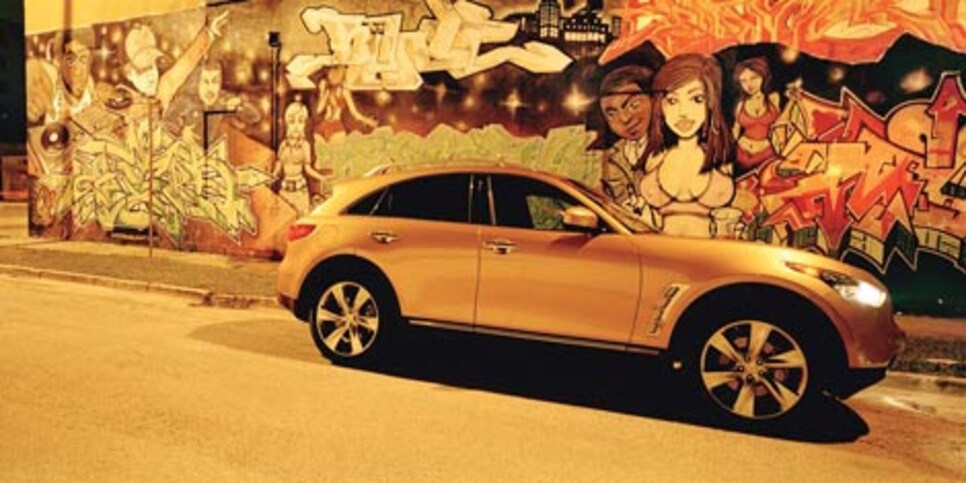 In Miami, feeding the meter is the least of your problems.
On the first hole at Miami Beach Golf Club -- the spectacular South Beach muny with a $10 million renovation and a Roaring '20s pedigree -- I hit my tee shot hard left, just short of a swampy pond. Looking at the scorecard, I could see two more big hazards -- one lining the right side of the fairway and another left of the green. Blind as to how far I could safely play to skirt the water, I shrugged and loaded up a hybrid.
"Hit it and hope" should be embroidered on Miami Beach Golf Club's polo shirts. Founded in 1923 as Bayshore Golf Course and built among the waterfront winter retreats of the rich and famous, the course had become a patchy and neglected eyesore by the late 1990s. Arthur Hills' 2002 renovation turned it into a windblown, 6,800-yard test of local knowledge. Don't know what's over that hump? Whatever it is, it's probably wet, and you can probably get there.
My hybrid did, and I made a double bogey.
As frustrating as that kind of "gotcha" golf can be, Miami Beach Golf Club does exactly what it's supposed to: reward locals who have learned the subtleties and separate tourists from $200 -- pleasantly -- while providing fantastic views (and an excellent grilled-fish sandwich).
For the rest of the weekend, my goal was to navigate South Florida with a little more of that local-flavored subtlety -- and do it on top of the water rather than in it. So I left Miami and threaded my way down the 130-mile system of bridges connecting the Florida Keys, looking to get off the beaten path.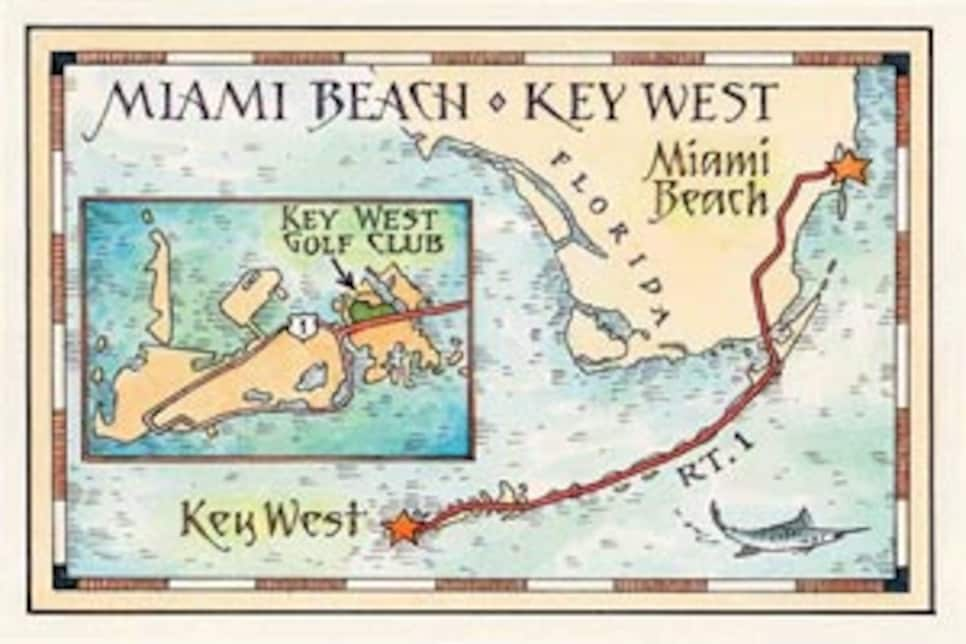 Of course, going off the guidebook grid is more of a figurative act in the Keys: It's a straight shot on the mostly two-lane Overseas Highway down through Key Largo and Islamorada to Key West. For two-thirds of the ride, you're on an elevated two-lane road with uninterrupted, 360-degree ocean views. When you cross land, it's mostly devoted to gas stations, bait shops and charter-boat docks.
The ride I had for the trip -- a liquid-copper Infiniti FX50 muscle hatchback -- was laughably overqualified for this kind of parade duty. Bristling with all-wheel drive, 390 horsepower and traffic-updating navigation guidance (.50-caliber guns hidden beneath the high-intensity headlamps are optional), the $63,000 beast couldn't do anything but toddle along at 35 miles per hour in some stretches, trapped behind an RV or a sunburned dude on a Vespa.
My first stop was in Islamorada, about a third of the way to Key West. Famous for two things -- getting flattened by the Labor Day Hurricane of 1935, and being Ted Williams' favorite place to find tarpon -- the sleepy fishing hamlet encouraged me to slow down for lunch by posting an empty sheriff's cruiser in a fake speed trap on the edge of town.
Temporarily chastened, I turned into the Lazy Days Oceanfront Bar and got a table on a deck perched over the water. For less than $20, I had excellent conch chowder, a fresh grouper sandwich and what ended up being the best Key lime pie of the entire trip.
Had the speed trap been legit, interaction with the Monroe County Sheriff's Department would have been a lock -- and not because I was speeding. The FX50 looks -- and sounds -- like a glow-in-the-dark space shuttle reentering the Earth's atmosphere. The swoopy profile, black-and-chrome grille, 21-inch wheels and twin tailpipes fill space like a heavyweight cage fighter, and the California dealer plates signaled that I'd pay my fine in cash.
And the sound! The Infiniti people tuned the FX50's exhaust growl specifically to scare deer and little children. From your perch in the opulent, diamond-patterned leather cockpit, you can hear yourself depart from every stoplight like an angry rhino. It's like driving a genetically engineered 1970 Chevelle with a bionic Japanese 396. And a hatchback. And enough capitalized electronic gewgaws such as Lane Departure Control to make the owner's manual bedside reading material for a month. My favorite was the radar-guided cruise system. It measures the distance between you and the camper ahead and modulates your speed to keep you far enough away. It's like having an aunt in the passenger seat, but without the childhood anecdotes.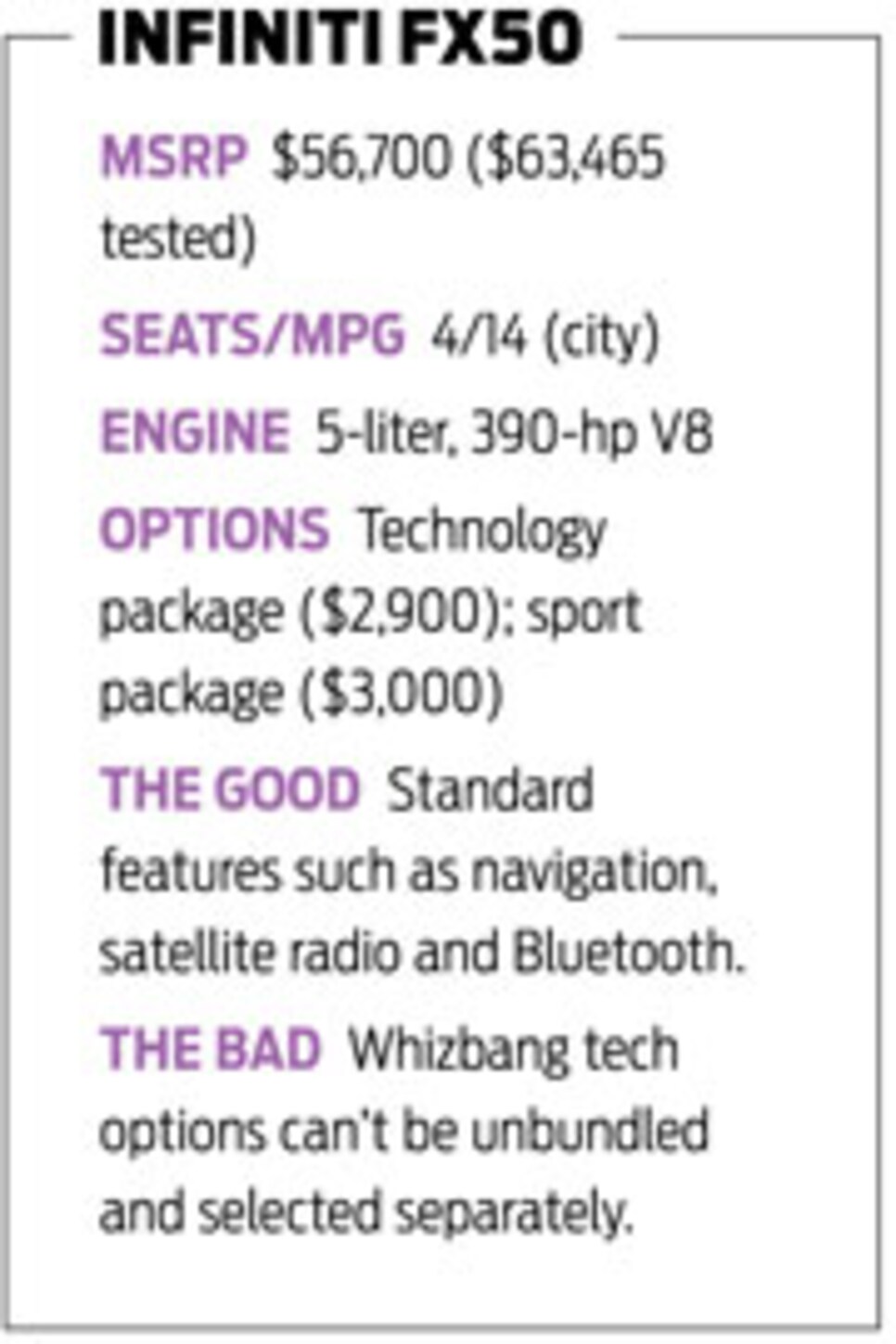 Rolling into Key West, it would have been easy to follow the heavy traffic through the maze of one-ways to Duval Street, where the mimeographed theme bars and knickknack kiosks draw tourists like a $4.99 Las Vegas buffet. But peel off a mile early, on Stock Island, and you'll find elbow room at two hidden treats.
Key West Golf Club won't ever be confused with Pebble Beach, but the southernmost course in the United States has charm. Rees Jones carved an entertaining route through a large mangrove swamp. Just don't search too hard for lost balls. The county jail is next door.
On the south side of the island is the Hogfish Bar and Grill, where the specialty is the Killer Hogfish Sandwich. A combination of diver-caught hogfish, Swiss cheese and onions on Cuban bread, the dish turned out much better than the other operation masterminded right there at Safe Harbour Marina: The Bay of Pigs Invasion, in 1961.
Now, if the CIA had landed in Cuba in a fleet of FX50s, Castro would have given up without a fight, just from the glorious racket.