The Loop
Live from Day One at the 2015 PGA Merchandise Show
Bobby Jones is making adjustable putters
The Bobby Jones putter line has been in the hands of PGA Tour players for a while, but they've now made it available to all of us amateur players. The line is completely made in the USA, which is something that is becoming less and less common. They're bringing adjustability to putters by making the hosel and shaft interchangeable. There are over 20 different hosels. The best way to make sure you're using the right one is to go to a fitter. The hosel, shaft and grip are one piece that detach from the head via a screw. You can also change the lie and face angles. The putters start at $699, and if you want to replace your hosel and shaft, each costs $150.
*A golf simulator good enough for an Olympic team *
Simulators are a growing part of the game, we're seeing them everywhere from people's basements to bars. But they're not just for recreational use. The Korean Olympic team is using this model, Golfzon's GDR (Golfzon Driving Range), in their practice sessions. It shows you all the stats you need like distance, ball speed and spin, and gives you the option of either hitting on the range, practicing short game, or playing a few holes. My favorite feature was in the putting section - You can change the position of the ball to putt uphill, downhill, or side-hill. And you can change the speed of the green anywhere form 9 to 12 on the stimp meter.
**__A golf tournament prize straight out of the WWE
*Conventional trophies are an obvious prize for club championship and member-guest tournaments, but we spotted a pretty cool alternative from a company called Winner's Awards Group. The Coconut Creek, Fla.-based group makes "championship belts" -- a la professional boxing and wrestling. The belts are pretty substantial as they're made with gold-plated brass plates that can be customized club/course logos.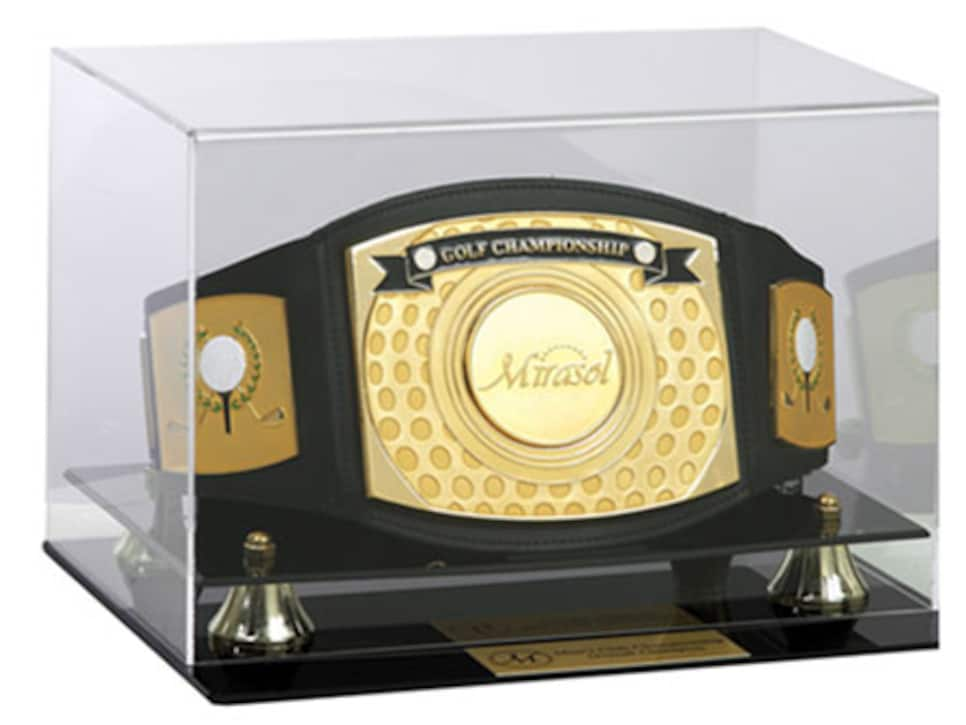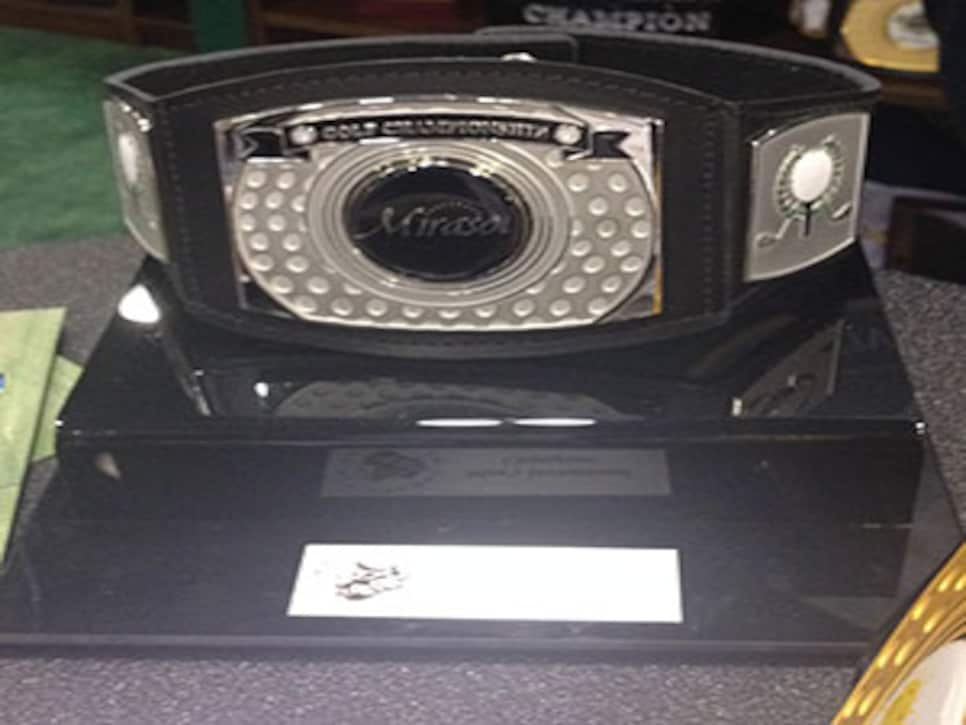 Chiera says that the championship belts, which cost between $250 and $300, are popular for lower-profile events at many golf clubs, the award become a unique offering that helps distinguish the tournament from others on a club calendar. Some clubs also use it to create a year-long tournament, with the belt being passed to different players based on weekly challenge matches.
"It's big with team events too, with the victorious team winning or retaining the belt," Chiera said. "It's just meant to be fun."
There's history to it too: the before the claret jug, the R&A used to give a belt to the winner of the British Open.
__Watching Scotty Cameron's cult listen to its leader
Scotty Cameron was in the Titleist booth, talking to customers about what goes into building his popular custom-made putters, headcovers and other unique trinkets. The way you could tell? Well the horde of people eavesdropping on the conversation was an obvious give away. But what showed the unusual passion of Cameron fans was the number of people with their cell phones out, either taking pictures or even video of the man himself.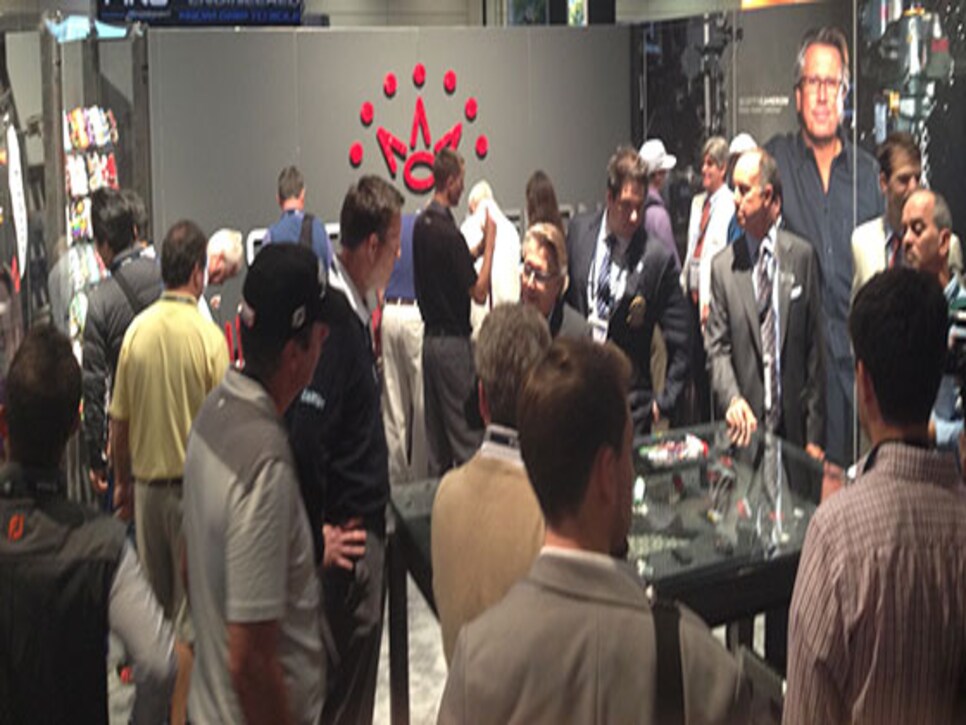 Also watching and waiting for Cameron was Lucy Anderson, a 17-year-old junior golfer from the Tampa area who had a putter cover she was hoping to get signed. "All my friends want these headcovers," Anderson said, standing near a display of them. "If they knew I was here, they'd be way jealous."
Ben Hogan's prototype clubs
On display at the Ben Hogan booth (who is reemerging force in the golf club/equipment space) are a handful of prototype clubs that he used to tinker around with. Pretty cool.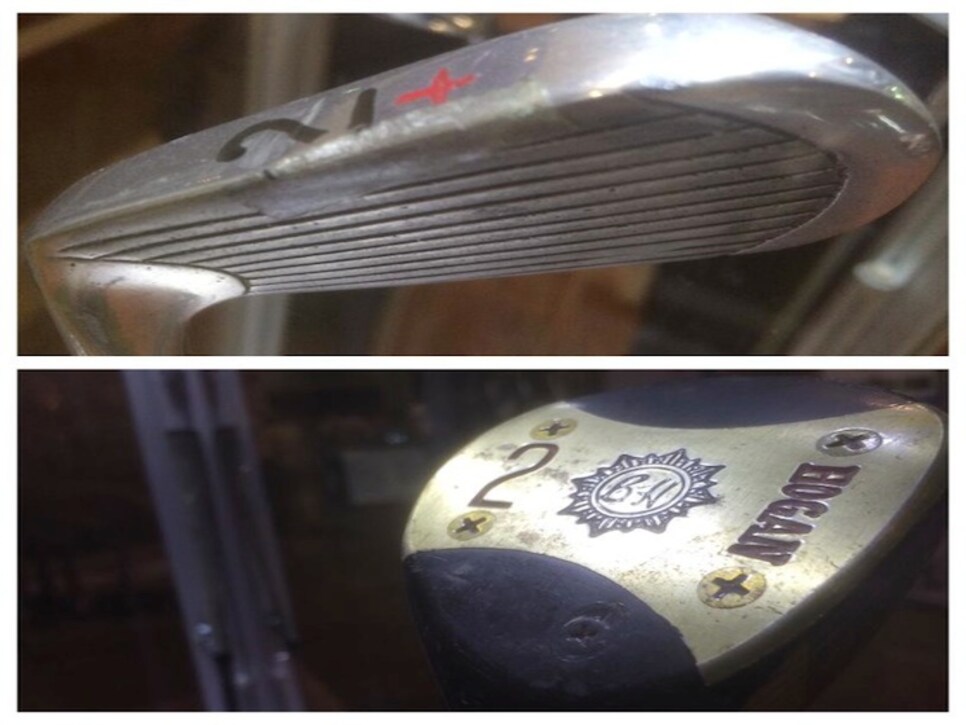 Bridgestone officially unveils J815 driver
"Firming up the sole with the Power Rib structure gives the crown something to grip onto and flex," says Kinchen. "We used simulator technology from Bridgestone's tire division to prove the theory." The additional crown flex, according to Kinchen, provides a driver that launches higher, with the additional benefit of more draw bias as weight has been shifted more toward the heel.
Another change from the J715 is that the ribs on the crown that provide an "accordion effect" are visible on the J815 whereas they were hidden on the J715.
The driver ($399) will be available at retail on April 1 in right-hand only with lofts of 8.5, 9.5, 10.5 and 12 degrees.
*__Partaayyy at Golf Digest
After Golf Digest's presentation about all the good things happening in the golf industry, of which there are many, a few high-profile guests stopped by. From left to right: Trick shot artists and pro golfers George and Wesley Bryan; Golf Digest Audience Engagement Editor Ashley Mayo; Instructor Butch Harmon; pro golfer and Golf Digest Playing Editor Jordan Spieth; Golf Digest President Pete Hunsinger; Golf Digest Editor-in-Chief Jerry Tarde.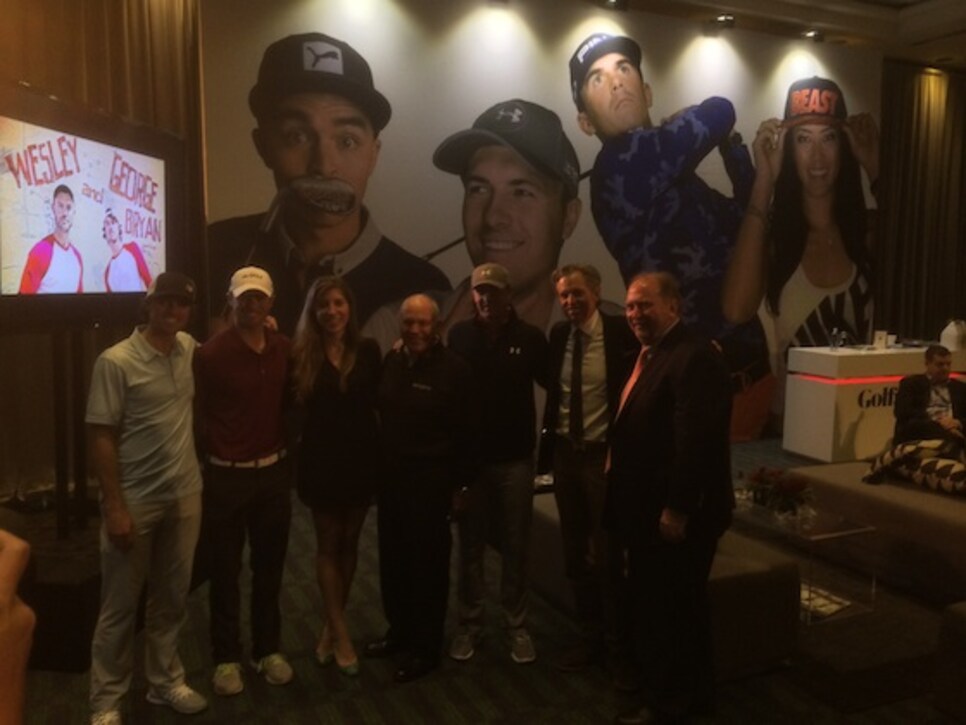 *__A grip might not seem like the sexiest of golf equipment - - especially at a gathering such as the PGA Merchandise Show. Fact is, however, that it is the only piece of equipment your hands touch on every shot. For a market leader such as Golf Pride, that means any change to one of its flagship grips is carefully considered.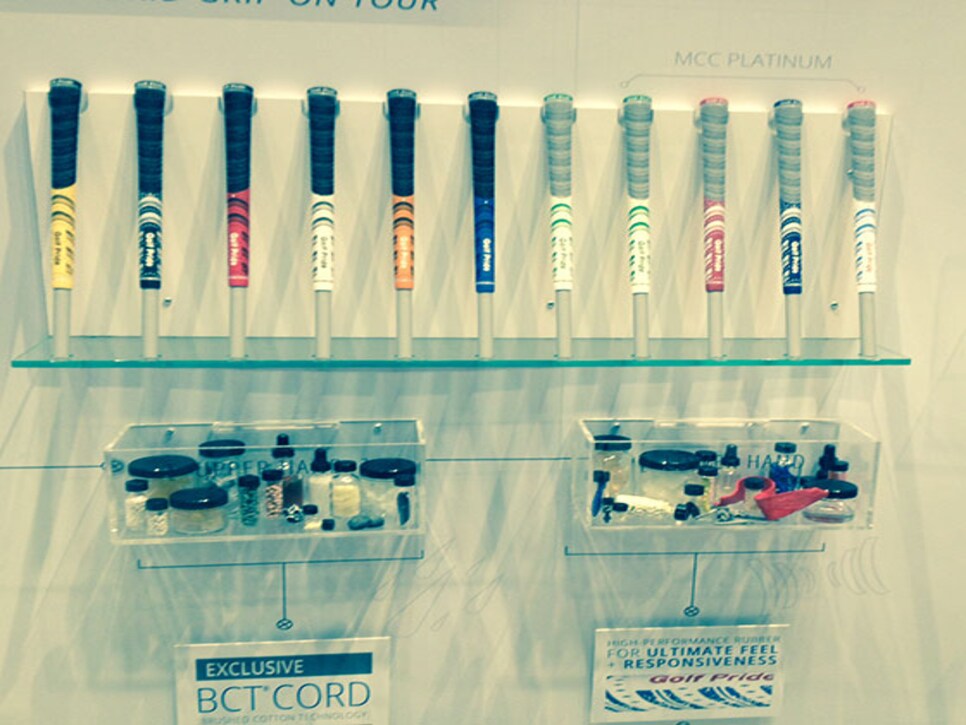 "We don't change one spec of powder or anything in the formulation without it being thoroughly thought through," says Bruce Miller, Sales & Marketing Analyst for Golf Pride. "There is a secret sauce for grips."
Golf Pride's New Decade Multicompound grip has been a favorite of amateurs and tour players for a number of years but now the grip has undergone a significant change. The new MCC Plus 4 now features a reduced taper where the lower portion of the grip is larger.
"All our grips on tour were standard," says Miller. "But tour players were routinely building up the lower portion of the grip. Some 70 percent of players were doing some form of building up using tape. We found the reason was that it helped them not grip the club so tight. So we set out to increase the size of the grip in that area, with the area 4.5 inches to 7 inches down from the butt being the key area."
Miller also noted the grip has a slightly softer feel, the result of making a modest tweak to the formula.
*Champ predicted the Super Bowl *
*__Champ has a new camo pattern for their putter grips, and they only relased them in two colors: red white and blue, and navy green and white. Yep - the colors of the Patriots and the Seahawks, respectively. Champ also has a new line of spikes, the Slim-Lok, that fit every type of shoe except Q-lock and metal spikes. They're working towards standardizing spikes by making it so their spikes fit over 70% of golf shoes. That's probably the more newsworthy story here, but come on. They predicted the Super Bowl!
__Your own personal protracer____*
*__Everybody loves protracer, and now Ernest Sports is trying to bring it to the masses. Ernest Sports makes a number of portable launch monitors, and its newest edition -- the ES14 retails for $595.99 -- is trying to become the 'trackman for the everyman.' It's pretty easy to use: you just charge it up, place it about a food from your ball and turn it on. When you sync it with your phone, it'll give you all the stats a regular launch monitor will give plus a real-time graphic of your projected ball flight.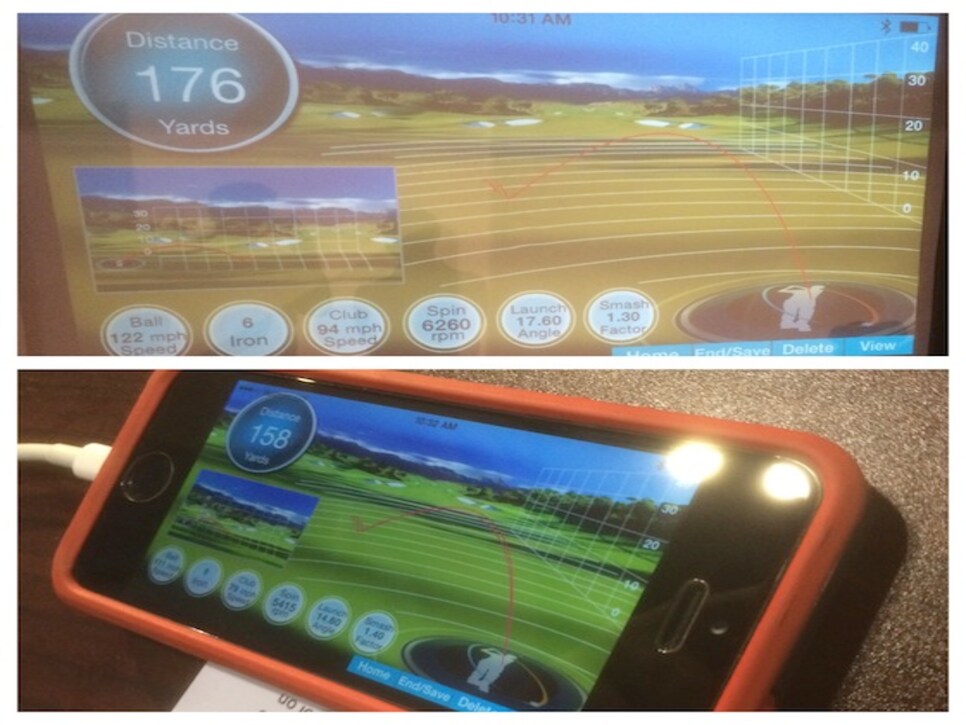 *__You're probably heard stories about the multiple layers of tape tour players put under their grips - Bubba is especially famous for this, rumored to be in the 9-10 layer range. Golf Pride looked at the benefits that this layering could have for the rest of us non-tour players. What they found was that most amateurs grip the club too tightly. So, they decided to built up the lower portion of their new grip, the MCC-4, to replicate the effect of having four layers of tape underneath it. The result: you don't hold on to your club as firmly with your right hand, which reduces tension.   The grip will be available March 15 in three colors, and retails at $9.59.
-K.L.[#image: /photos/55ad7c0fb01eefe207f70d6e]|||golf pride.jpg|||
If you want to look like a Lamborghini on the course, you're in luck
Lamborghini is treating its new line of apparel, equipment and accessories as if it were its first, redesigned in the image of its cars after feeling its previous products were too low-end. It's all leather bag -- designed to tote your shoes and clothes to and from the golf course locker room, runs for $205, while its headcovers run anywhere between $38 to $49. Its clothes don't come much cheaper -- a Lamborghini hat is $37.50 while its polo shirts each hover around $200. They may not come at a bargain price, but with a brand like Lamborghini, that's kind of the point.
[#image: /photos/55ad7c0fadd713143b42c021]|||lambopgashow560.jpg|||Prototype Callaway wedge has Mickelson's blessing**
*__Only at the PGA Show can you see products unveiled that won't be available until May. One such "soft launch" came this morning from Callaway, which introduced its Mack Daddy PM Grind wedge.
The wedge, which features a very high toe, was used in its prototype stage by Phil Mickelson at last year's PGA Championship. The club has evolved since then as Lefty offered input on improvements.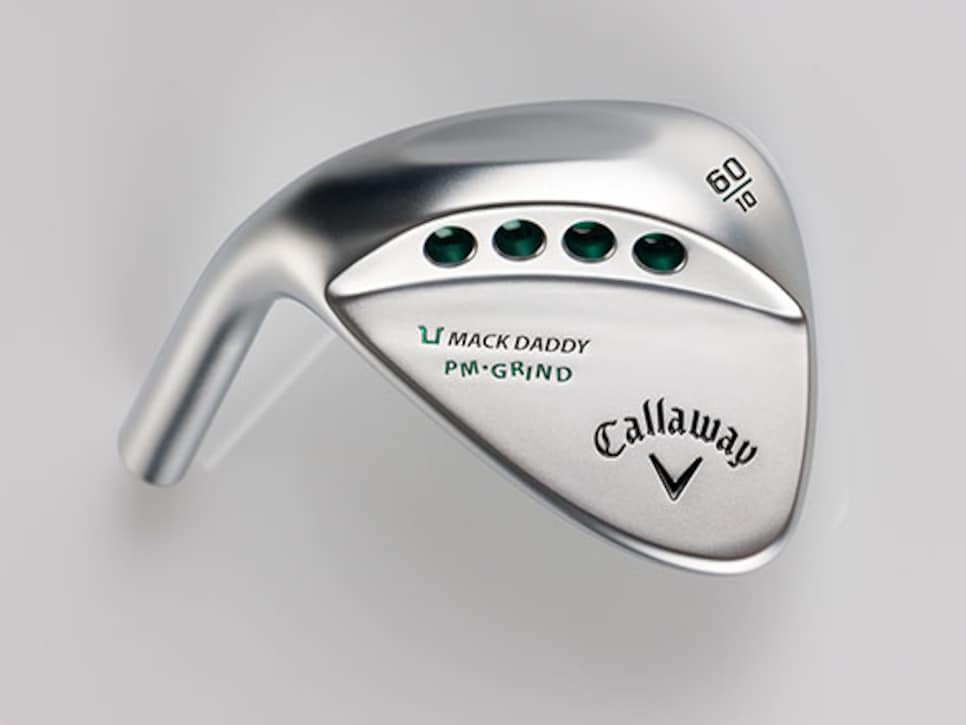 Brooke Pancake serves up an order of ... waffles?
*__A little breakfast to kick off the PGA Merchandise Show seems only appropriate, and who better to serve show attendees than Brooke Pancake. The LPGA Tour pro and former University of Alabama All-American was in the booth of her apparel partner, Chase 54, offering up grub to passersby.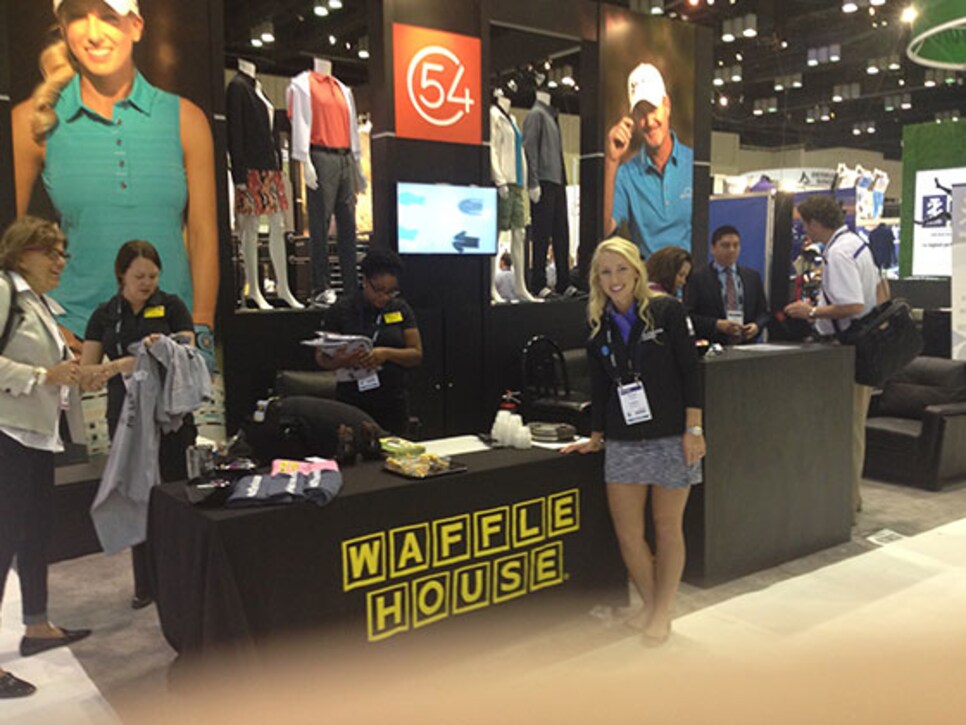 "This will be the first time that the Waffle Nation will be cheering for a Pancake," president and CEO Walt Ehmer said in a release.
Golf Digest's home for the week*____*
*__Hello again! Day one from the PGA Merchandise Show floor starts today, so I'm about to go roam the property. But before I do that I wanted to send along a few snaps of Golf Digest's home for the week. At noon our own Ashley Mayo and Max Adler will be giving a presentation on all the good things that are happening in golf. We'll be live-tweeting it from our @GolfDigest handle, so you can follow along there if you're interested.