LIV Golf
Saudi-backed LIV Golf announces eight-event, $255 million series that will visit United States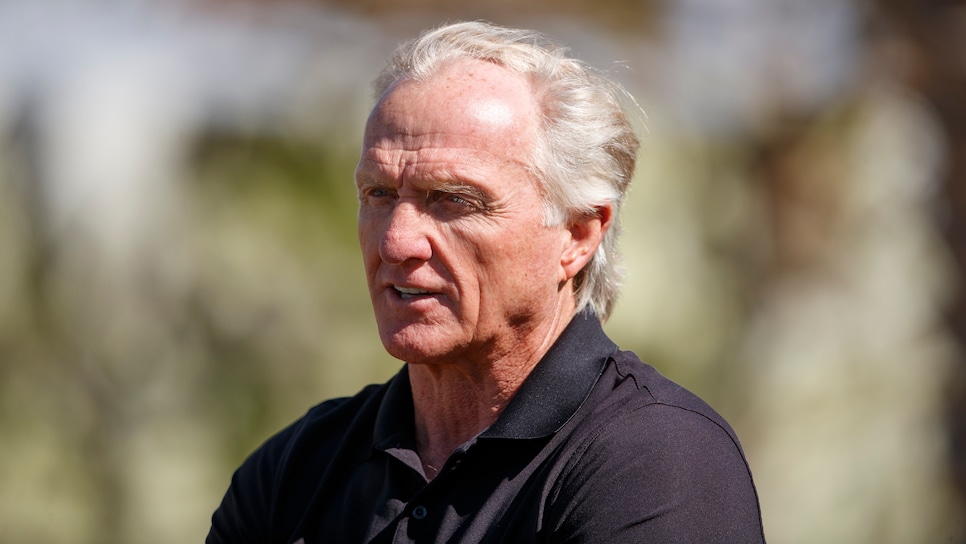 LIV Golf, the Saudi Arabia-back group fronted by Greg Norman that for some time has been attempting to lure the game's best players to compete on a global circuit to rival the PGA Tour, announced the formal creation of its league and an inaugural schedule Wednesday.
The eight-tournament, $255 million series—called the LIV Golf Invitational—will kick off at the Centurion Club outside of London the week before the U.S. Open starting June 9. Each event will be a three-round, 54-hole competition with no cuts. There will also be shotgun starts in order to fit the events in a shorter time window, along with a team component, with 48 players divided between 12 squads. Four of the events will be held in the United States. Those sites are Pumpkin Ridge Golf Club in Portland (July 1-3), Trump National Golf Club in Bedminster, N.J. (July 29-31), the International in Boston (Sept. 2-4) and Rich Harvest Farms in Chicago (Sept. 16-18). Other hosts include Stonehill Golf Club in Bangkok and Royal Greens Golf Club in Jeddah. A site for the final event, the team championship, was not announced.
The first seven events will each boast $25 million purses, $20 million for individual prizes and another $5 million for the team competition. The eighth event will offer $30 million for the top three players of the season, with another $50 million for teams in total prize funds.
"Our events are truly additive to the world of golf," Norman, CEO of LIV Golf and a World Golf Hall of Famer, said in a statement. "We have done our best to create a schedule that allows players to play elsewhere, while still participating in our events. I believe players will increasingly make progress in achieving their right to play where they want. We will help in any way possible and will provide golfers with opportunities to achieve their full potential."
On Tuesday, Norman sent a memo to players promising more playing opportunities in the near future. The letter, which has been obtained by Golf Digest, states: "We are launching, and we will continue to drive this vision forward. We will not stop."
"While we respect that some of you may have concerns, know that we will work tirelessly with you to alleviate them," Norman continued. "Our goal always will be to let you focus on your playing performance, while benefiting from new opportunities, whenever you are ready for them."
However, Wednesday's announcement of the series did not include the names of any players who had committed to playing the events. Additionally, there was no mention of a broadcast partner that would televise the events.
In February 2022, LIV Golf announced a $300 million, 10-year investment in the Asian Tour at the Saudi International that included a 10-event international series that will host tournaments in Asia, the Middle East and Europe. The investment was made in exchange for the Asian Tour sanctioning LIV Golf events.
LIV Golf has targeted the sport's marquee players to join its league. However, following the Fire Pit Collective's publication last month of controversial comments by Phil Mickelson, nearly all of the game's biggest names have distanced themselves from the LIV effort, including two of LIV Golf's top targets in Dustin Johnson and Bryson DeChambeau. PGA Tour commissioner Jay Monahan has promised that any player who sided with a rival league would face suspension and possibly a lifetime ban.
In response to Wednesday's announcement, a PGA Tour spokesperson said, "As we have stated repeatedly in recent weeks, the PGA Tour has moved on."
LIV is financially backed by the controversial Public Investment Fund. The PIF is essentially the financial arm of the Saudi Arabia government, which has been accused of numerous human-rights violations. To improve its reputation, especially to the Western world, Saudi Arabia has heavily invested in various athletic organizations and events, a practice often referred to as "sportswashing." This exercise, particularly when used by state-run groups, is considered a form of propaganda to distract the public from its abuses. Last weekend Saudi Arabia held a mass execution of 81 people in a single day. According to the United Nations at least 41 were men who had taken part in anti-government protests.