Equipment
Hot List Summit Day 6: 'This is playing. This isn't work'
LITCHFIELD PARK, Ariz. -- The old saw that you drive for show and putt for dough? "Then that was one heck of a show," Dan Grattan, a financial services consultant from Manhattan, said on Friday while proudly displaying a blistered hand. And that was his glove hand.
It was the second day of player testing at the annual Golf Digest Hot List Summit at the Wigwam Golf Resort & Spa here, and this was the day most of the players had been awaiting, driver testing. Twenty-five drivers were tested. "It's the most I've ever conceived of hitting," Grattan said of the number of swings he made with a driver. "I hit 25 drives, maybe 10 times each."
Grattan took the glove off his left hand. There was tape and the aforementioned blisters. "I won't complain about my hands being beat up," he said, "because this is playing. This isn't work."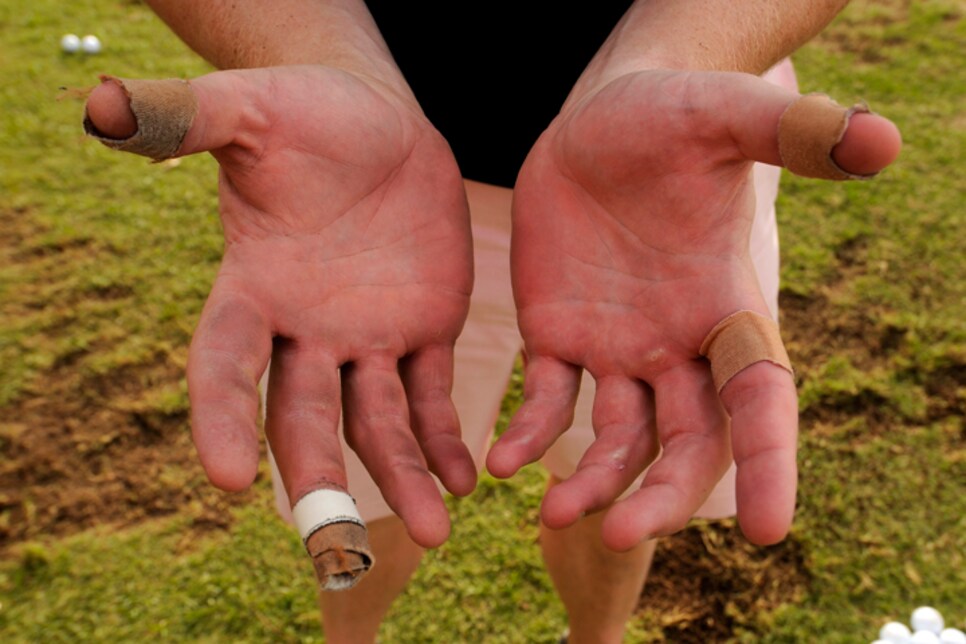 Dan Grattan show his hands after two days of club testing. (Photo by J.D. Cuban)
Somehow, that was the consensus opinion of all the club testers. "If I'd tried this hard in school I'd be president," one of them, Jason Musser, said.
Another consensus was that virtually every driver tested would be an acceptable addition to their own bag.
"I couldn't believe how many excellent drivers there were," Grattan said, thankful all the same that he doesn't have to hit any more of them.
On deck: Blade putters, hybrids and players irons.