Dance Now
Lionel Messi, Argentine keeper Emi Martinez trash talk Colombian defender to an early grave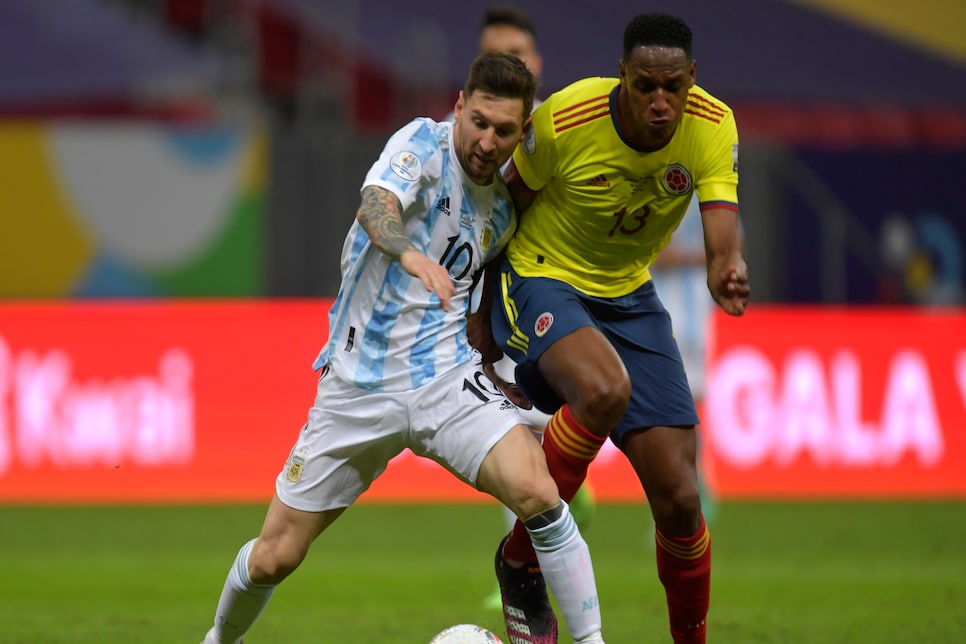 First, we must introduce the villain of this story, Yerry Mina. He's a defender for Everton, he's currently playing in the Copa America for his home nation, Colombia, and here's how he celebrated a shootout goal against Uruguay in the quarterfinals:
This was not a one-time thing:
Colombia won that match, setting up a semifinal clash with Argentina. The story of this Copa America, and of the last 329 or so international tournaments for Argentina, is whether Leo Messi will finally win a meaningful trophy playing for his country. Everything seemed to be set up for an Argentina-Brazil final clash, but to get there, Messi had to lead his team past Colombia and his former Barcelona teammate Mina on Tuesday. Argentina had the better of play, but couldn't manage a crucial second goal, and after 90 minutes the score was tied 1-1. Copa rules meant that it went straight to a penalty shootout, which stood at 1-1 after two attempts by each team when Yerry Mina stepped up to the spot. Watch what happened, paying close attention to Messi in the aftermath:
Those words mean "dance now!", and clearly, by the way he shouted them over and over in reference to Mina's performance in the quarterfinals, Messi feels no love for his former Bacelona teammate.
Amazingly, that broadside wasn't the worst Mina had to endure. In the build-up to his shot, Argentine keeper Emiliano Martinez began to chirp him without respect or remorse. The lack of fans made it easy to see and hear what was happening:
Martinez kept talking to Mina right up to the point of the attempt, and here's the translation, per ESPN:
"Look, the ball's not on the spot," he told the referee as the centre-back stepped up to shoot.
He then shouted at Mina: "You're nervous, huh? I can tell you're nervous. I know where you're going to shoot. Watch and see how I'm going to eat you up. Remember, I'm going to eat you up."
And then he followed it up with a classic pelvic thrust:
That is a top-grade, category five mental massacre. Martinez went on to save two more penalties, and Argentina advanced to the dream final with Brazil.