The Loop
Light In McNulty's Tunnel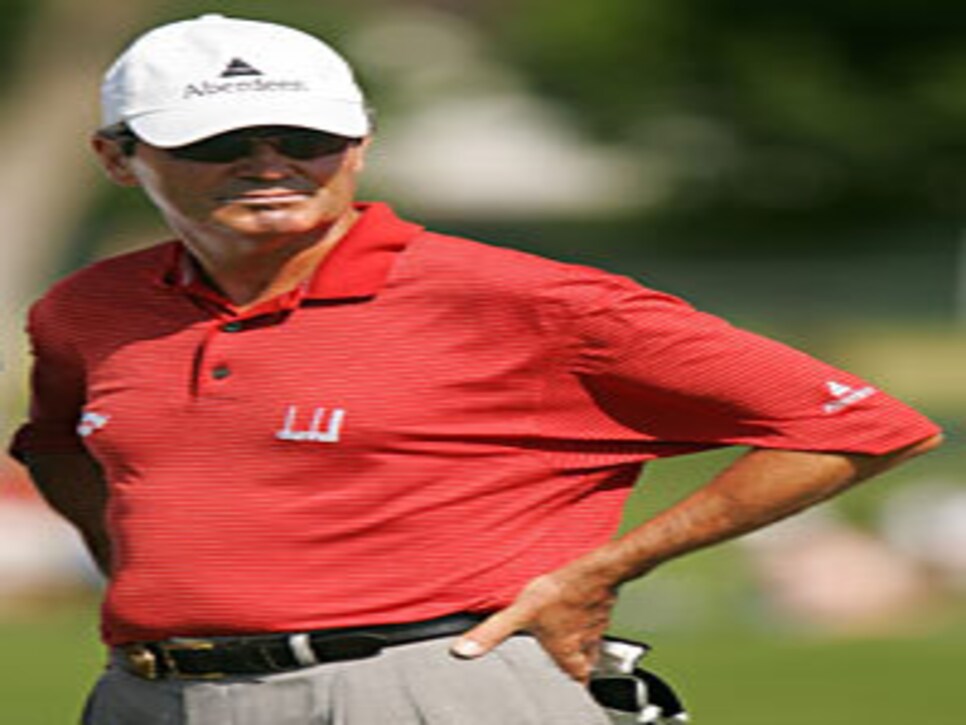 SUNRIVER, Ore. -- The laid-back atmosphere of the Jeld-Wen Tradition's new home was evident Thursday afternoon on the 18th hole. As he prepared to play his approach shot to the par-4 18th hole at Crosswater Club at Sunriver, Mitch Adams had to wait a couple of minutes as a fisherman in a small boat made his way down the Little Deschutes River between Adams and the green.
If you're around golf long enough, you see a bit of everything. Mike Reid can sure relate. Long known as one of the sport's steady-Eddies, Reid has been struggling for months with erratic play and hasn't had a top-25 finish on the Champions Tour in his last 11 starts.
"I haven't had a locker number this low since March," Reid quipped after shooting a 66 to share the first-round lead with Mark McNulty (above right), another golfer seeking the balm of a strong finish. "I don't have any explanation for it. I wasn't exactly brimming with confidence coming into the day."
There were birdies in bunches available at Crosswater, as evidenced by McNulty's four straight birdies to conclude his round. Tom Kite couldn't sustain his torrid start -- five under through four holes -- and settled for a 70, one of 25 scores under par on a sunny, pleasantly warm day.
McNulty, a five-time winner on the Champions Tour, has been battling his game and a back problem and is without a top-10 finish in 2007. A recent putting lesson with his longtime friend and teacher, David Leadbetter, produced dividends Thursday.
While McNulty hopes for another day of the same Friday, some senior stars will have to step up their play. Jay Haas and Brad Bryant shots 70s,  while Loren Roberts carded a 72.
(Photo: Scott Halleran/Getty Images)