Courses
A noted attorney wins 2021 Lido Competition with a par-3 design that would make Alister MacKenzie proud
Among the small number of original courses golf architect Dr. Alister MacKenzie designed in the U.S. in the late 1920s and early 1930s, few receive less attention than Green Hills Country Club.
It's located within a rich vein of golf that runs through South San Francisco's from Harding Park and The Olympic Club southeast through San Francisco Golf Club, Lake Merced and then the Cal Club, terminating in San Mateo at Peninsula Golf & Country Club, the only Donald Ross-designed course west of the Rockies. Compared to these prestigious brethren, Green Hills has lived modestly and under the radar, its holes climbing up and down the considerable slopes of a site hidden within the dense neighborhoods of Millbrae.
Nevertheless, its lineage puts it in rare company. Green Hills is one of just 15 charter clubs in The Alister MacKenzie Society, alongside Cypress Point, Crystal Downs, Royal Melbourne and others, and it's here that the 2021 winner of the Society's annual Ray Haddock Lido Prize would be determined. The prize, named for MacKenzie's great grandson, who provided funding for the original competition, is awarded each summer to an aspiring amateur architect who creates an original par 3, par 4 or par 5 (depending on the year) that best embodies the spirit and design philosophy of MacKenzie.
Fifteen drawings were spread across a long conference table in a meeting room in one wing of the Green Hills clubhouse. Gene Zanardi, treasurer and past president of the Society (and a Green Hills member since 1991), oversees the competition, and he had pre-selected these finalists from the 85 submissions sent in over the preceding months (the Lido Prize was cancelled in 2020 due to COVID-19; entries from last year were held over for 2021). The winner would be chosen by Los Angeles-based architect Todd Eckenrode, who also judged the 2013 and 2019 award.
The Lido competition began in 1998. Arnold Palmer and his design partner Ed Seay judged the first year. In Year 2, Gary Player agreed to give 30 minutes of his time for judging. After seeing the quality of the entries, he told his assistant to clear his schedule. "This is too important to rush," he told Zanardi. In another year, Nick Faldo, in shorts and a sweatshirt, spent three hours one evening looking over drawings and telling stories. Designers Ben Crenshaw, Mike DeVries, Kyle Phillips, Jim Urbina and current American Society of Golf Course Architects president Forrest Richardson have all been judges. Thad Layton, current Vice President of Arnold Palmer Design Company, won the competition in 2003. In 2010 he returned as judge.
This year's hole was a par 3 between 95 and 240 yards. That was essentially the only guideline given to contestants, other than to adhere to MacKenzie's principles, which Eckenrode would attempt to apply in his judging.
The par 3 could be any abiding distance or configuration, placed in any real or imaginary setting. On the table were holes in forests, in heather, set in dunes, along cliffs and placed in sand barrens. Some called for short-iron shots, others possessed markers well over 200 yards long. One finalist featured a 30,000 square-foot double green designed for a private client with shots crossing the putting surface from different directions. The artwork was colorful, imaginative and richly detailed, almost professionally rendered in some cases, with notes, descriptions, section views, and numbers depicting green and bunker elevations. Eckenrode leaned into each one, studying the lines and figures. Occasionally he would slide one of the drawings toward Zanardi.
"I don't see a lot of dynamism here," he said. "There's only two feet of elevation change over the entire length of the green, which isn't much for MacKenzie. I don't see a lot of options."
Zanardi took the drawing and placed it back in a thick file that lay before him on the table. Eliminated.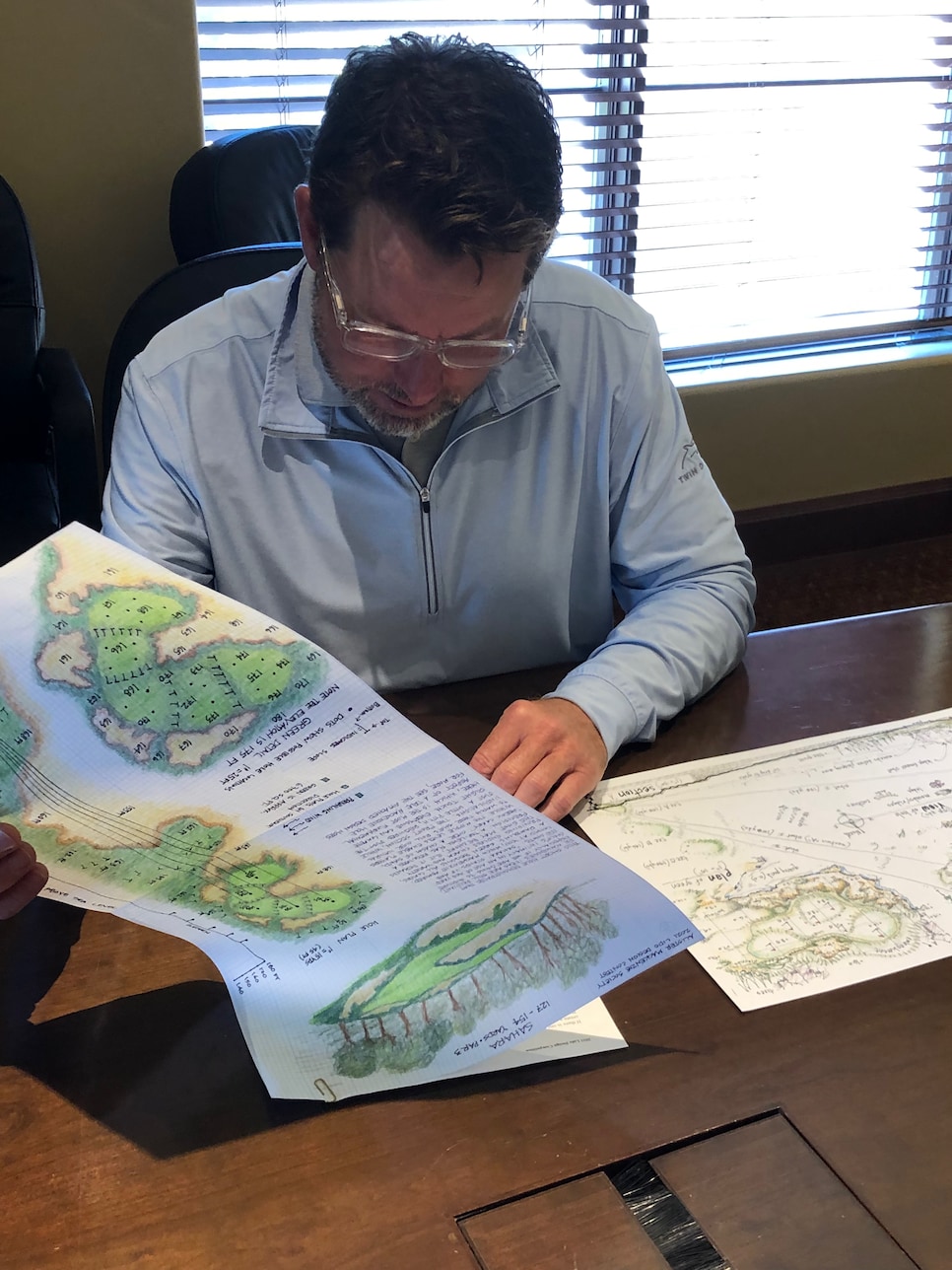 "This has really nice aesthetics," Eckenrode said of another. "It's a good, short par 3—it just doesn't have a workaround to get into the green from another place." The drawing slid toward Zanardi.
One particular drawing continued to attract Eckenrode's attention, a reverse C-shaped green rising in the woods from a field of sand, the back section elevated above the front. "This is really interesting," he says. He ran his finger over the drawing, as if to feel the slope of the green and the texture of the grass. After a moment he pushed it toward the end of the table, in the opposite direction from Zanardi's file. A contender.
One drawing depicted a green benched into a hillside above a cavernous bunker with three distinct raised platforms on the putting surface. "This is really out of the box," he says, lingering over the image. "It's a bit fanciful, but really good. Imaginative." Eventually he puts it in the finalist pile.
It continues: "What incredibly bold contours," he says of one. Of another he notes, passing it to Zanardi, "the bail-out here is actually the easy way into the green," a MacKenzie no-no.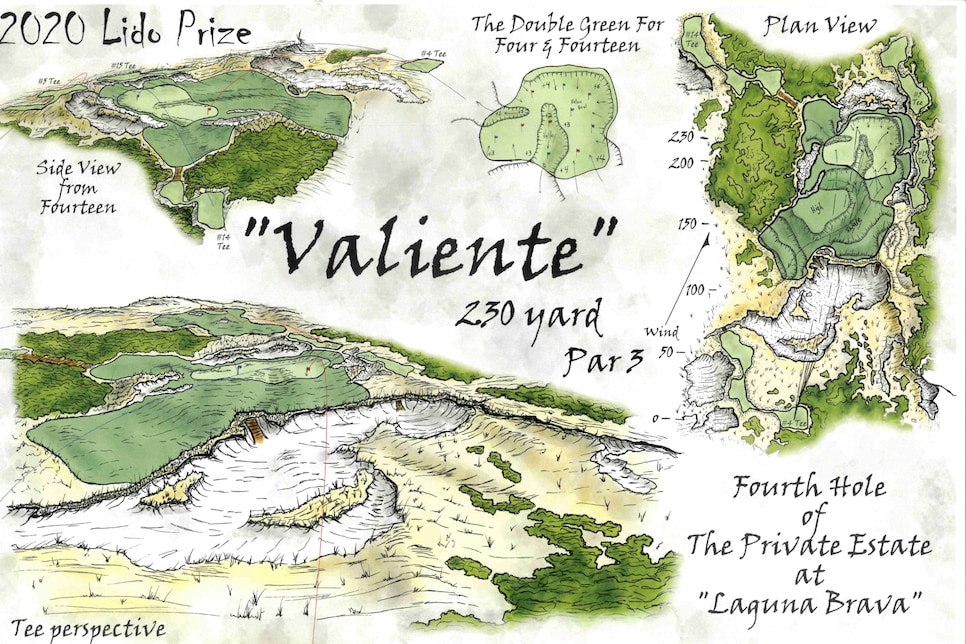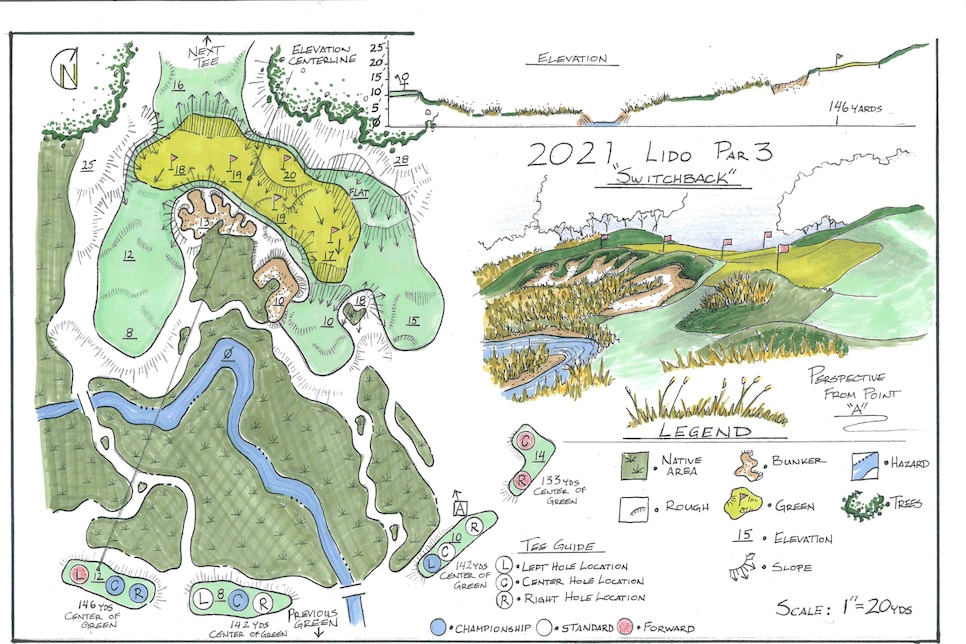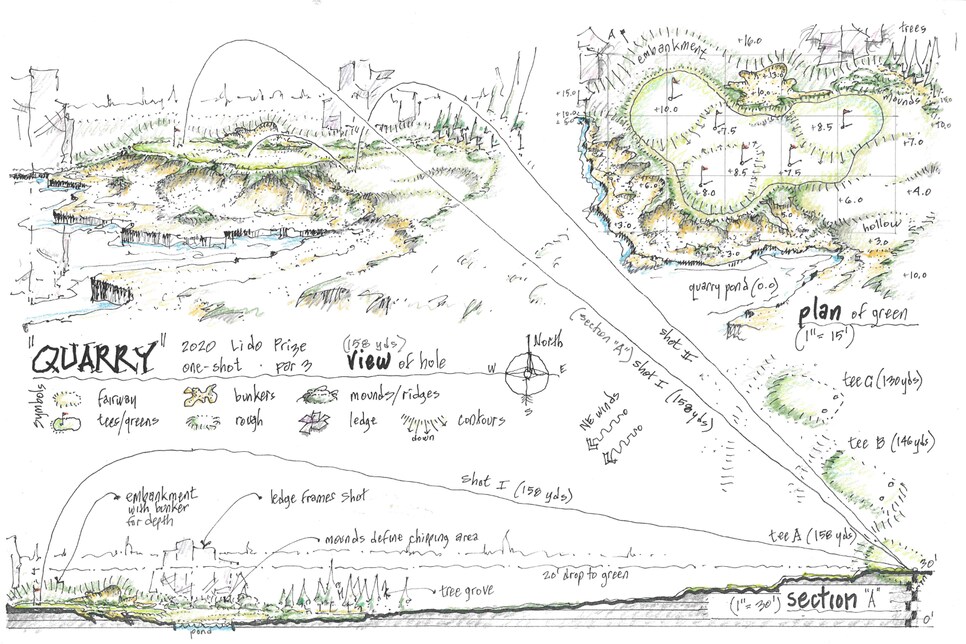 Once the finalists are narrowed to six, Eckenrode gives the anonymous designs a clean slate, and each hole and accompanying description gets a fresh read. These are then narrowed to a top three, and the procedure starts anew. Minutes pass. As he rotates his attention between the drawings it's clear there are two that he favors.
"These are both really good holes," he says. He looks at one, then the other. A sense persists that a decision has been made, but he continues to look over them several more times, giving them the full scrutiny. "Yep," he says at last. "This is it."
The winner of the 2021 Ray Haddock Lido Prize is Bo Links. His entry, the reverse C-shaped green, is titled "Sahara." The front section of the green is a short iron or wedge shot and the back elevated lobe, still just 155 yards—the same as the 12th at Augusta National—is the tournament pin position. The miss to either the lower or upper greens is left or right—long or short is in the sand—while flags along the right side cannot afford to miss left or right. Each hole location offers variety and calls for a different shot, with slopes and bumpers helping to move the ball around the putting surface.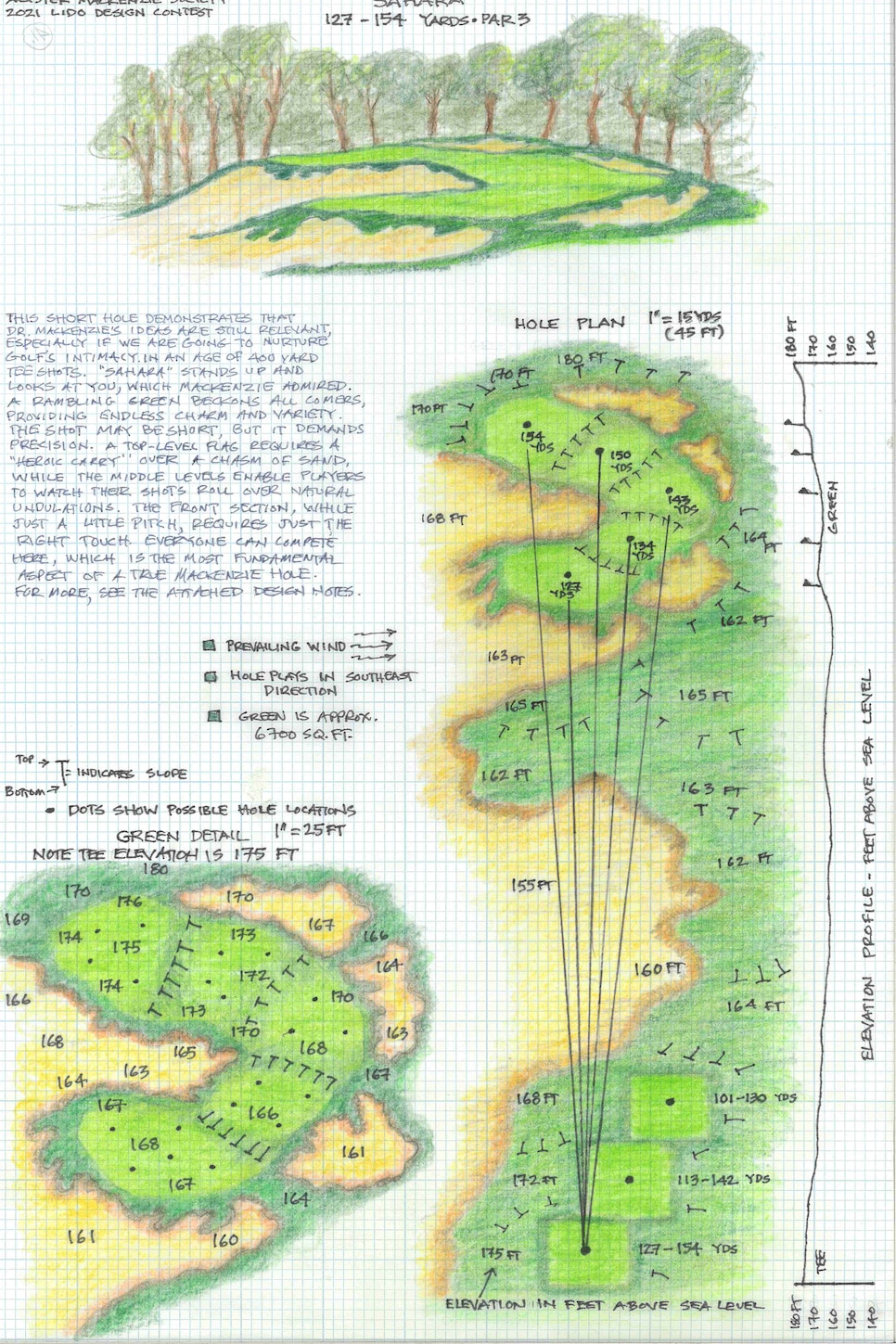 "My goal was to make a hole that's exciting and invigorating for every level of player, to find that classic MacKenzie value of 'pleasurable excitement,' " says Links, a longtime San Francisco attorney who now lives in Oregon. "It's not based on any hole I've ever seen. The concept of the green was that if the hole is cut up on the championship level, you're hitting right over the lower level with the chasm in between, and it's a mini-heroic carry. And even the front-of-the-green hole location, at just over 100 yards, can give the shorter player the same thrill."
This is the third time Links has won the competition (he also won in 2007 and 2008), and his understanding of MacKenzie extends beyond creating mythical holes. He's a writer and historian, and a decade ago he played a critical role, along with friend and San Francisco-area resident Richard Harris, in saving from closure the Sharp Park golf course, a seaside, 1932 Mackenzie design owned and operated by the city. Links and Harris continue to advocate for the survival and renovation of Sharp Park, which sits along a sea wall next to the Pacific Ocean, because they know how important and potentially brilliant the design can be with investment and attention.
Of MacKenzie designs, he says: They are "really like looking at light refracted through a prism—there are so many angles, so many colors, so many things to look at that it just makes your eyes dance and your mind soar. That's MacKenzie's architecture, that's what he gave to the game."
And that's what Links, and The MacKenzie Society's Ray Haddock Lido Prize, hope to preserve.