Course Rankings
Liberty National Golf Club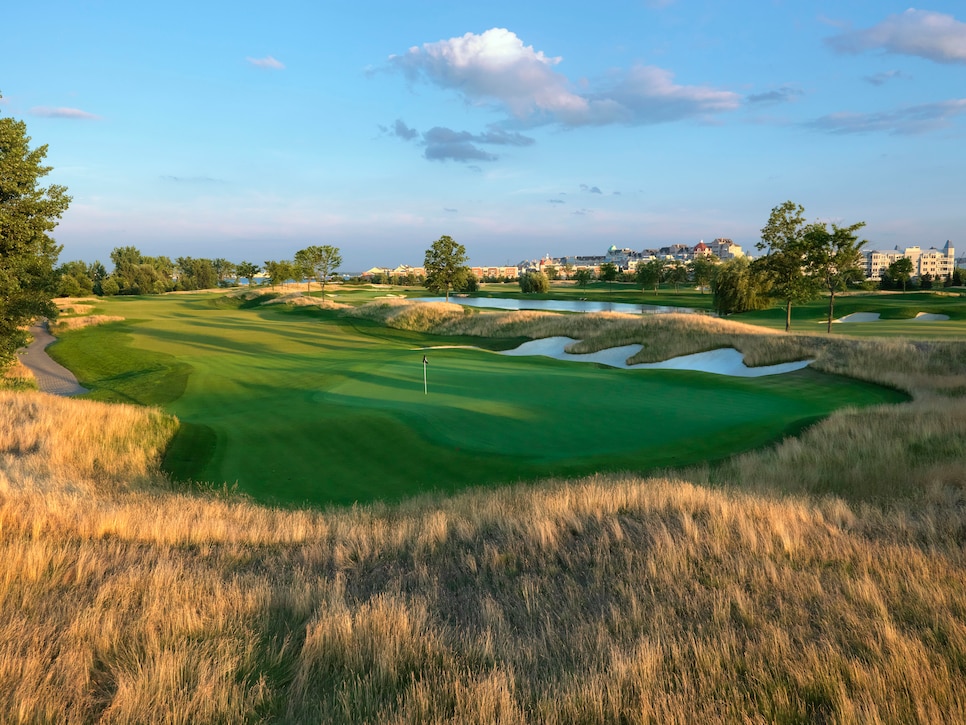 Courtesy of Evan Schiller
197. Liberty National Golf Club
Bob Cupp & Tom Kite (2006)
Like No. 158 Bayonne Golf Club to the south, Liberty National Golf Club was a reclamation project, a super-expensive Superfund clean-up of New York harbor, replacing a putrid assortment of oil refineries and storage tanks with an intriguing combination of green grass and golden rough. By spreading 2 million cubic yards of fresh soil over the capped toxic wastes, architect Bob Cupp and pro-consultant Tom Kite started building something meant to be a major tournament venue. It has narrow bent-grass fairways, just 25 to 27 yards wide, and tiny, flawless bent-grass greens, averaging just 3,400 square feet. With several hundred mature hardwoods transplanted along the fairways, a couple of rock-lined streams edging greens and winding cart paths fashioned from brick, Liberty National looks like what Central Park might be if it were a golf course Liberty National sits just three miles southwest of the tip of Manhattan, so the views of the NYC skyline, and the Statue of Liberty, are tremendous.
100 Greatest/Second 100 Greatest History: Ranked on America's Second 100 Greatest: 2019 to current. Highest ranking: 192nd (2019-2020). Previous ranking: No. 192
Watch Golf Digest's latest "Every Hole At" course videos below:
Panelist comments, Liberty National Golf Club:
"A stunning course with amazing views of New York harbor, the Statue of Liberty, the New York City skyline and Jersey City. You can spend all day staring at the views, just amazing. Built on former superfund site the course will visually amaze you at times. Other than some of the best courses in Ireland, the Monterey Peninsula or Scotland, it would be tough to find a more scenic course."
"Perhaps the best conditioned greens you will play—firm and fast on an everyday basis, and the condition of fairways rivals the greens. Green complexes require accuracy on approaches and every short game shot in your bag."
"Very unique green design features with run-off collection areas and elevation around them. A lot of creativity is required and felt like the course was a second shot course needing to hit the right portion of the greens to have success. Course almost has a Shadow Creek vibe to it. You are amazed that a golf course with that type of vegetation sits on that property overlooking the Manhattan skyline."
"Liberty National's conditioning score is high because it has firm, fast & rolling fairways and receptive greens (even with a few recently redone greens!) and true rolling putts."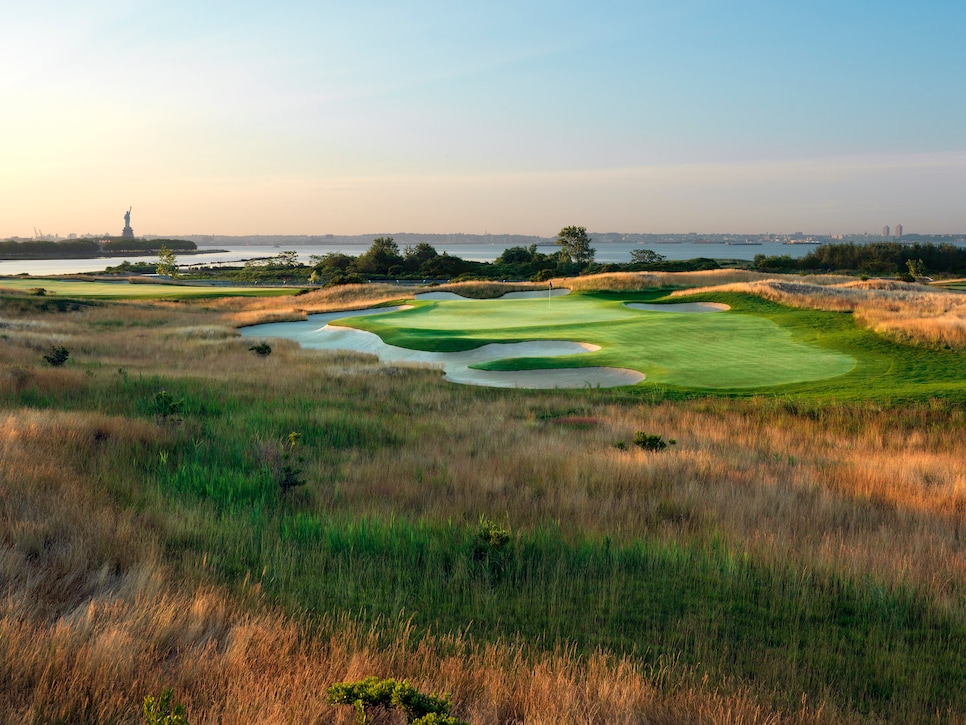 Courtesy of Evan Schiller
Courtesy of Evan Schiller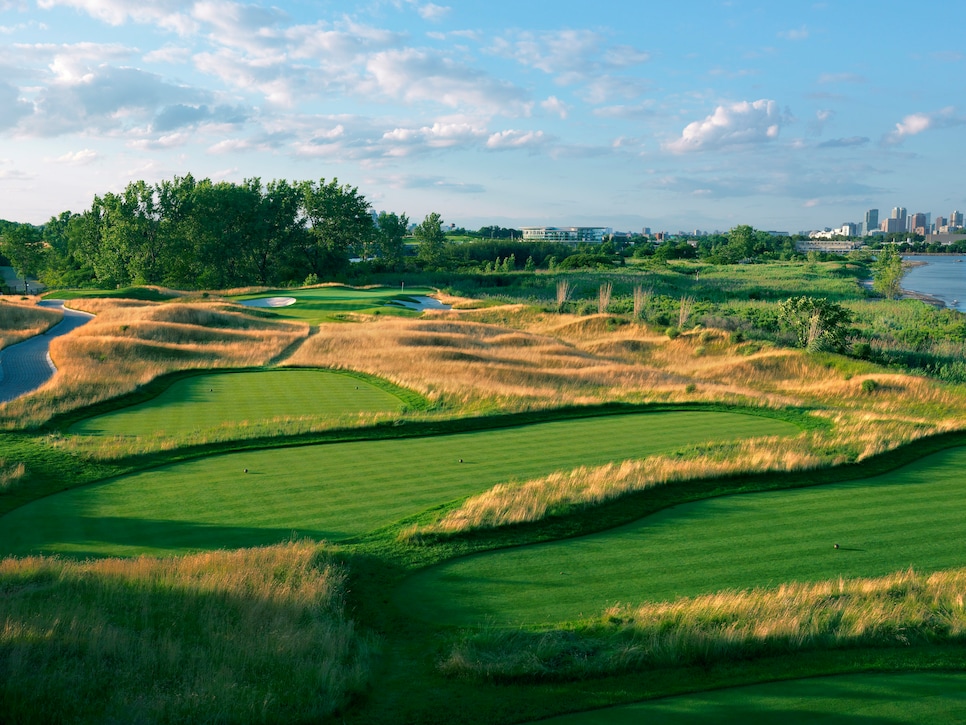 Courtesy of Evan Schiller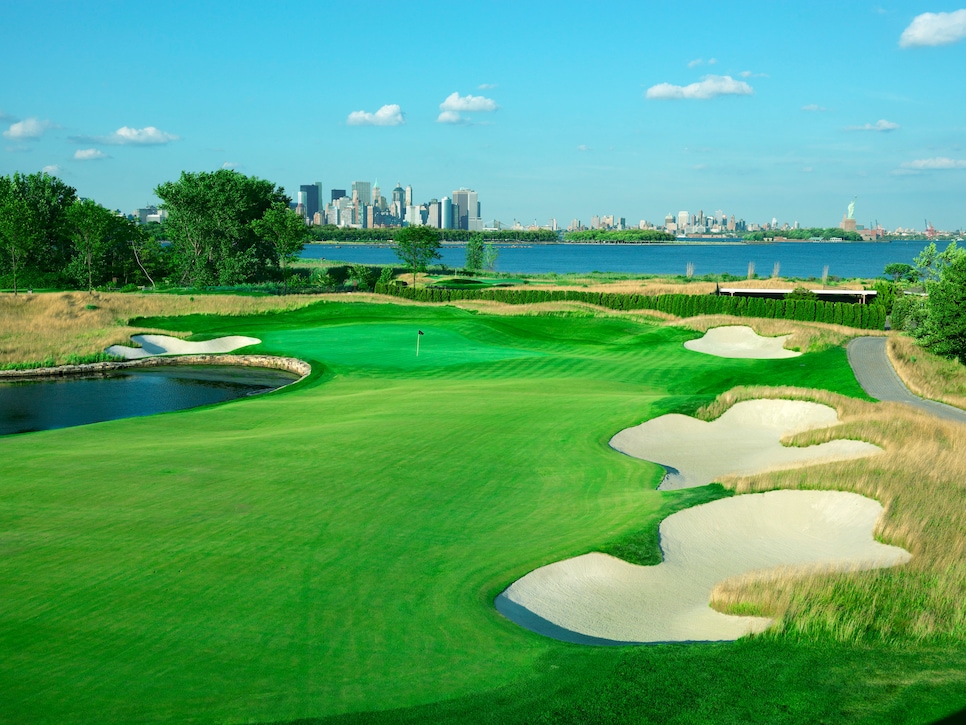 Courtesy of Evan Schiller