The Loop
Lexi Thompson's painful miss, Justin Thomas' sweet seats, Belen Mozo's bikini barrage, and the most terrifying turkey attack ever
Welcome to another edition of The Grind, where we promise to provide a respite from all LaVar Ball interviews. Imagine if this dude was a golf dad? Running around saying his three sons are going to dominate the game like no one's ever seen and selling golf shoes for $495 a pop? Golf fans couldn't even handle Matt Kuchar's father getting a little excited while caddying for his teenage son at the Masters.
And yes, people rolled their eyes at Earl Woods when he predicted Tiger would win 14 majors before he even turned pro, but guess what? Woods actually won FOURTEEN majors. So far, the biggest news surrounding any of LaVar's overexposed offspring is that one got arrested for shoplifting in China. Maybe it's time to cool it on those prognostications.
Anyway, as you can see, LaVar is featured prominently in our video, "The Biggest Sports Turkeys Of 2017," but we're sticking to golf here because there's plenty to chew on as we head into Thanksgiving. Let's dive in.
Austin Cook: This former Monday qualifying sensation finally has a full season to impress on the PGA Tour and wasted little time with his maiden victory at the RSM Classic. It's tough to play much better than Cook, who only missed 12 greens all week and got up-and-down on 11 of those occasions. "Yeah, I slept terrible last night," Cook said of having the 54-hole lead. Well, he can rest easier knowing he's basically got three more seasons of fully exempt status. Although falling asleep in Augusta this April might be a challenge.
John Rahm: So much for that "controversy" surrounding Rahm being named European Tour Rookie of the Year. By winning the tour's season finale, he jumped to No. 3 on the season-long Race to Dubai list and to No. 4 in the Official World Golf Ranking. All this just a week after turning 23. Combine Rahm's season with what Justin Thomas and Jordan Spieth have done in recent months and it's not a stretch to say that the three best golfers in the world right now are all 24 or younger. Also, congrats to Tommy Fleetwood for hanging on to win the Race to Dubai. Good thing he got one of those under his belt, because at 26 he's practically a fossil.
Lexi Thompson's 2017: The numbers don't lie, this was the best year of Thompson's career so far. She "only" won twice, but she claimed the Vare Trophy for best scoring average on the LPGA and she also captured the season-long Race to the Globe title thanks to a runner-up at the season finale. But. . . Yeah. . .
Lexi Thompson's final par putt of 2017: That was rough to watch. A (maybe) two-footer for likely the win and the honor of LPGA Player of the Year and. . . well, you know. Of course, you also know what happened to her at the season's first major when a belated four-shot penalty cost her that title. Those are two pretty rough things to happen in one year to the same person. The $1 million bonus should soften the blow a bit, though.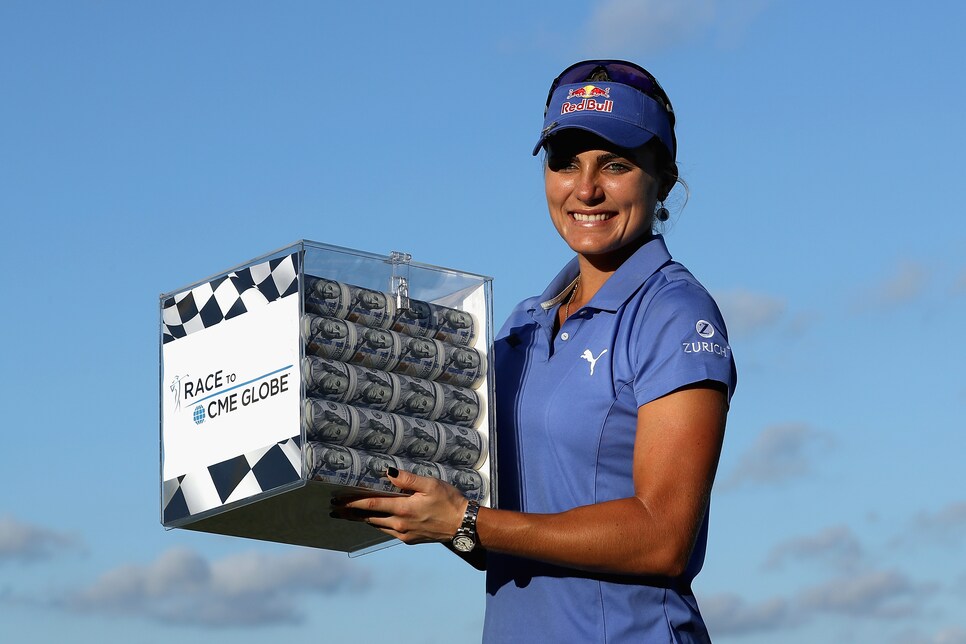 Unfortunately, the whole situation short-changed Ariya Jutanugarn, who birdied four of her final six holes, including draining the winning 25-footer moments after Lexi's miss. As excited as we are about the sub-25 stars in men's golf, the women's game has even more.
This "ban golf" piece: Criticizing someone else's writing is risky if you don't have any Pulitzers to your name, but Joel Beall did a nice job here deconstructing this terrible column that trashes golf. Golf is by no means perfect -- and neither is the writing of Joel or myself -- but if you're going to knock an entire sport and all those who play it without any facts and by drawing absurd parallels to serial killers, you deserve to be ripped.
Brandt Snedeker's new diet: We're happy Snedeker is back after an extended break due to a rare (for a golfer) sternum joint injury, but we're saddened by the new diet he's been advised to obey. His two main eating rules now are no sugar and no carbs, which means there's not a single food in the world he can enjoy anymore. "A miserable, kind of boring diet to say the least," Snedeker told reporters at the RSM Classic. Poor bastard.
The PGA Tour heads to. . . wait a minute, the PGA Tour is off! And so is the LPGA! Despite just wrapping up its season finale, though, the European Tour gets cranking on its next season right away with the UBS Hong Kong Open. The Race to Dubai never stops!
Random tournament fact: Miguel Angel Jimenez became the oldest Euro Tour winner ever at this event in 2012. And then he broke his own record the following year at 49 years, 337 days. What a stud.
RANDOM PROP BETS OF THE WEEK
-- Miguel Angel Jimenez is cutting anything out of his diet in 2018: 1 MILLION-to-1 odds
-- Tiger Woods will win a major in 2018: 20-to-1 odds (Actual odds)
-- Brandt Snedeker would cry at the sight of a delicious deep-fried turkey: LOCK
Sorry Lexi, but we still can't believe you missed this putt: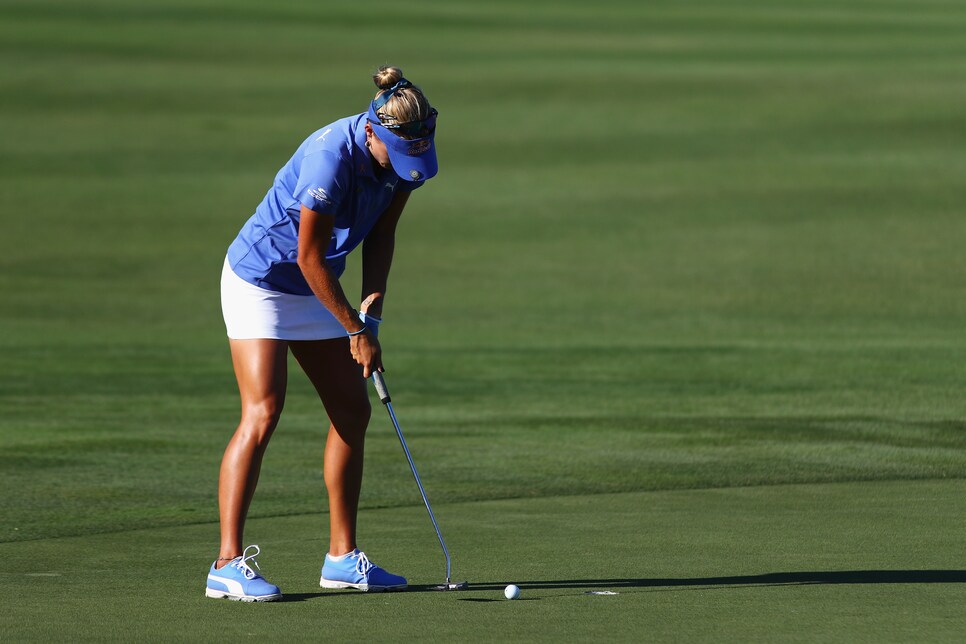 OK, that's it. No more Lexi or LaVar talk for the rest of this post. Moving on to happier things. . .
The European Tour continues to pump out incredible video content, this time convincing a foursome of players to try to hit a two-yard-wide fairway set up in the middle of the Dubai desert. We don't feel bad blowing the ending and telling you Ross Fisher managed to hit the sliver of green turf, because you should watch anyway:
VIRAL VIDEO OF THE WEEK (TERRIFYING DIVISION)
When turkeys attack on the golf course:
"I feel there's a huge gap between us. I don't know whether it's a lack of practice or whether I lack the strength to keep playing well. It seems there are many issues to address." – Hideki Matsuyama on Brooks Koepka, who won the Japan Tour's Dunlop Phoenix Open by nine shots. Deep breaths, Hideki. You're still only 25. And you're still ranked fifth in the WORLD.
THIS WEEK IN PGA TOUR PROS LIVING THE LIFE
Here's Justin Thomas and girlfriend Jillian Wisniewski sitting in court-side seats at a Chicago Bulls game:
And Thomas might get asked back soon after the Bulls scored 40 points in the fourth quarter to beat the Hornets 123-120, just their third win of the season.
We're guessing JT will also be at the big Alabama-Auburn football game this week. Winning a major championship has its perks.
THIS WEEK IN DUSTIN JOHNSON-PAULINA GRETZKY BELEN MOZO-ROBERT FARAH PUBLIC DISPLAYS OF AFFECTION
Remember that one-week social media break Belen said she was taking? Well, it lasted all of five days. Mozo shared these photos of her and boyfriend, professional tennis player Robert Farah, frolicking on a beach:
Cool visual effect. Also, this is strictly a hunch, but these two probably will eat a little healthier than I do on Thanksgiving.
Roger Federer moved ahead of Tiger Woods on Forbes' ranking of the all-time prize money earners in an individual sport. Of course, Woods has still made over $1 BILLION more than Federer in total earnings, so we're guessing he's not too upset about it. . . . A photographer who fished Andrew "Beef" Johnston's 3-wood out of a watery grave at the RSM Classic was told he could keep it by the affable Brit. Christmas come early! . . . Country music star Jake Owen has accepted a sponsor's invite to play in next year's Nashville Golf Open on the Web.com Tour. Good luck topping Stephen Curry's pair of 74s at the Ellie Mae Classic, Jake. . . . And finally, I attended my first Knicks game in some time and was especially excited to see this new option at MSG concession stands: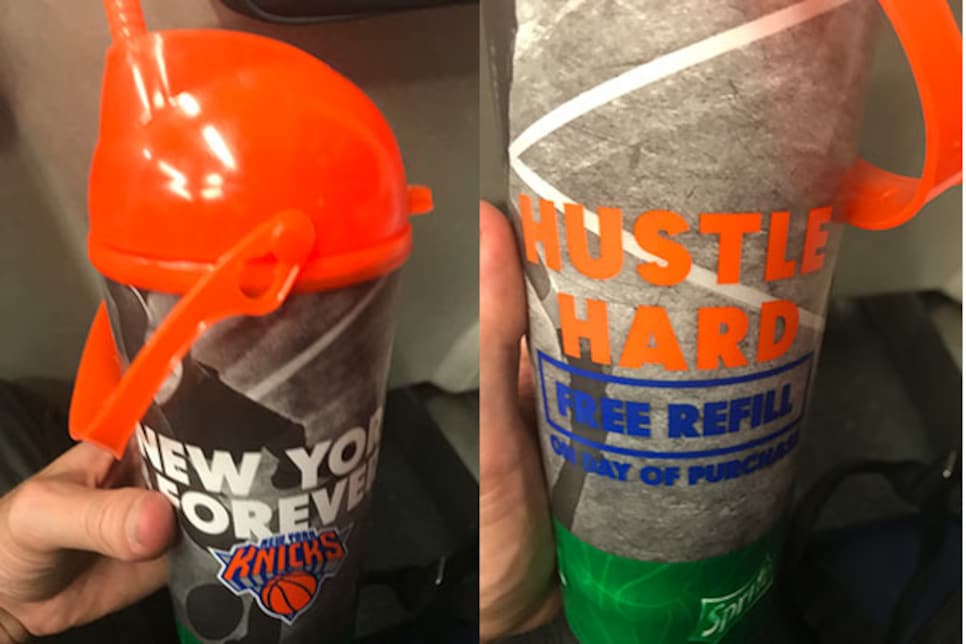 Sure, the cup cost $9.25, but free refills?! For the entire game?! What a great night. Oh yeah, the Knicks also won.
RANDOM QUESTIONS TO PONDER
How much does Fred Couples miss the Skins Game?
What's Tiger's favorite Thanksgiving side?
Do I have a soda problem?