Lewis and Lee take early clubhouse lead
PITTSFORD, N.Y. -- Stacey Lewis has come a long way since spending seven years in a back brace (between ages 11 and 18) and subsequently undergoing surgery to combat her severe scoliosis. In 2008, she came THIS close to winning the U.S. Women's Open as an amateur, and won that fall's LPGA Q School by three strokes. Her rookie year fell short of many people's expectations -- especially her own -- but 2010 has been a different story altogether. After finishing T-13 and T-16 in the last two tournaments, she now finds herself sharing the early first-round lead in the LPGA Championship with Seon Hwa Lee at -4.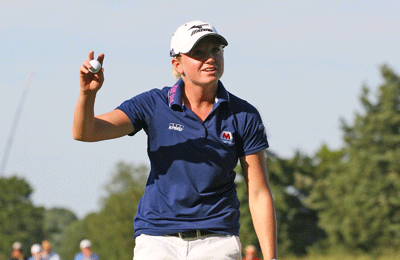 *"I'm a lot happier than I was last year at this point," Lewis said after her round. "It's just been really solid and so much more consistent. It's just more relaxing to play, and I'm having more fun." Lewis attributes the change to her new coach, Joe Halett of the PGA Learning Center in Port St. Lucie, Fla. "The guy I was working with before [Cole Smith], I worked with him in high school and college, and he just didn't really know the professional game. Last year, I hit balls just to hit balls. Joe knows what I'm going through and what I'm dealing with from week to week. Now I feel like I have something to work on every day when I go out to play."