The Loop
Levin's philanthropy is Stanley's redemption
You've got to hand it to Kyle Stanley, and Spencer Levin benevolently did so on Sunday, reiterating vividly what Stanley had recognized only a week before: Golf can be a pain in the...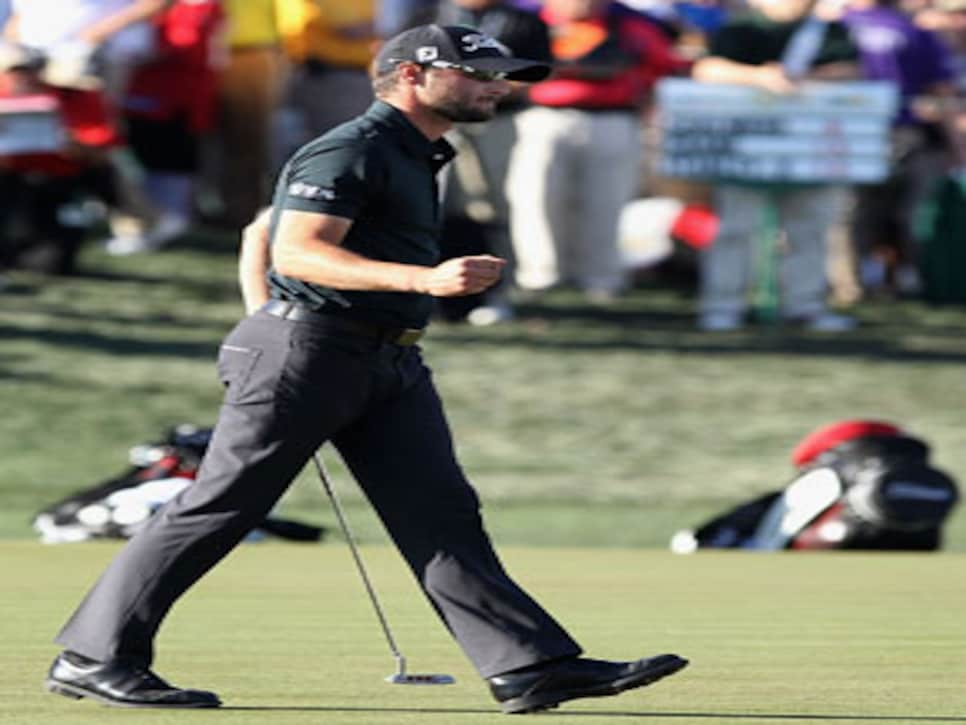 Well, just note that those were chunks of cactus that caddie Mike Hicks was plucking from Levin's backside adjacent to the 15th fairway at TPC Scottsdale. Levin's bid for a first PGA Tour victory was undone by the toxic mix of sand, water and jumping cholla.
It was no less painful to watch than Stanley's implosion in his own bid for victory No. 1 a week earlier, when he needed no worse than a seven at the 72nd hole to win the Farmers Insurance Open, made eight, and lost in a playoff.
"That's golf," Stanley said, attempting to explain the inexplicable.
The upshot was that the Waste Management Phoenix Open was a tournament lost instead of won, notwithstanding the six-under par 65 registered by its winner by default, Stanley, who might have clinched the 2012 PGA Tour comeback player of the year award. He overcame an eight-shot deficit in a single round only a week after his own devasting loss.
Levin, 27 and ostensibly on the cusp of stardom, had a seven-stroke lead at one point on Saturday, a six-stroke lead entering play on Sunday, a four-stroke lead with nine holes to play and lost by two. He double-bogeyed the par-5 15th by hitting his tee shot into a a group of cactus, using his putter and his caddie to extract the ball and cactus, respectively, then hitting a 5-iron into the water. He shot 75, the highest round registered by anyone in the top 60.
Levin remains an enigma formed of talent unfulfilled. He has always run hot in a game that requires cool, a dichotomy that has served neither his interests nor his reputation. Too often he has been undermined by his explosive demeanor in concert with a short fuse.
"He's been his own worst enemy at times," Levin's friend Dan Burke said. Burke is the head pro at Lake Merced Golf Club outside San Francisco, where Levin was given a tour pro membership. "He's always been too hard on himself, maybe too competitive and not able to put one bad shot or one bad hole behind him."
There were no overt demonstrations of temper on Sunday, no clubs slammed or thrown. This was more of a slow burn, coinciding with the ubiquitous cigarettes on which he was relying to help steady the nerves.
His father Don, who spent two years on the PGA Tour, was similarly wired. "He was a very, very fiery competitor, who also would run a little hot," Burke said, "and in some instances would get in his own way a little bit. Spence certainly had that reputation when he was younger.
"I just think he's a very competitive person by nature, similar to his father, whether playing baseball at a high level in high school or whether on a putting green putting for quarters. He wants to win more than the other guy."
Levin, once an accomplished amateur, has been making positive strides; he finished 31st on the PGA Tour money list last year. "His ability level is certainly there," Burke said. "It's always been there. He's a very, very solid ball-striker, and hits the ball very, very straight. Not everybody does that. He doesn't miss shots a lot. My sense is that once he does break the barrier, with the type of game he has, he can win majors."
In the meantime, Stanley provided guidance, based on his own bizarre experience. "You need to accept the facts that there are going to be ups and downs," he said. "You can't get too high and you can't get to low."
The problem that Levin is still working to overcome is that his equipment has never included an even keel.