PASSING OF A LEGEND
Legendary Tulsa women's coach Dale McNamara, a four-time national champion, dies at 86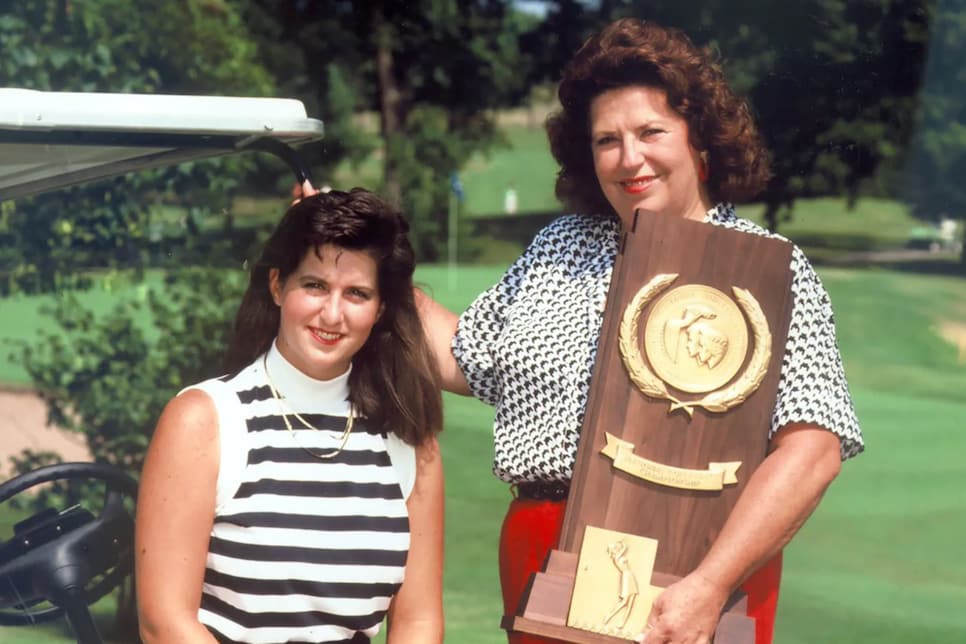 Tulsa women's coach Dale McNamara and daughter Melissa pose with the 1988 NCAA championship trophy. Melissa Luellen is now the women's coach at Auburn. (Courtesy Tulsa Athletics)
Legendary University of Tulsa women's golf coach Dale McNamara, who led four teams to national championships and coached Nancy Lopez during her 26-year career, died Sunday from complications with a second bout of cancer. She was 86.
McNamara's two daughters Cathy and Melissa were by her side at the time of her passing, according to a release from Tulsa's athletic department. Melissa Luellen, Auburn women's coach, won an individual national title under her mother's coaching at Tulsa in 1988.
She posted a touching tribute to her mother on Instagram.
"It is with great sadness that I share the passing of my mom Dale McNamara," Luellen wrote. "An incredible mother, wife, coach, advocate, mentor and friend. Never backed down to a challenge and would always fight for 'her girls.' Girls being my sister Cathy and me and all of her @tulsawgolf players. She touched many lives and will live on in those she made a difference in. Rest in peace Momma."
McNamara helped launch the Tulsa women's program in 1974 and coached the Golden Hurricane until 2000. Her teams collected AIAW national championships in 1980 and 1982 and captured NCAA titles in 1982 and 1988. The two titles in '82 came in the last for the AIAW and the first for the NCAA. McNamara also helped Tulsa produce five other national runner-up finishes. Her 81 total career victories rank fourth on the all-time list of women's college coaches.
On the individual side, McNamara helped produce champions there, too. Her recruitment of Nancy Lopez in 1975 helped put Tulsa on the golf map, and Lopez won the national championship in 1976. Kathy Baker took home another title in 1982 while Melissa won in 1988.
"We our heartbroken to learn about the passing of the matriarch of women's golf at the University of Tulsa Dale McNamara. Our deepest sympathies go out to her daughters Cathy and Melissa and loved ones during this difficult time," said Rick Dickson, Tulsa's vice president and director of athletics. "Dale was a trailblazer, beginning the women's golf program at Tulsa in 1974 and quickly developing it into a national powerhouse. She made a huge impact on TU athletics, the campus, the Tulsa community and in the world of women's collegiate golf.
"I was fortunate enough to spend significant time with her at the Dale McNamara Invitational earlier this month and she was as effervescent and enthusiastic for TU and the game of golf as she's ever been. Dale's legacy will live on in Tulsa athletics lore. She will be greatly missed."
In McNamara's Tulsa tenure the Golden Hurricane made 22 trips to the national championship and finished inside the top 10 on 21 occasions. She coached 28 first or second-team All-Americans and 32 players went on the play professionally.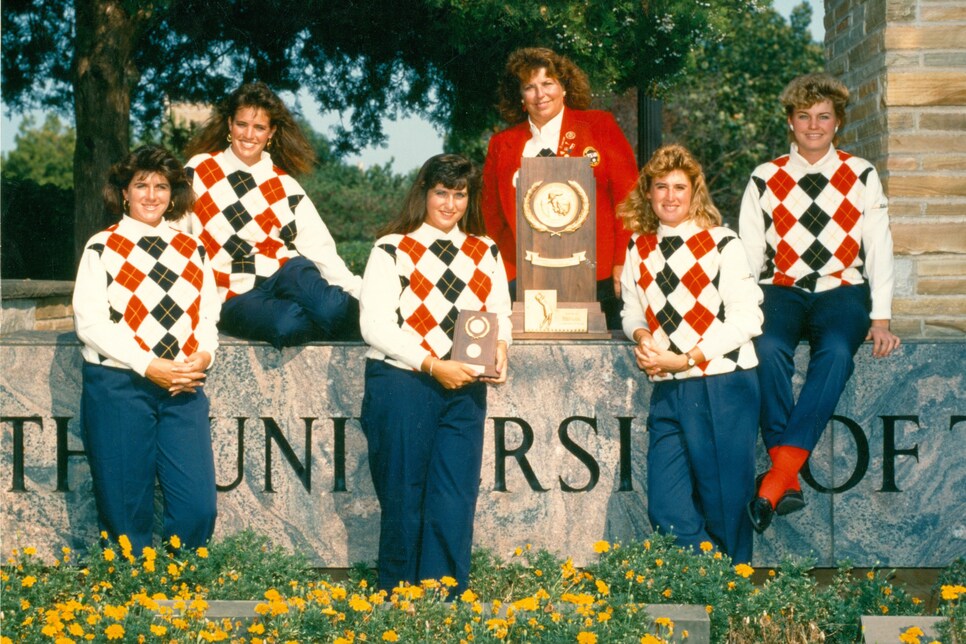 Coach Dale McNamara and the 1988 national champions. (Courtesy Tulsa Athletics)
She was inducted into the National Golf Coaches Association Hall of Fame in 1988.
"A fierce competitor, a caring coach and a Golden Hurricane through and through, Dale will always be remembered as a formidable force within collegiate women's golf," said Tulsa president Brad R. Carson. "It is fitting for Dale to have lived to see the 50th anniversary of Title IX, which gave rise to the program she nurtured, as well as the 40th anniversary of the team's historic win of two national championships. Our university and our city owe her a great deal of gratitude for putting Tulsa on the map just as women's golf was gaining ground. She brought an immeasurable amount of acclaim to TU and continued to support our athletics programs for decades. We mourn this tremendous loss and send our sympathies to Dale's family and friends."
A celebration of McNamara's life is planned for November 28 at 3 p.m. at Sharp Chapel on the Tulsa campus. The family has requested that gifts in McNamara's honor can be made to the University of Tulsa in support of the women's golf program.