The Loop
Lee Westwood talks for first time about playing with DJ on crazy Sunday at Oakmont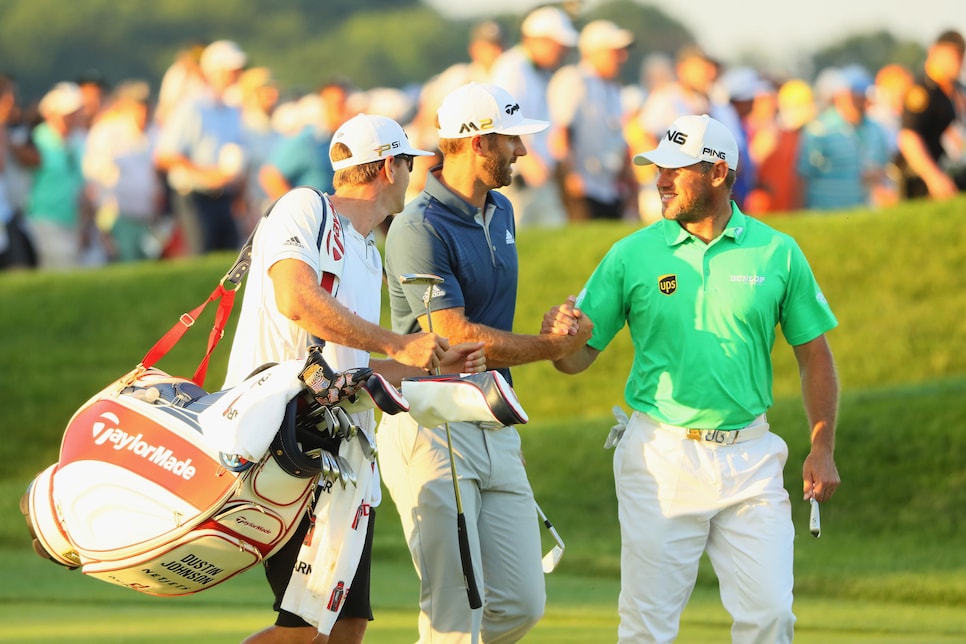 On the whole, the world's best players were decidedly anti-USGA when it came to their reaction to the Dustin Johnson ruling at the U.S. Open, a subject that won't be fading away anytime soon.
Most of the criticism was founded in empathy for a player not only trying to hold the lead down the stretch on Sunday of the world's toughest tournament, but one who, after being informed on the 12th tee at Oakmont that a ruling in his favor on the fifth hole might be reversed and cost him one shot upon review at the end of the round, could have easily fallen prey to victimhood. Instead, Johnson channeled what he learned in previous failures in the last rounds of majors at Pebble Beach, Whistling Straits, Royal St. George's and Chambers Bay, and strode arguably through the most rigorous of all U.S. Open tests with a new and noticeable determination that was a valuable addition to his customary cool to win by an eventual three strokes.
In fact, it seemed Johnson, 32, was less upset about the rules snafu than his peers. It helped that he was immersed in one of the most impressive displays of accurate long driving ever seen in shooting a one-under 69. Meanwhile, most of the golfers who took to Twitter to blame the USGA for Johnson's plight had just been beaten up by Oakmont and were looking to vent.
Lee Westwood, despite shooting an 80 in the final round to plummet from T-4 to T-32, restrained himself. At 43, the Englishman has become a respected elder statesman among the players by virtue of playing in nine Ryder Cups, winning 23 times on the European Tour, finishing in the top three in nine majors and invariably being good company.
As Johnson's playing partner in the final round, Westwood had an intimate view of the rules snafu in the making. Throughout the round, he distinguished himself for his moral support of Johnson, which was duly noted on the Twittersphere with comments like, "Mad respect for Lee Westwood. Spent the whole day pumping up DJ, encouraging him in the face of a ridiculous situation."
After returning home to England, Westwood spoke for the first time about the matter with our John Huggan. Westwood generally expressed disappointment in the USGA's decisions during the Johnson ruling, which was based on a new rule that took effect Jan. 1 that does not necessarily penalize a player whose ball has moved for having soled his club while addressing his ball. Rather, it determines whether the player through any of his actions caused the ball to move.
'The whole thing was handled very badly. I don't think anyone should be treated the way Dustin was. A ruling was made on the fifth green, and that should have been it, cut and dried.' —Lee Westwood
Here's his up-close and basically chronological account from Westwood, beginning on Oakmont's fifth green, the scene of Johnson's much-scrutinized practice-stroke routine before his ball moved:
"It all started when I asked Dustin to move his marker off my line. He did so, and after I missed my putt he put his marker back and replaced his ball. I went to the edge of the green and watched him take his practice swings to the side of the ball. As he went to put his putter behind the ball, it moved very slightly. I could see that it had because the line on top wasn't quite straight as it had been when he started his routine. The ball had actually rolled back, away from the hole.
"Dustin actually called it on himself before I said or did anything. But I knew his putter had not been behind the ball when it moved. As far as I was concerned, he had not caused it to move. He certainly hadn't touched it. I'm not sure how else he could have moved it, to be honest. How does he move the ball if he hasn't touched it with his putter?
"To be fair, the ball was sitting on a slight upslope, which is why it moved backward. Anyway, Dustin called in the referee who asked if he could think of any way in which he could have caused the ball to move. Dustin said he couldn't. I agreed with him, and the referee said play on. That was really the end of it as far as I was concerned.
"Or it was until the officials appeared on the 12th tee. They asked Dustin and his caddie to step aside and told them they thought there might have been an infringement on the fifth green. I listened in. They didn't ask for any input from me. I thought that was strange. I was a bit disappointed, really. I was Dustin's playing partner. I was marking his card. I had been asked for my opinion on the fifth green. Yet they didn't ask me anything, even though I was right there.
"When we finished the round, Dustin was taken into the scorer's hut to be shown the footage. I wasn't invited to join him. Again, that disappointed me. I had to say to someone, 'Shouldn't I be in there as his marker?' So they took me in after that. It was odd, though. I felt like I should have been involved in every aspect of what went on.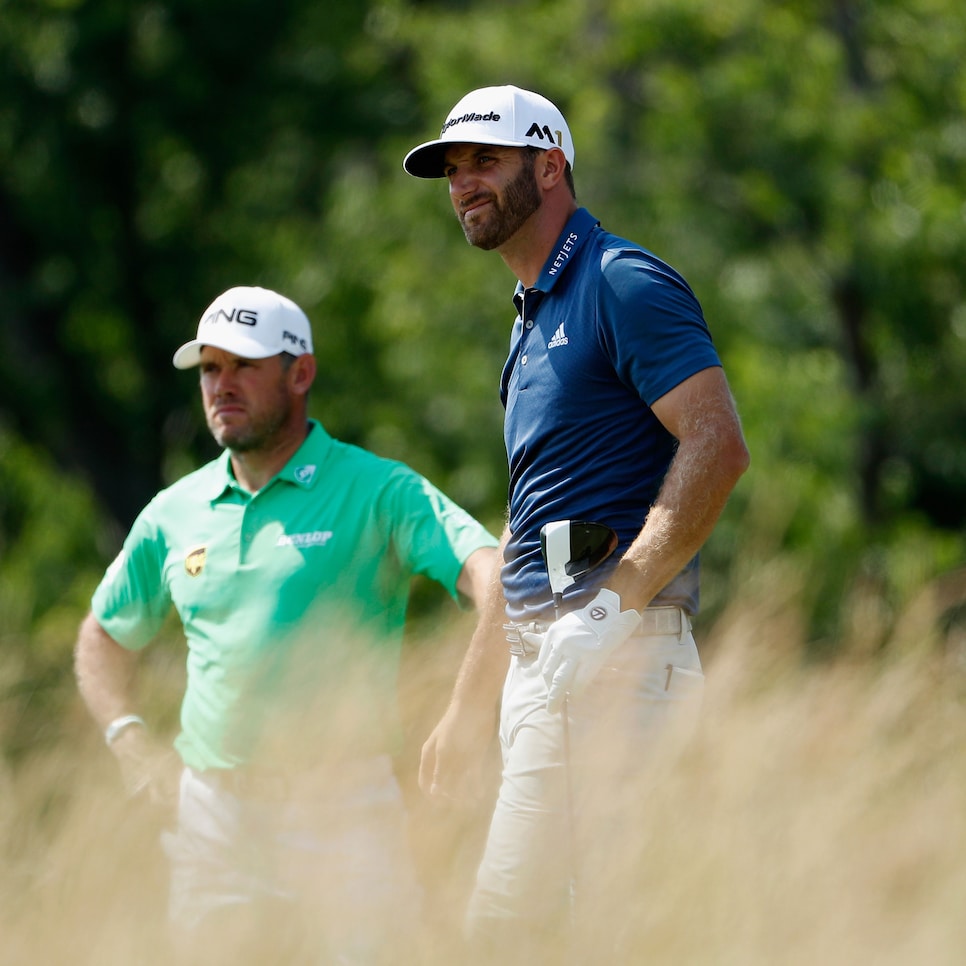 "The whole thing was handled very badly. I don't think anyone should be treated the way Dustin was. A ruling was made on the fifth green, and that should have been it, cut and dried. He certainly should never have been asked to play the last six holes of the U.S. Open without knowing what the score was. I was thinking going down the 12th, Does Shane Lowry in the next group know where he stands? It was ridiculous.
"Imagine if Dustin had got to the last green and had a putt that mattered. He wouldn't have known what to do. There was nobody there willing to make the decision. And when they eventually did, they got it wrong, in my opinion. Even with all that time to think about it. The problem lies with the rule. As it stands it is too open to interpretation.
"In the scorer's hut, Dustin continued to maintain that he had not caused the ball to move. I agreed before and did again after watching the video evidence. Mike Davis was there. He told us, 'No, there is going to be a shot penalty.'
"We were only in their maybe two minutes. I could tell when I went in that they had made up their minds that it was going to be a penalty. They weren't particularly interested in anything Dustin or I had to say.
"At that, Dustin said, 'OK, whatever. Let's just get on with the prize presentation.' Thankfully, it didn't matter to the result. I'm not sure what they would have done if it had mattered. I'm just pleased it didn't."