The Loop
Lee Westwood doesn't have a clue where he sits in the Ryder Cup standings
__LOUISVILLE, Ky. -- The most difficult question Lee Westwood faced Thursday was about his position in the European Ryder Cup standings. Because time is running out to qualify for the team? Actually, because he had no idea where he stood.
"If you tell me where I am in the standings, I'll give you my opinion on it," said Westwood, who soon learned he is 18th on the European points list and 16th in world points. "I don't even know what position I'm in."
Some golfers obsess about every decimal in the Ryder Cup points list, but Westwood isn't one of them. He has played on eight straight teams and would like very much to play on a ninth when the Europeans defend the Cup again at Gleneagles. But for the 41-year-old Westwood, the more pressing issue was simply distancing himself from a stretch of mediocre golf.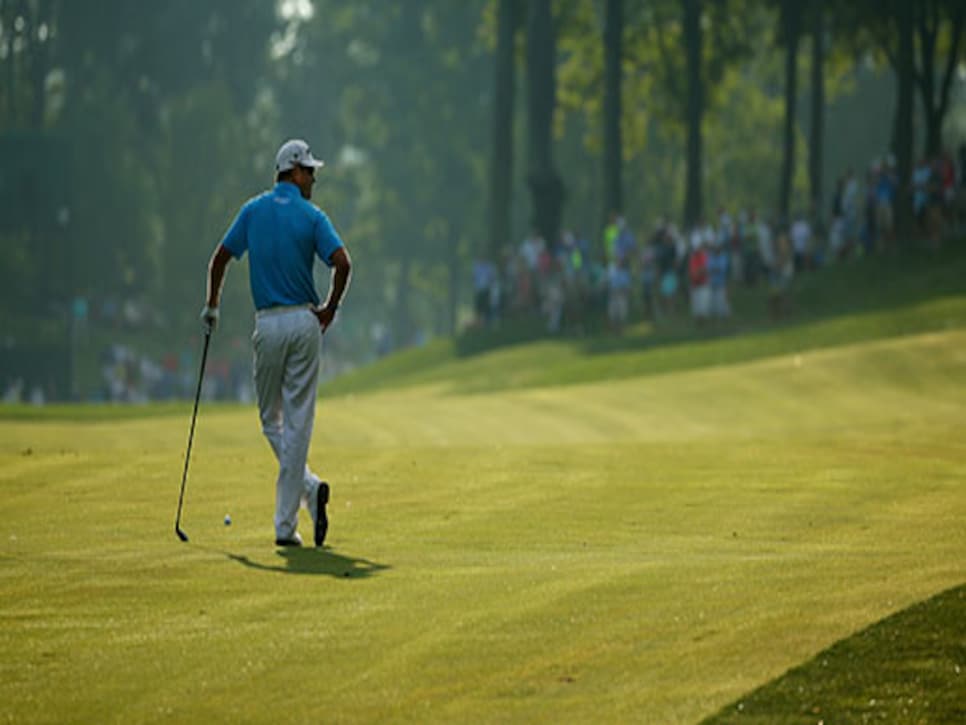 He managed that in the first round at Valhalla, with four straight birdies to close giving him a 65 and a share of the lead with Kevin Chappell in the PGA Championship. The score matched Westwood's best round ever in a major, but most impressive is that it came when it did. Prior to last week's no-cut Bridgestone Invitational, he had missed cuts in four straight tournaments, including in the British Open and U.S. Open.
In need of help, he brought in instructor Mike Walker, who took over for Sean Foley at the beginning of this year, for practice sessions at Old Palm GC near his South Florida home. The rewards were not immediate -- he shot over par the first two days at Firestone -- but then came a 63 on Sunday, followed by the 65 to start here.
"You know, it's a frustrating game," Westwood said of his struggles. "Anybody in this room that plays it knows how frustrating it is and how much it can get to you, and how much you can swear."
If missed cuts have been one source of frustration this year, missed opportunities in majors have been another throughout Westwood's career. He's had eight top threes in majors, and his stretch of 67 starts without a major win is the longest among active players. Is it too early to start thinking about ending that streak this week? Given his track record, yes. But it's at least not as ludicrous a thought as it was even a few weeks ago. And the same can be said of his inclusion on another European Ryder Cup team this fall.
"Obviously I'm not on the team at the moment, but I've had chats with [European captain Paul McGinley] and he said, 'You know, try and show some form,' " Westwood said. "I don't know whether he's just looking for a reason to pick me, but I've shot 63 last Sunday and I'm leading a major this week. So I'm ticking that box for him."