The Loop
Lee Trevino calls Masters participants 'gutless' for acquiescing to hierarchy
Stories of interest you might have missed…
Lee Trevino has never been a fan of the dictatorial nature of the Masters' hierarchy. "There were just too many rules for me," Trevino said in this story by Phil Stukenborg of The Commercial Appeal. "If you go there now and try to use a cellphone they will kick you out, even if you are using it in the parking lot or on the driving range. The players can't even use them on the driving range. Have you heard one of them complain yet? No, because they are gutless. If they went to the U.S. Open and the U.S. Open told them they couldn't use their cellphones on the driving range they would raise all kinds of hell. They're scared to death."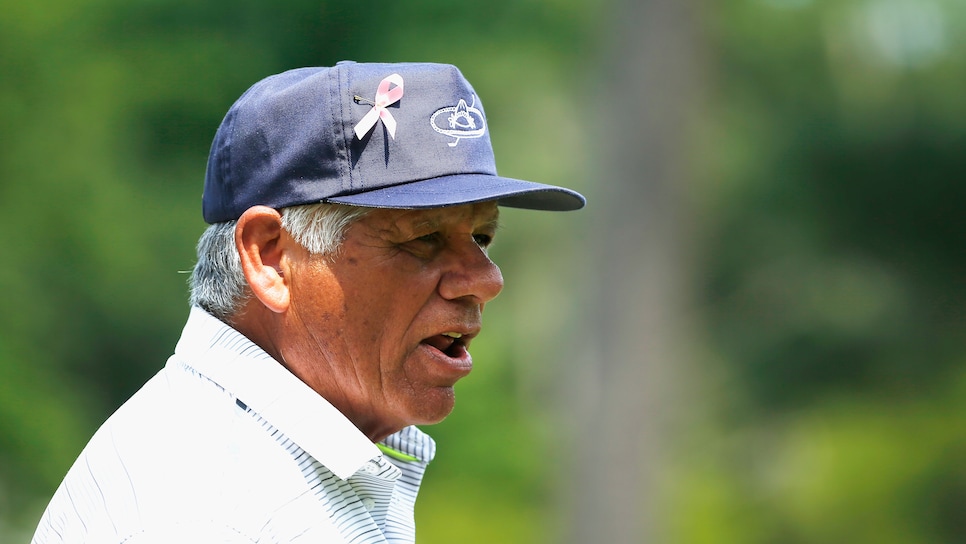 "With odd-coloured shoes setting off his eye-watering turquoise-and-lavender ensemble, Ian Poulter looked as if he had turned up for work as a wild berry Pop Tart. Either that or he had just lost a bet. Say what you like about this swaggering harlequin – and many do – but he does not want for bullishness. He took to preparing for his 11th Masters by posting a picture of his newly-burnished trophy collection on Instagram, before telling the world about the repairs to his Ferrari F40. Trouble is, all this primping and preening starts to look a little foolhardy when you shoot 78," Oliver Brown of the Telegraph writes in examining Poulter's woes at Augusta National.
"Tommy Armour was the reigning United States Open champion and at the height of his powers when he played in the 1927 Shawnee Open. It proved absolutely no protection whatsoever when he got to the par-five 17th and found it an immense task simply to take the putter back. When he finally walked off the green he had needed 23 strokes to complete the hole. 'I don't know what happened,' he said, shaking his head sadly. 'I just had a severe case of the yips, or something,'" Derek Lawrenson of the Daily Mail writes in this story on the yips, experienced most recently by Ernie Els at the Masters.
"Running is strictly forbidden, a rule that has spawned one of the most civil and strained competitions in the world. Fans line up early, armed with chairs and speedwalking strategies. When the gates open at around 8 a.m., thousands spill onto the course while pretending they aren't competing for anything at all. 'It's a polite hustle,' said Creighton Cox, 71 years old, standing over his chair 12 rows back from the 12th tee on Thursday." Brian Costa of the Wall Street Journal with the story on Augusta National fans racing to set up their chairs once the gates open.