Not So Fast, My Friends
Lee Corso is returning to the College GameDay set this season, college football is finally officially back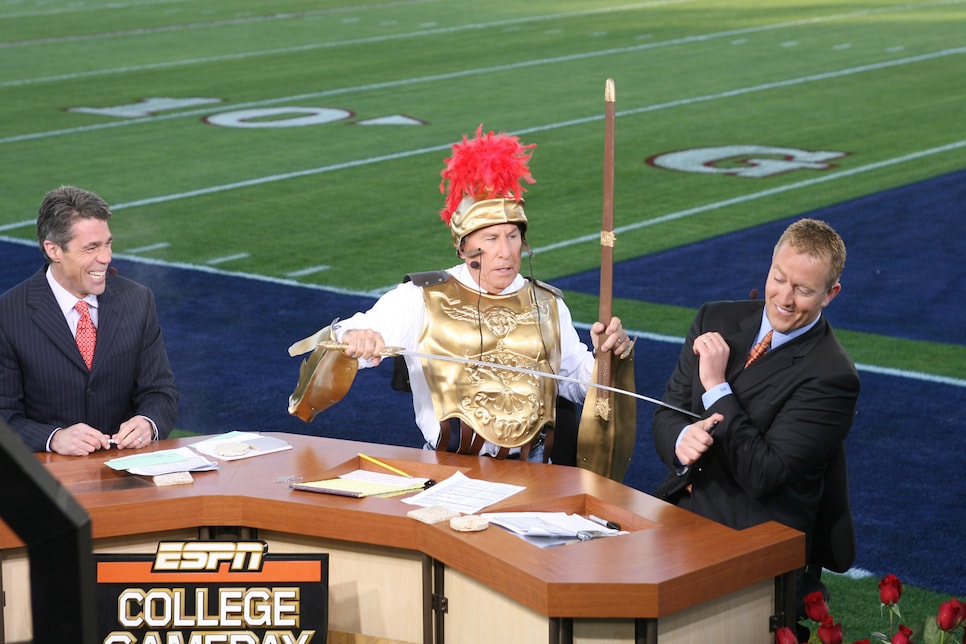 When it came to sports in the year of our lord 2020, there was a lot that wasn't quite right. We grinned. We beared it. But it just didn't feel the same. Shortened seasons. Bubble playoffs. No fans. Overall atmosphere took the brunt of the blow, and the ratings followed suit. Thankfully, however, things are starting to return to normal (or as close to normal as sports can get), including this bit of good news out of college football this week:
According to Awful Announcing, Lee Corso, legendary ESPN personality and mascot head wearer extraordinaire, is officially returning to the College GameDay set on Saturday's this fall. Let's. F'ing. Go.
The 86-year-old Corso spent the 2020 season chiming in from the safety of his own living room, but thanks to the miracle of vaccination (HINT, HINT), he currently plans to hit the road with the GameDay crew this fall. This is big news for Corso, who has admitted to missing the rush of donning a giant foam dome piece in front of thousands of screaming college students, but also for college football, which gets a key component of its pageantry back.
The return of Corso, who has been part of College GameDay since its inception, should also help to fill the Maria Taylor-shaped hole on the GameDay broadcast. The rising ESPN star left the network to join NBC after a drawn-out contract dispute last month, and ESPN reportedly has no plans to replace her on GameDay. So here's hoping Corso is fit and firing for Week 0, when College GameDay heads to Center Parc Stadium in Atlanta for the Cricket MEAC/SWAC Challenge Kickoff on August 28th, because we can't wait to have the old man back.