The Loop
Steph Curry eclipsed Klay Thompson's career high on Sunday night, and Klay responded with a timely 'Happy Gilmore' clip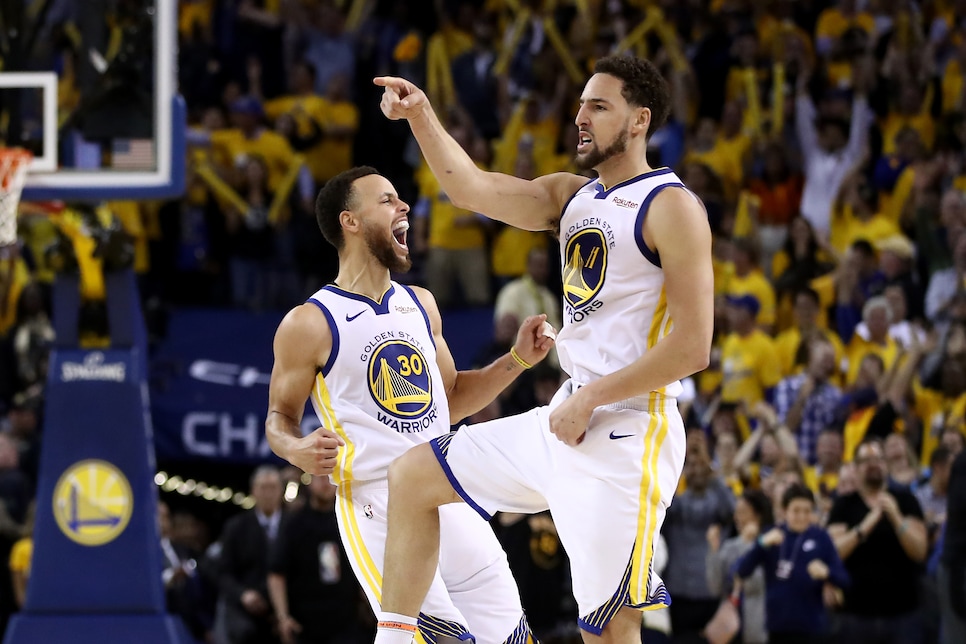 We feel for Klay Thompson. Really, we do. After missing the entire 2020 season with a torn ACL, Thompson returned to training camp in November and promptly tore his achilles, effectively scrapping a second straight season. We can't imagine how hard it must be to sit at home and watch your once-mighty Warriors wallow in mediocrity, but while most of us would melt into a puddle of tears and Cheetos dust, lose all track of night and day, and spend the hours wandering around the backyard like a broke version of Citizen Kane, Thompson seems to be holding up OK. In fact, when Steph Curry eclipsed Thompson's career high scoring mark, putting up 62 against the Blazers on Sunday, he was even able to laugh it off, posting this timely 'Happy Gilmore' clip in response on Monday.
Nothing like a little competition amongst friends, amirite? In all fairness to Thompson, however, on his night, he is the more explosive of two Splash Bros. Maybe Steph has a better all-around game, but when Thompson starts to feel it, there is no stopping him. Just take a look back at his absolutely goosebump-inducing 37-point QUARTER if you don't believe us. Steph is unreal. Thompson, at his best, is surreal.
Unfortunately, that internal rivalry is on hold for the time being. Thompson is stuck on the couch while Steph has the green light to put up as many shots as his baby arms will allow on a nightly basis. In fact, chances are he blows past Thompson's mark again before the season is out. So take our advice, Klay. Next time Steph is heating up, just go ahead and change the channel. Who knows, maybe 'Happy Gilmore' is on . . .