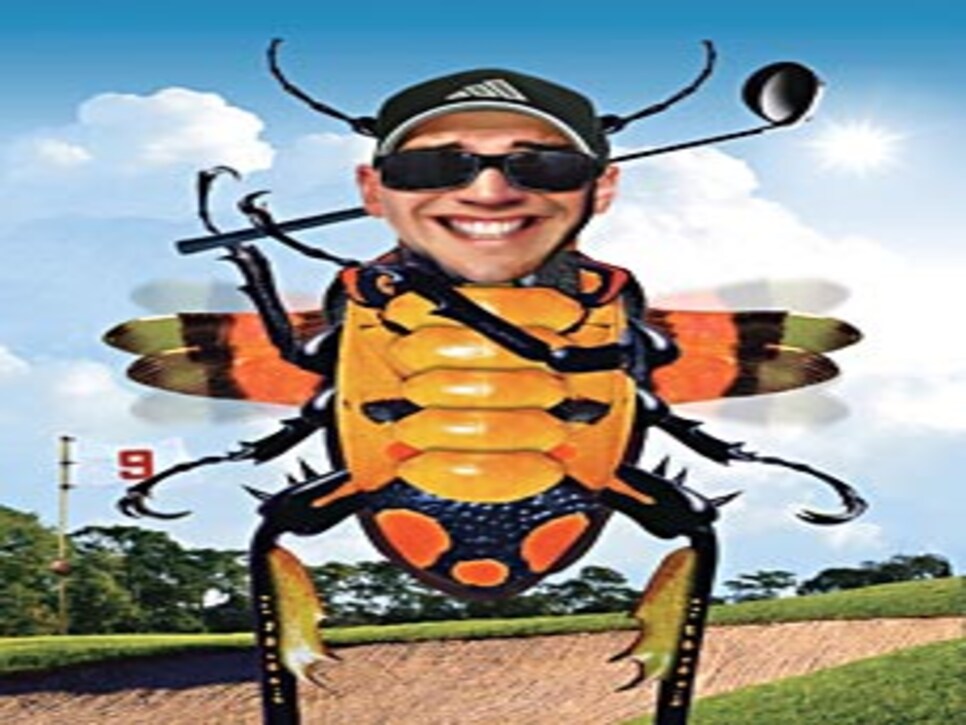 Many Americans, most of them PGA Tour stars who haven't won a Ryder Cup since Abe Lincoln moved out of Kentucky, believe that Sergio Garcia is an annoyance, nuisance, nudnik and likely secret swing coach to Kim Jong Il, the North Korean dictator. Garcia is to golf what Pete Rose was in baseball, Kobe Bryant is in basketball, Terrell Owens in football: the cursed enemy that you wish were on your side.
"Love me or hate me, but you can't ignore me," Reggie Jackson said long before Garcia, another don't-ignore-me type, leaped laughing onto a buddy's back in a highly irregular mid-match celebration. In Ryder Cup depression, one American star said, "We lost to 11 gentlemen and one little boy."
As to why a pro would rip on another that way, a reminder came last summer when Garcia lost a playoff in the British Open and threw himself a pity party.
"I should write a book," he said, "on how to not miss a shot in the playoff and shoot one over." He suggested that a Higher Power, or something, intervened when a shot caromed off a flagstick. "It's funny how some guys hit the pin . . . and go to a foot. Mine hits the pin and goes 20 feet away. . . . I'm playing against a lot of guys out there, more than the field."
These dark mutterings come up because it's again that time, once every two years, when the United States gathers its best able-kneed golfers, each immortal, each invincible, and loses the Ryder Cup to Europeans who know the whole truth about Sergio Garcia.
They know he's a poor li'l baby.
And he's sometimes a dillweed, dope and doofus.
They also know he's a stream of light in a grinder's game and can flat play when it matters most in a Ryder Cup. If asked this fall, they will shade him from the Kentucky sun with giant feather fans and carry him to Valhalla's first tee on a sedan chair.
Sergio Garcia, the boy king, is 28 years old going on 12, full of giggles and tantrums that the Euros find if not charming at least diverting. It is, after all, massively boring to hang with 23 gentleman golfers, each speaking only when spoken to and then in grown-up sentences.
It's a sure thing that when Sergio Garcia enters the room, boredom leaves -- as in 2002 when captain Sam Torrance interrupted the Euros' celebration to turn Garcia over his knee.
Garcia had told the assembled press that winning the cup was "absolutely amazing."
Then he said, "Apart from the birth of my child -- and my wedding . . . "
He had neither child nor wife. It was a joke at his captain's expense. Torrance only five minutes earlier had said the Cup victory, thrilling as it was, ranked second to days he became a husband and father.
"One moment here," Torrance said to Garcia. "I tell you one thing: You will have a kid, and you'll know how important it is. It was more important than today." "Now, where was I?" said the child star.
"You were taking your foot out of your mouth," the captain said.
The irrepressible one did not acknowledge the spanking. He just kept talking. "No, but it's been an unbelievable week . . . " In 15 sentences, Garcia threw in "unbelievable" three times, "great" four times, "amazing" twice, and finally came up for air after saying, "I can't wait, hopefully, for it in a couple of years."
"It" meant the Ryder Cup. It has become Garcia's reason for living. "I just love the Ryder Cup," he said during the 2006 matches. "I couldn't live without it, definitely, and it's just amazing."
In four Ryders, Garcia has played 20 matches and won 15 points. (Tiger Woods in 25 matches has won 11 points.) Garcia has been nothing special on his own ball, 1-3 in singles. But with a partner he is 13-1-2, a winner in eight alternate-shot matches and 5-1-2 in better ball.
His affinity for the cup was obvious early. In 1999 at Brookline, the European captain, Mark James, called Garcia a pup out of Seve Ballesteros, the grand master of Spanish golf. "Sergio's virtually been a replacement for the young Seve," James said.
James recounted a team-room moment when Garcia, then 19, wanted his teammates to see a shot on tape. "He said, 'Look at this, the next hole. Watch this. Watch this.' And they didn't show it, and he's throwing things at the television. He's a live wire . . . and he's definitely a force that this team has felt positively."
The great Scot, Colin Montgomerie, applauded Garcia after the 2004 victory at Oakland Hills. "I think anybody that gets 4½ points is bloody good," he said. "But to be the youngest on the team and to have that effervescent personality that he does adds a great deal to our team, and a very reliable character."
The man said "effervescent." Ryder Cup transcripts testify to that. In an unscientific reading of the event's press-conference transcripts -- some couldn't be found -- here is a list of positive-thought, even effervescent, words that tumbled one over another from Sergio Garcia's brain onto his tongue and into our ears:
Garcia has slipped the occasional stiletto between the ribs of an occasional American.'
Great, 68 times. Fun, 19 times. Enjoy, 17. Unbelievable, 15. Comfortable, 15, Nice, 10. Beautiful, 8. Love, 7. Happy, 6. And so on to Awesome, 2; Sweet, 1; and Wonderful, 1.
So the Americans curse him.
On his most endearing American day, in the 1999 PGA Championship, Garcia whacked a shot off a tree root and skipped like an antelope to see where it went. But that also was the day he made a gesture toward Woods interpreted by some witnesses as, "I'm coming after you, buster." Garcia denied any such intent.
A Woods-Garcia feud has never made it into big headlines, though not for lack of journalistic effort. At one made-for-TV event, some reporters judged Garcia to have become overly effervescent in victory over a Tiger who'd been sickly and nauseous all day. Again, Garcia denied.
There's good reason Garcia's denials have never been accepted as cross-my-heart-hope-to-die deals. Presumably on his best behavior at the Ryder Cup, he yet has slipped the occasional stiletto between the ribs of an occasional American. In 1999, the rookie lost a singles match against Jim Furyk and said, "He played great. He made some putts. I hope that any of the players of the American team, I hope they won't say, 'We haven't holed putts,' because I'm tired of hearing that all week." (As some were made weary by Garcia's putting woes in the British last summer.)
In 2004, with his exasperation ratcheted up by success for which he believed due credit had not come, Garcia lectured the press: "Believe it or not, there's people that can play golf outside the States."
A dime-store psychologist might reckon that Garcia also is cursed by Americans because he is a mirror image of their Ryder Cup failings. The Americans have been exposed as mediocre team players while Garcia has shown he is the ultimate teammate.
"Maybe some guys are made for major championships, like Tiger," Garcia has said. "Maybe I'm made for the Ryder Cup."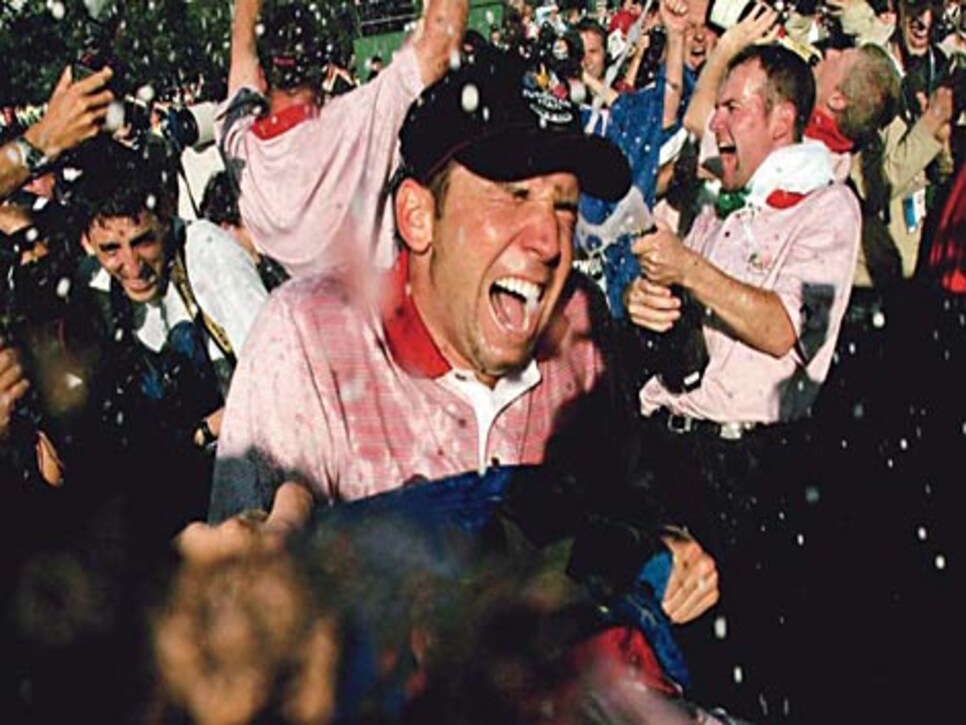 He went for triple bogey on the first hole he played as a professional in a major. Then it got worse. This was the 1999 British Open at beastly Carnoustie. He hacked through the hay to an 89. Garcia beat two players that day.
Maybe no one had told him the facts of life. It's hard, unfair and there'll be days you wish to be elsewhere with an ice cream. Anyway, he went from the scoring hut to his mother's arms. There he bawled. He didn't weep, whimper or wail. He bawled.
He has never been that bad again and has been extraordinary in many majors: second twice, eight times in the top five, 13 times in the top 10. Still, in 36 pro majors through the U.S. Open of this summer, he was 0-for-immortality.
Not that he much worries about the 0. It will change. And he long has insisted that the Ryder Cup stands with the majors in importance to him. At the last Ryder Cup, after again mortalizing the immortals and vincing the invincibles, he ended the session by saying, to laughter all around, "Nothing is sweeter than beating the Americans."
Sergio Garcia has a record of 14-4-2 in four Ryder Cups, never sitting out a match. He's 8-0-0 in foursomes (alternate shot), 5-1-2 in four-ball (better ball) and 1-3-0 in singles.
1999 / The Country Club(United States wins, 14½-13½)
Foursomes: Garcia and Jesper Parnevik beat Tom Lehman and Tiger Woods, 2 and 1
Four-ball: Garcia and Parnevik beat Jim Furyk and Phil Mickelson, 1 up
Foursomes: Garcia and Parnevik beat Justin Leonard and Payne Stewart, 3 and 2
Four-ball: Garcia and Parnevik halve with David Duval and Davis Love III
Singles: Garcia loses to Furyk, 4 and 3
Garcia for the week: 3-1-1
2002 / The Belfry (Europe wins, 15½-12½)
Four-ball: Garcia and Lee Westwood beat Duval and Love, 4 and 3
Foursomes: Garcia and Westwood beat Woods and Mark Calcavecchia, 2 and 1
Foursomes: Garcia and Westwood beat Furyk and Stewart Cink, 2 and 1
Four-ball: Garcia and Westwood lose to Woods and Love, 1 up
Singles: Garcia loses to David Toms, 1 up
Garcia for the week: 3-2-0
2004 / Oakland Hills (Europe wins, 18½-9½)
Four-ball: Garcia and Westwood beat Toms and Furyk, 4 and 3
Foursomes: Garcia and Luke Donald beat Cink and Kenny Perry, 3 and 1
Four-ball: Garcia and Westwood halve with Chris DiMarco and Jay Haas
Foursomes: Garcia and Donald beat Furyk and Fred Funk, 1 up
Singles: Garcia beats Mickelson, 3 and 2
Garcia for the week: 4-0-1
2006 / The K Club (Europe wins, 18½-9½)
Four-ball: Garcia and Jose Maria Olazabal beat Toms and Brett Wetterich, 3 and 2
Foursomes: Garcia and Donald beat Woods and Furyk, 2 up
Four-ball: Garcia and Olazabal beat Mickelson and DiMarco, 3 and 2
Foursomes: Garcia and Donald beat Mickelson and Toms, 2 and 1
Singles: Garcia loses to Cink, 4 and 3.
Garcia for the week: 4-1-0