News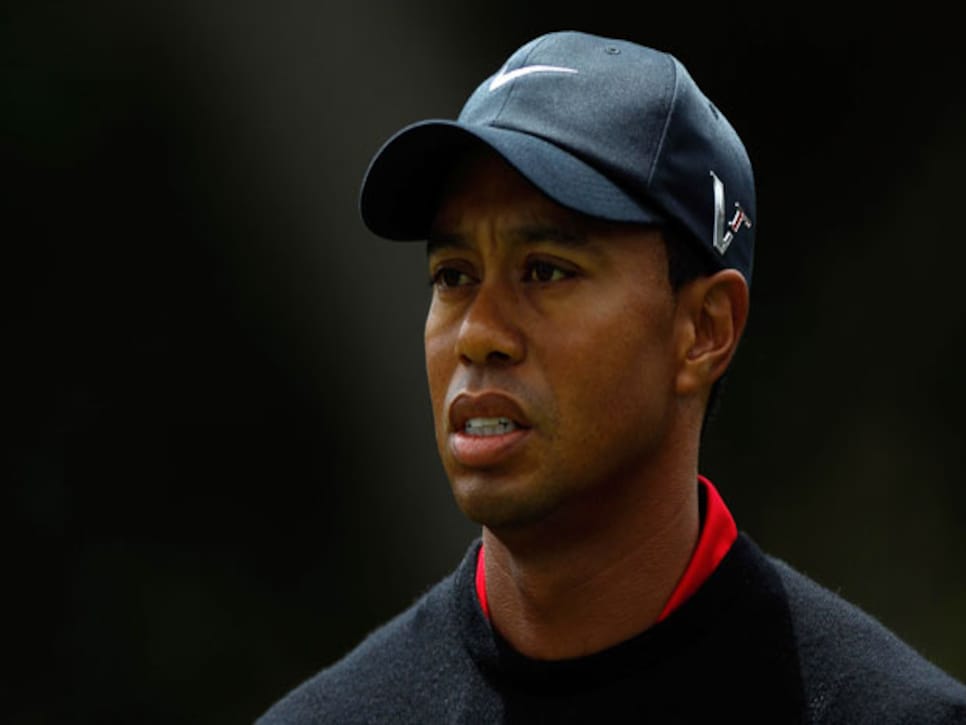 Woods made several costly mental mistakes during his final round.
PEBBLE BEACH -- When Tiger Woods, in that virginal white outfit Saturday, flew a 3-wood halfway to Tokyo and brought it back to land on Pebble Beach's 18th green, it seemed he had regained the hero's powers that made him unique. Sunday, wearing black with the famous red shirt covered by a vest, he came to the 18th again, this time needing to pitch it in from 40 yards for an eagle that would scare the bejeezus out of Gregory Havret and Graeme McDowell, whoever they are.
The old Tiger often slid such a dagger into an enemy's heart. Loved it. Lived for it.
An eagle this time might have shaken Havret and McDowell so thoroughly that they would give back a shot or two. As gracelessly as Woods played Sunday, it was still possible, if he holed that pitch, that he could weasel his way into a playoff.
It is a measure of Woods's gifts and achievements that anyone could stand behind the 18th green, waiting for Tiger's pitch, and think, as one man did, "I've seen this movie before. Tiger ain't out of this yet."
Woods was beaten only when the pitch, running straight at the flagstick, veered right and stopped eight feet past the hole.
It's a good thing to finish tied for fourth in the U.S. Open, beaten by three shots. And most of us would remember forever tying for fourth in the 2010 Masters, five shots down. But, in Woods's mind, these are substandard works. They must be doubly disappointing because they came on two golf courses where he has won easily and which figured to jump-start his stalled-at-14 pursuit of Jack Nicklaus's record of 18 major championships.
Well, they figured to help, anyway, before we saw the train wreck of his life.
Tom Watson said a curious, brilliant thing about Woods the other day – and it may have explained a wayward shot or three on this Father's Day when Tiger was at Pebble Beach and his son and daughter were ... where ... in Sweden, with their mother, where? "He talks about complete silence," Watson said, repeating a Woods mantra on concentration. Then in allusion to Woods' array of troubles -- physical, marital, financial, sexual -- Watson said, "It's hard to have complete silence when things are going on in your head."
After his Sunday 75, Woods had no complaints about his swing. But he cited three mistakes of thought that cost him. "You take away those three mental errors, and I'm right there. I'm tied for the lead."
What chatter, for instance, filled his head on the sixth tee?
The 523-yard par-5 is a piece of cake for these guys. It's not necessary to hit a driver. Most times a long iron will put a player in position to reach the green perched on a high hilltop. The only danger on the hole is a steep drop-off to the right of the fairway leading to the ocean. Almost no one hits it there because the fairway is so wide -- but Woods did just that Sunday, hitting a 3-wood that drifted over the edge.
"Should have been a 2-iron down there," he said. He had made a critical misjudgment, thinking the day's wind would keep the shot in play when in fact there was no wind. "Didn't need to hit 3-wood." There was melancholy, if not despair, in his walk to the cliff's edge. He dragged the 3-wood along, no longer a magic tool, just a stick of metal that for some unknown reason he happened to have in his hand. This was not the hero of the Tiger Slam, this was Tiger slammed.
And what was he thinking on the devilish 10th when he made a bogey by missing the green to the right? Against his own judgment, he said, he took caddie Steve Williams's advice to throw a sand wedge at the flagstick. "In my heart, I said, 'No.' There was no chance." He believed a ball landing on that green would run past the flag and leave an impossible downhill putt. In that uncertain state of mind, Woods flared the wedge shot into trouble, almost into the ocean again.
Then, at the 12th, a par-3, Woods opted for a 4-iron when "my instincts were telling me to hit a five." Again uncertain, "I made just an awful swing" that sent his shot into the gallery left of the green, guaranteeing him yet another bogey, his sixth of the round.
It was a hard, hard day at Pebble Beach. Poor Dustin Johnson, the leader by three shots after a Saturday 66, followed with an 82 that left him five shots behind McDowell. With the championship there for the taking by anyone who could get it around under par, the best Phil Mickelson and Ernie Els could do were 73s.
But hard, hard days made Tiger what he was.
Hard days once produced victories, not the wishful thinking Woods indulged in Sunday. Even with all the time in sex rehab, which presumably does not include sessions devoted to golf, Woods yet has finished fourth in both majors this season. He is a 34-year-old conditioning freak still in the prime of his athletic life. And late Sunday he said, "I feel like I put some pieces together this week. It's a process. It's a long process, but I've put some of it together, and I hit some shots this week that I haven't hit in a long time."
Still, 75 is 75, fourth place is fourth place, and once again he could not win a major from behind. The even colder truth is that when it needed to be done, he didn't do it. When he needed silence in his head, he heard confusion. When he might have won with an eagle at the18th, he made par.
This is not the end of Tiger's time. But we can see it from here.