A weekly foursome that ended too soon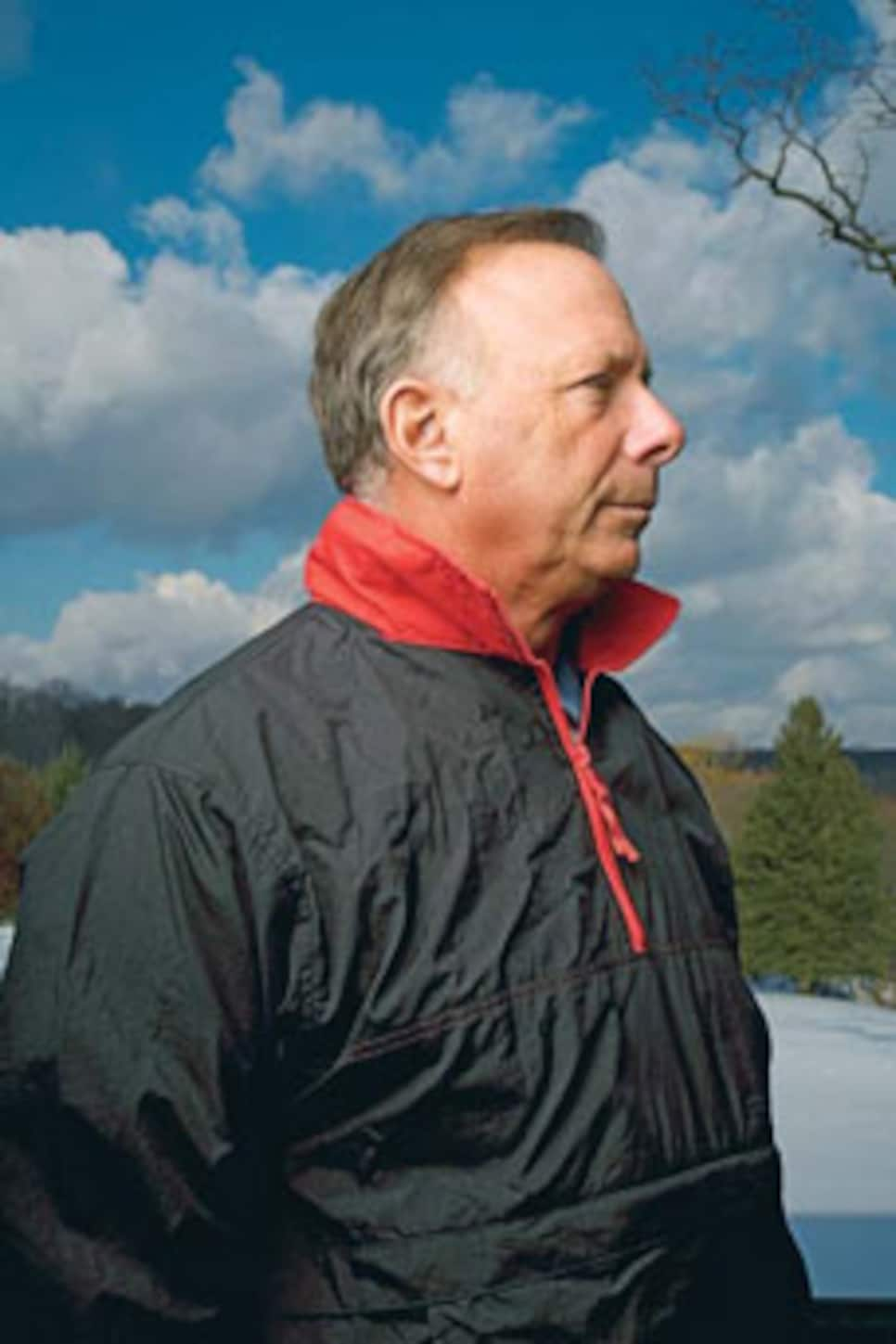 "We'll be together again," says Joe Massaro of his three friends.
On hundreds of Saturday and Sunday mornings before the sorrow of April 4, 2007, the four buddies came smiling into the grillroom at Mahopac Golf Club, a small club on the north shore of Lake Mahopac about 60 miles north of New York City. On those mornings, Jessica Canor, a college senior who's a server at the club, heard the glad noise of the foursome eager for breakfast.
"They'd sit at the same table, three from the back on the left side, and they'd order the same thing every time," she says. "Richard wanted his scrambled eggs with the cheese melted just right. Greg wanted lots of butter on rye toast. Andrew had cereal. Joe, he talked. I loved those guys."
They called her "Trouble," and she knows why. "There were some Sundays when it was blatantly obvious I'd had, like, two hours sleep." She laughs. "They were so much fun, loud but never the 'pain' type. At lunch, they'd roll dice to see who paid. It was like a fraternity, only with grown-ups."
On those mornings, the frat brothers Joe Massaro, Andrew Young, Greg Doppke and Richard Lomas arrived at 7 for a 7:40 tee time.
Massaro had brought them together, passionate players with handicaps from 9 to 14, middle-age men who ran small businesses. He had been a public-course player, a stocky guy with an odd swing: "At a golf school once, the instructor introduced me and said, 'Here's Joe Massaro, who could swing in a telephone booth.' Fastest, shortest backswing in golf."
At Mahopac, he met Young, the club president and a consultant in the restaurant industry. Soon enough, Massaro enlisted Doppke and Lomas, colleagues from the air-conditioning and heating business. For 15 years, the four played golf from New York to Hawaii, Palm Springs, Las Vegas, Hilton Head Island and Pinehurst.
"Everybody was a nice guy," Massaro said, "until we got to the first tee."
Laughter came with that line because the buddies' insults on ethnicity, religion, social stature, age, weight and other quirks were the kindest cuts of all, as when Massaro strutted onto the tee, sniffed the morning air, and announced, "I smell a good ass-whuppin' today."
Then he'd beg: "A breakfast ball, please."
A man who just ate breakfast can't be expected to jump right up from the table and hit it down the middle. So he begged. "Aw, c'mon, gimme a breakfast ball."
Naturally, the way these long-running foursomes of friends go -- all for one, one for all -- soon enough everyone was made happy by the granting of his very own breakfast mulligan to go with his game's signature: Massaro had that snake-lick backswing, Lomas made putts from everywhere, Young was the grinder never out of a hole, and Doppke such a scrambler that any miracle shot from the woods became "a Doppke."
It was usually Massaro and Young against Doppke and Lomas. The game was a $5 nassau with $5 for birdies and greenies, $100 for a hole-in-one. The last year they played, they kept a running tab that showed Massaro and Young $200 in front as the men made plans for their annual spring trip to Pinehurst.
They were to meet there April 4, 2007.
Doppke, Young and Lomas were flying to Pinehurst on Doppke's twin-engine, four-passenger Piper PA-30. Massaro was arriving from Florida and was supposed to meet them at Southern Pines airport. Normally, Massaro would have been on Doppke's plane; he usually read the gauges from the co-pilot's seat. A pilot since 1980, Doppke flew carefully and treated the plane with such care that his daughter called it "Sissy," as if it were part of the family. On March 20, 2007, he reported 4,020 hours of flight experience.
On April 4, Doppke flew out of New York's Westchester County Airport with Young and Lomas.
He was scheduled to arrive at Southern Pines at 11:17 a.m.
"I got there at 11:10, perfect," said Massaro, in Carolina with four other friends. One, Fred Wilmot, had seen Doppke the day before and heard the pilot in a casual conversation about airplane accidents: "Greg told this person, 'I will never die in a plane crash.' "
At 11:30 a.m., Doppke had not reached Southern Pines.
Came noon and no plane from New York.
The National Transportation Safety Board's accident report said that at 9:36 a.m., while maneuvering around a storm along Maryland's eastern shore, Doppke told an air-traffic controller, "We just, uh, we got a problem. Looks like we just lost . . . we lost attitude."
That was his last radio transmission. Because "attitude" refers to a plane's position relative to the horizon, Wilmot says the best guess is that wind shear threw the small plane out of control. It crashed at 9:37 a.m. The three men were killed.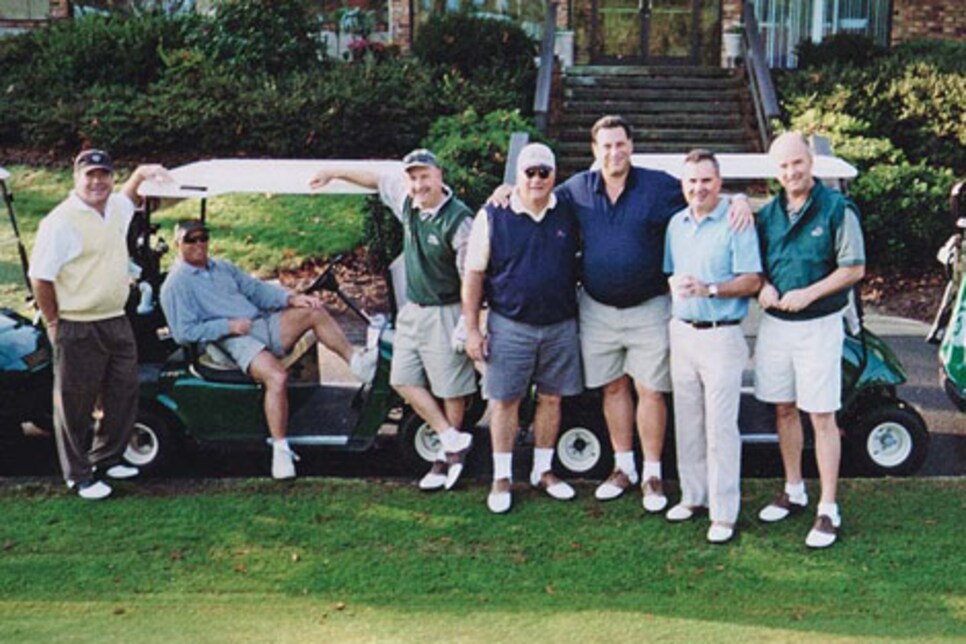 Photo Courtesy of Joe Massaro
That day, Joe Massaro drove from North Carolina to his Florida home. He called it the worst ride of his life.
It was two months before he returned to Mahopac. There he saw three chairs turned up against the foursome's table, as if holding it for them. It was August before he went onto the golf course, and then he played alone.
"Joe wasn't playing," says David Disney, a Mahopac member and occasional fourth for the group, "and I told him, 'Not acceptable. You will play. They would want you to play. Play!' " Disney believes the game reveals character: "What it tells us about Richard, Greg, Andrew and Joe is that the world needs more Richards, Gregs, Andrews and Joes."
When I spoke to Massaro in December 2007, he didn't want to talk about his friends. He said it still hurt too much. But even as he said he didn't want to talk, he talked. The next morning he wrote an e-mail saying, "Let's do it."
He talked about Doppke getting it up and down from jail, and he talked about the pixie blonde Jessica at breakfast. He talked about blackjack with the boys in Las Vegas. He said, "You should talk to Allison Lomas," Richard's wife, and Allison Lomas said, "Here's how close these guys were. Greg would call our house, and I'd say, 'Richard, it's your other wife on the line.' "
And Joe Massaro remembered that he and Andrew Young remain $200 up on Greg Doppke and Richard Lomas.
Then he said, "We'll be together again."
Laughing now, "And I will collect."