Warning: Driving a golf cart can be hazardous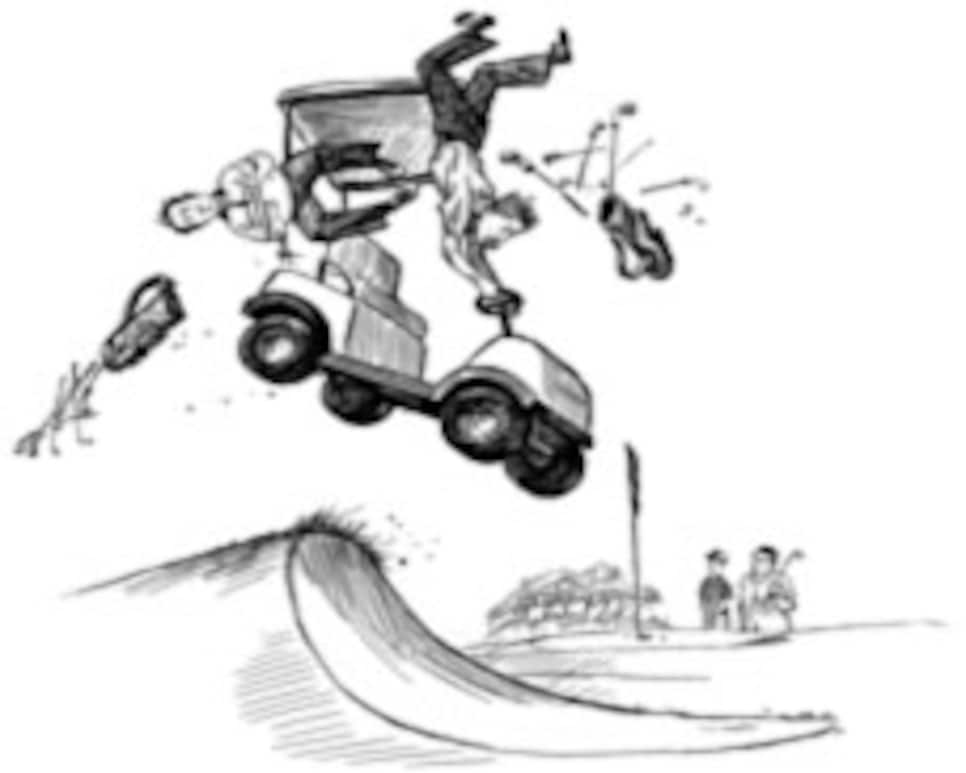 Everyone who has driven a golf cart has experienced that moment of uncertainty when it's clear that something really bad is about to happen, only we don't know what.
The fright usually occurs on a steep downhill grade when the cart has achieved its greatest speed. The driver's brain is idling away on its Charlize Theron fantasy. And dead ahead, suddenly, there's a switchback turn on a cliff's edge above a lake.
What we do then is put one leg out while grabbing hold of the roof in the position known as Hoping to God the Parachute Opens.
Common sense would keep us from such predicaments, but if we were practitioners of common sense we wouldn't play golf at all; we'd take up a hobby less dangerous and more relaxing, such as plucking quills from feral porcupines. Alas, some of the inevitable misadventures have produced headlines of late: "Golf cart plummets from cliff; man killed."
"Golf cart strikes, kills 79-year-old Oregon woman."
"Man impaled in golf course accident."
"Retired Harper official drowns in golf accident."
"Father of 9-year-old who killed woman with golf cart won't be jailed."
"Heard the one about the blind golf cart driver?"
A Georgia man drank a bunch of beer before inviting a blind friend to drive his golf cart. The intrepid pair scootched over to make room for the guide dog, a golden retriever. As if talking a neophyte pilot out of the sky, the beery man talked the blind man through the twists and turns of Peachtree City, an Atlanta suburb with about 90 miles of cartpaths and 9,000 carts. The ride ended when they smacked into a parked car, giving rise to the thought: They maybe should've let the dog drive.
"Bill Murray busted for DUI in golf cart."
In Sweden to promote a movie, the actor appeared at the Scandinavian Masters golf tournament, then used a golf cart to ferry partygoers home through the streets of Stockholm. A wire service quoted Murray saying the police "assumed I was drunk, and I explained to them that I was a golfer." Oh, yeah, like that always works.
All this is not to suggest that driving a golf cart must lead to catastrophe. Sometimes it leads only to professional humiliation and small broken bones, as in the cases of race-car drivers Jimmie Johnson and Paul Tracy.
When Johnson, one of NASCAR's stars, broke his left wrist in December 2006, he first said, "I was in a golf cart, and the driver took a sharp turn. I wasn't holding on tight enough, landed awkwardly on the ground and heard a little pop."
Every word true, except for "in." Johnson was on the cart--spread-eagled on its roof. A Florida newspaper, The Citrus County Chronicle, reported that the cart driver hit a berm, and Johnson was launched. A spokesperson finally admitted, "Jimmie was horsing around . . . "
Tracy is an Indy-car driver whose 2006 season ended with a broken shoulder suffered not at 200 miles per hour but at 20.
"Sorry to say, it was self-inflicted," he told The Toronto Star. "I was at a party and had a little too much to drink, and we thought it was a good idea to go out on a golf cart and try and jump some sand dunes with it."
Tracy's good idea conjures memories of the late Evel Knievel, the 1970s motorcycle daredevil who once told Golf Digest's Guy Yocom of the temptation presented by a steep downhill cartpath in Alpharetta, Ga.
"The path has a series of hairpin turns," Knievel said, "and if you ignore them you'll just keep going over a huge ledge. The guys I hung out with down there pointed out that if you gathered enough speed, you could go over the cliff and land where the path resumes farther down the hill."
"For days they dared me . . . "
" . . . to make the jump, and when I came to the hole in a foul mood one afternoon--I wasn't playing well--I just went for it. Halfway down the hill I realized I'd made a mistake. You have no idea how unstable a three-wheel golf cart is when it becomes airborne.
"By the grace of God I made a perfect three-point landing, but the tires were like basketballs, and the cart bounced like an SOB. When I got the thing stopped down near the green, I immediately got a royal chewing out from my wife. I couldn't blame her. She'd been in the passenger seat the whole time."
What Knievel needed for a smooth flight was more along the lines of Tom Snook's $29,000 beauty, a golf cart that looks as if Snook one day announced, "Honey, I shrunk the Hummer." Snook lives in a golf-cart metroplex, The Villages, north of Orlando. He guesses the population is 60,000 people and 60,000 carts.
"We drive golf carts to the hospital, to the Wal-Mart, to the grocery, everywhere," Snook says. "We have an outdoor movie where you drive in with your cart and listen to the movie on The Villages radio station." At major intersections, there are cart tunnels under the roads.
Here's how a guy spends $29,000 on a golf cart: Custom-made. Hummer H3 replica body. Alligator interior. Fourteen-hundred watt stereo. XM radio. Headlights, turn signals, brake lights, fancy-schmancy undercarriage lighting. Disc brakes. Seven-grand paint job, black with orange flames, "so it's a smoky look, like a flame floating by."
Snook uses the Hummer for social occasions. For golf, he drives a basic muny jalopy of the sort in which Alice Fryer got upside down in Arkansas. She says her story became "the hospital entertainment, 'The Old Lady & The Golf Cart.' "
Fryer is 87 and describes herself as "not quite five feet tall, a tough old bird." She began playing golf in her 50s after raising five sons. She last won a club tournament at 75 and is a member of the Arkansas Golf Hall of Fame. Last spring at Little Rock's Pleasant Valley Country Club, she turned her cart intending to go fetch her husband. But she bumped against a tee and got sideways in a tunnel.
The cart began climbing the tunnel wall, at which point she had one of those golf cart moments when you realize something really bad is about to happen.
"A crazy feeling," she says, maybe even an Evel Knievel thing, the cart running toward the tunnel roof before gravity took over. "I must've come down from eight feet up."
Trapped under the cart and losing consciousness, Fryer says, "I looked up at my husband and said, 'Goodbye.' I thought I was going to die."
Two young men in a pickup truck who heard Jack Fryer's shouts lifted the cart off Mrs. Fryer and made a 911 call.
"EMTs did mouth-to-mouth," she says, "until, finally, they heard a gurgle." She had three broken ribs and a punctured lung.
"They thought I was unconscious, but I heard them talking," she says, now laughing. "And one said, 'What's an 87-year-old woman doing playing golf, anyway?' If I could've said anything, I'd have told him, 'Because I love it.' "
She plans to be back playing golf soon. And when she returns, she certainly intends to drive a cart again.
"Only," she says, The Old Lady laughing again, "very carefully."