I Could've Thought of That!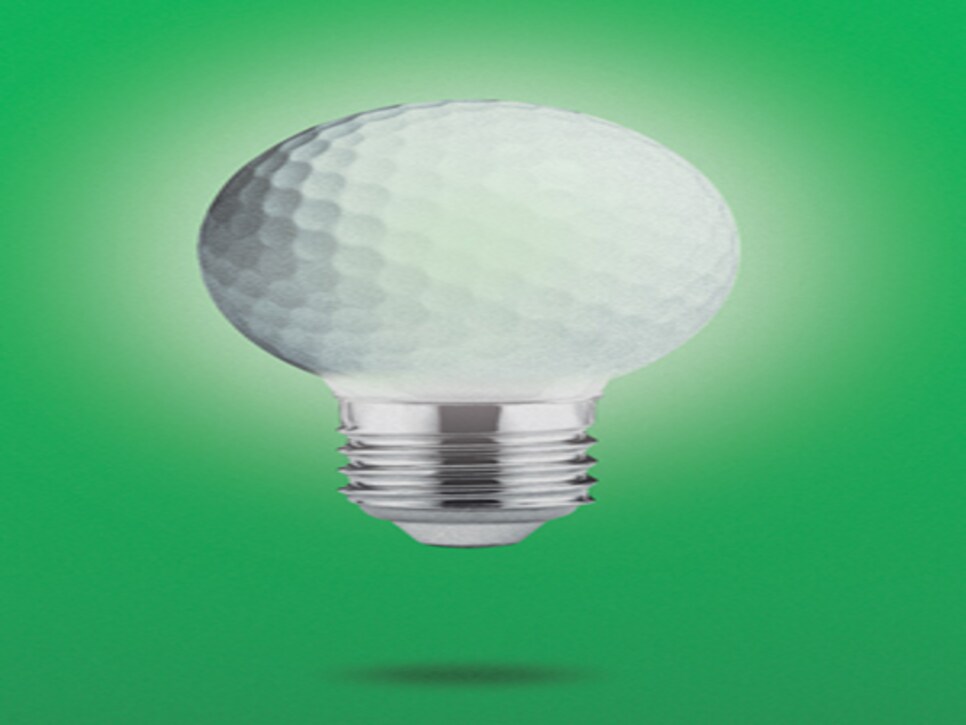 Chloe Philippou is a quirky 22-year-old with cute Clubmaster glasses and a posh English accent. She works at an auto body shop, but her true passion is making movies. The problem is, they cost money. Her phone isn't filled with deep-pocketed producers, banks won't read screenplays, and she doesn't want to ask her mum and dad.
So Philippou finds cash on Kickstarter.com. To make "Crazy Golf," a horror movie she credits as one of her early breakthroughs, she asked for £2,000 and raised £3,049. "I wanted a kick-ass female underdog main character and loads of blood," she says. "I wanted a film that would make people laugh and feel disgusted at the same time."
It all starts rather nicely:
A young, attractive couple goes on a date to a miniature golf course. They flirt and nervously laugh at one another's jokes, but there's a voodoo-induced snag after the boyfriend realizes he has forgotten his wallet. Roxy, the "kick-ass" female lead, is unconcerned and pays the green fees. But the boyfriend's sense of emasculation compounds when she ignores his advice, starts draining long putts and sends friendly taunts in his direction. He snaps. He lunges at her. But Roxy downs him with her putter before implanting it squarely into his skull. When she's done, she smiles and calmly continues putting.
"I want to inspire other girls and women to direct films," Philippou says. "Did you know only 9 percent of the top 250 Hollywood films in 2012 were directed by women?"
Kickstarter began, in theory, in 2001, when Perry Chen wanted to host a concert in New Orleans but didn't have the money. He asked friends online if they would be willing to pitch in a few bucks to make it happen, and the answer was yes. The idea stuck with him. Eight years and a move to Brooklyn later, Chen had joined Yancey Strickler and Charles Adler to turn his idea into a business. In 2009, Kickstarter
.com officially launched.​ As did a new way of monetizing interest. Instead of trying to reap profits later on, creators could go to their future customers in advance.
How Kickstarter works is fairly simple: An inventor or artist creates a page on the website, specifies an amount of money needed to make the project a reality, and then sets a deadline to raise the funds. People browse ideas and pledge to ones they like. Backers receive no equity in return, but gifts are often used as incentives. For "Crazy Golf," donors who pledged £10 got a DVD, £100 earned the chance to be an extra, and £400 translated into an executive-producer credit. If a project doesn't raise its stated goal by the deadline, no money changes hands. With more than $1.5 billion raised from roughly eight million backers, Kickstarter has proved a tool for entrepreneurs and a catalyst for viral sensations.
Zack (Danger) Brown, a 31-year-old computer programmer and part-time comedy writer, raised more than $55,000 when he asked for $10 to buy the ingredients to make potato salad. The inventors of the Coolest Cooler—a cooler that's also a blender, speaker and phone-charger—asked for $50,000 and raised more than $13 million. In such cases, the excess lines the pockets of the happy creators.
The TV show "South Park" poked fun at the phenomenon in its most recent season when its cast of characters attempted to get rich by launching a Kick-starter page pledging to do nothing. "Remember our company plan," says Cartman, the lead instigator. "Start Up, Cash In, Sell Out, Bro Down."
"It's so easy to paint Kickstarter as a place where you can get rich for something stupid," says Rick Gehman, a 26-year-old entrepreneur from Philadelphia, "but it's actually really difficult."
Gehman co-founded the J-Flex putter, which has an elastic face insert he says reduces the dispersion on mis-hits. The J-Flex raised just $6,050 of its $20,000 goal. The flukiness of timing a pitch at the right moment in the cybersphere is part of the game, Gehman says: "Take the Coolest Cooler.
Eight months earlier they launched a Kickstarter campaign for the same exact product, and it didn't reach its goal." (Lucky for them.)
About 40 percent of all projects raise their financial goal. (Kickstarter receives a 5 percent cut of these successful campaigns and 3-5 percent payment-processing fees but gets nothing from the failures.) One reason for the widespread success is repeat backers. Of those eight million who have pledged money on Kickstarter, nearly 2.5 million have supported two or more projects, and more than 250,000 have backed 10 or more.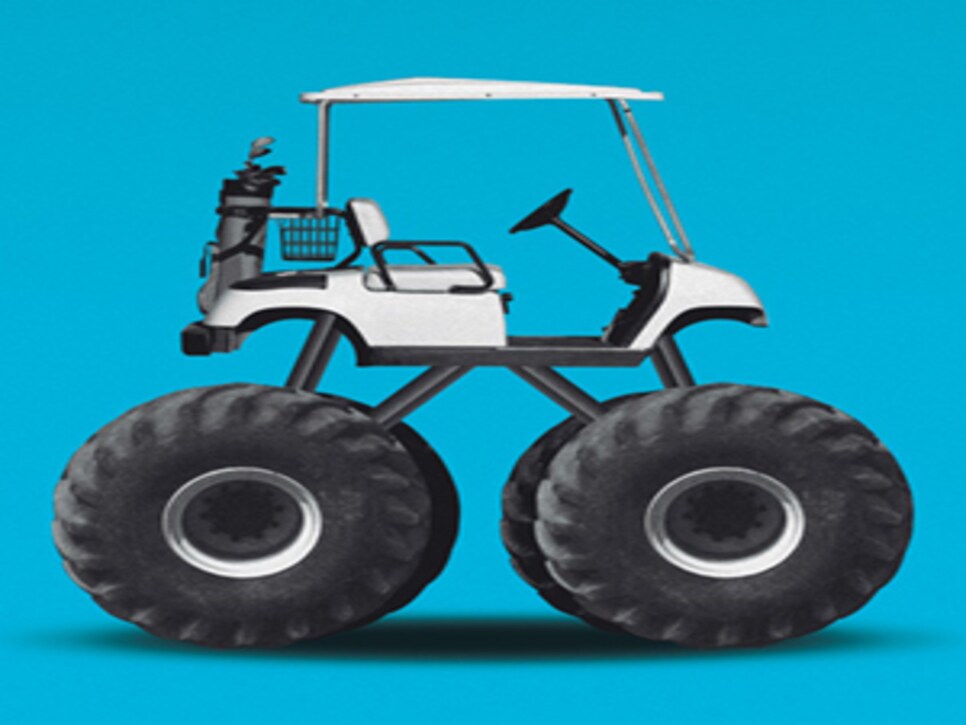 "It's a community of open-minded people who share the same values," says John Dimatos, lead for tech and design partnerships at Kickstarter. "There's a real democratic aspect to all this." What if someone puts forward an idea, successfully funds it, then skips town with the dough? Dimatos says that's one of the reasons Kickstarter requires a verified name and email address. It also leaves every project page—successfully funded or otherwise—on the site indefinitely. But sometimes there's no avoiding it. "We try to make clear there are no guarantees," he says. "Unfortunately, it happens occasionally. That's life."
And what about people simply trying to become viral celebrities? Is Kickstarter worried they're devaluing the rest of the community? "Not at all. We absolutely love it," Dimatos says. "You can have a tiny, obscure, weird company from Wichita living alongside big business. That's so cool. That's the Internet."
Steve Fox, 59, is from San Francisco. After a long career in publishing, he wanted to do something new. In 2013, he launched a $50,000 Kickstarter campaign to help fund an indoor miniature golf course and restaurant with artistic sensibilities. "Urban Putt," he'd call it. The idea germinated when he used to host an annual party where friends brought themed mini-golf holes. Fox and a few friends designed The Bernie Madoff Hole, where a ball enters a hole, and out pops a ball that's one-twentieth its size. Fox had secured a location, but he needed additional money to build the course.
"I had this naive idea that people would be rushing to put money into it, but it was really hard work," Fox says.
"After 10 days we didn't look like we were going to make it, so I started reaching out to everyone I knew."
Fox couldn't stop looking at his phone. When the green bar representing pledges finally reached its terminus, he let out a whoop and popped a bottle of champagne for his family and business associates. Today, Urban Putt gets anywhere from 300 to 400 people through its doors to play mini-golf on the average weekend night.
Compared to tech and art projects, the golf element of Kickstarter is still relatively small—just 258 golf-specific projects have launched since 2010—but there have been notable successes.
GolfBoard, the golf cart/skateboard hybrid that won Best New Product at the 2014 PGA Merchandise Show, raised more than $105,000 and is the highest-funded golf project to date. BombTech Golf already had the infrastructure to make and sell golf equipment but turned to Kickstarter to raise $14,000 to launch the 9-degree version of its pre-existing Grenade driver. "Mulligan," a feature-length film about two friends hunting for mob money buried on a golf course, might have raised less than $12,000, but it helped contribute to the rise of Kaitlin Doubleday, who today plays Rhonda Lyon in the FOX series "Empire."
"There's nothing like Kickstarter," says Richard Stamper, a man who has worked at Callaway, Srixon and SkyGolf. "You get access to eight million early adopters who want to support creative ideas."
Stamper is the CEO of DV8 Sports, which markets a collapsible set of golf clubs that fits in a backpack as a solution for city folk tired of lugging clubs on a subway. Last July, DV8 asked for $55,000 but raised more than $85,000. The company is preparing to launch another campaign for its upcoming junior product.
In Kickstarter, Stamper finds himself part of a varied ecosystem of ideas. He's coexisting in a universe alongside $50,000 potato salads, multimillion-dollar blenders and strange golf horror movies. But he's reassured by the knowledge that people are getting what they actually want.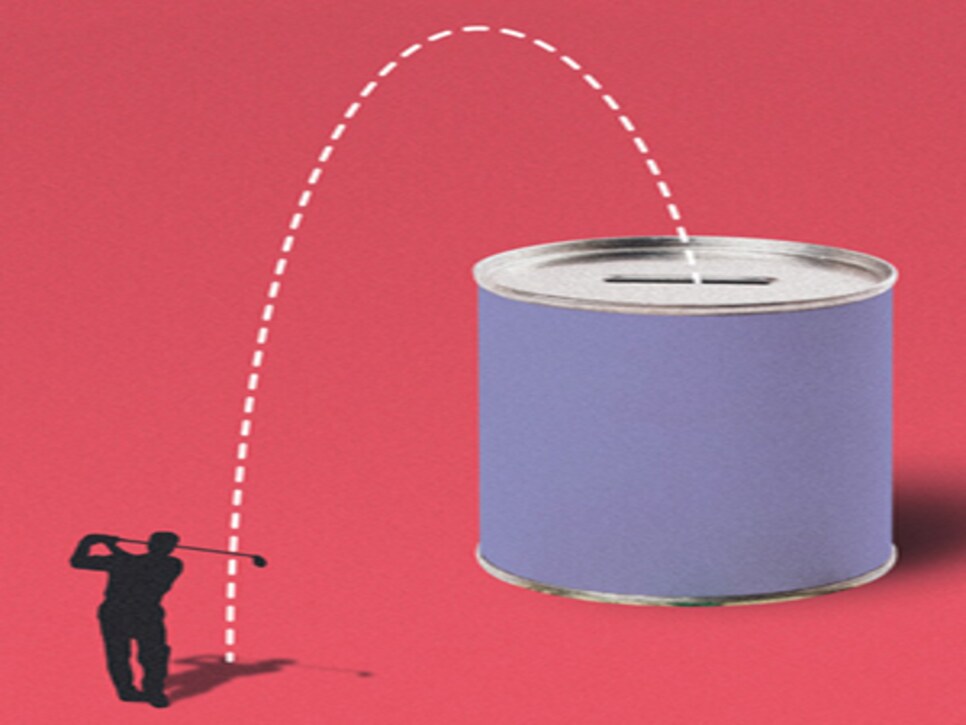 5 KICKSTARTER HOLES-IN-ONE
A guy asked for $10 to make some potato salad and raised more than $55,000.
The first campaign of this combination blender/speaker/phone-charger/cooler was a dud. Then it relaunched, asking for $50,000, and landed more than $13 million.
This card game pits self-destructing kittens against goats and laser beams. It asked for $10,000 and raised nearly $9 million.
Filmmaker Spike Lee helped legitimize Kickstarter when he raised $1.4 million for this thriller.
This lightweight motor can attach to any homemade paper airplane, which users can then control via a phone app. The makers asked for $50,000 but received more than $1.2 million. —LKD
HOW TO HIT A PERFECT PITCH
Have a cool golf idea? Before you turn your camera on yourself and start blathering why people should give you money, know that the best Kickstarter pitches are typically highly researched and carefully crafted. Backers like to fund projects they think are going to succeed, so enlist your family and golf buddies to give your project early momentum. The magic number is 20: Projects that get to 20 percent of their goal end up being fully funded 80 percent of the time. Once you're there, attract outsiders by offering incentives. Even if you can't offer anything material, you can meet with your biggest backers and credit them publicly. Most important, show your personality. Kickstarter supporters like investing in people's dreams, so show your face, tell your story, and make your pitch personal.