Courses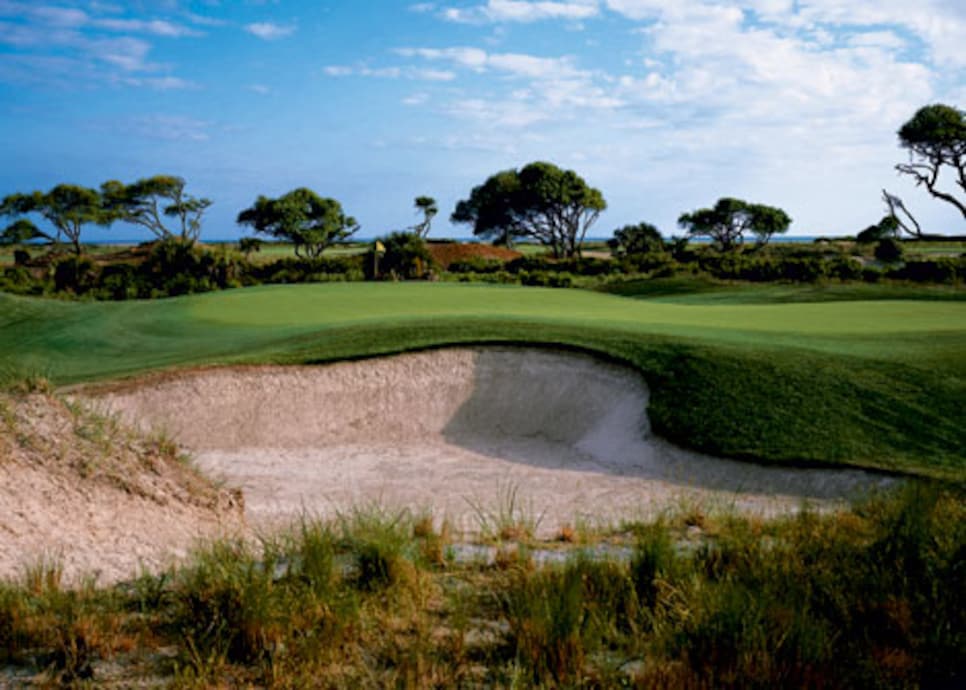 Clean start: They've tidied up the Ocean Course, but its natural beauty still radiates. Here, the second hole.
There's no rule that says great golf destinations need great hotels. Pebble Beach without the Lodge would still be a pretty decent track, and most of us would get a thrill from Pinehurst even without its grand, 103-year-old accommodations. But if you're going to treat yourself to a first-rate golf trip, especially if you're taking family members who don't play the game, having the option of a first-rate hotel is a plus.
That had never been an alternative at the Kiawah Island Golf Resort. Great golf? They've always had loads of that. If you wanted a great hotel, though, you had to drive about 40 minutes into Charleston, S.C.
Now that is changing. In late August, after a couple of false starts, the resort's owners plan to open the doors on the Sanctuary at Kiawah Island, a 255-room hotel with dazzling ocean views and dreams of a five-star rating from the Mobil Travel Guide. Built for $125 million, the Sanctuary sits within a pitching wedge of the Atlantic. It houses two high-end restaurants, three pools, a 15,000-square-foot spa, and so many other amenities it borders on the absurd. The goal, says managing director Prem Devadas, was not just to grab a five-star rating to go along with the one for its sister property, the Jefferson Hotel in Richmond, Va. The aim was to create "the greatest American hotel of our generation."
You can decide for yourself whether they succeeded. Rooms start at $175 a night in the off-season (December-February) and $275 in the peak months. The 3,100-square-foot Presidential Suite, with private dining room, sauna and plasma TV, runs $4,500 a night. Whether you stay at the hotel or in one of the 700 private homes or villas managed by the resort, you get preferred tee times and a modest price break on Kiawah's five golf courses, three of which carry 4® stars or more in Golf Digest's 2004 Best Places to Play ranking.
The Ocean Cse. Kiawah Island (800-654-2924, $162-$272) When you hear golf-resort managers talk about spending $125 million on a hotel, you might assume that the game has become less of a priority. Luckily, owner William H. Goodwin Jr. has continued to invest in the golf courses, starting with the legendary Pete Dye-designed Ocean Course, site of the 1991 Ryder Cup. With Dye's help, over the past few years workers have widened the landing areas on some holes, reshaped a number of bunkers and cut back the wispy grass surrounding many of the hazards. At the ninth hole, trimming the grass around one bunker revealed 140 balls°and this bunker wasn't technically even in play.
Side note: Kiawah had an embarrassing episode last year when management tried to replace the Ocean Course's greens with a grass known as TifEagle Bermuda. It didn't take, and the resort had to close the course for three months. The owners have replaced the greens with salt-tolerant seashore paspalum, and it appears to be thriving.
Turtle Point G.C. Kiawah Island (800-654-2924, $89-$185) Book a room on the east wing at the Sanctuary, and you'll be able to see a sliver of this course out your window. It's an early Jack Nicklaus design that he came back and reworked in the summer of 2000, rebuilding all 18 greens and many bunkers and tee boxes. For the most part it offers wide-open fairways where you can let the driver rip. It's the approach shots that demand precision. Miss the target and more than likely you will be chipping back onto the green from a slippery false front or collection area. The biggest surprise at Turtle Point comes on the back nine, when at the 14th hole you emerge from the flora and suddenly find yourself on the ocean. The course runs alongside the Atlantic for three gorgeous, windblown holes. Then it ducks back inland for 17 and 18, the latter a 434-yard par 4 with water all down the left side.
Cougar Point G.C. Kiawah Island (800-654-2924, $78-$170) Originally designed by Gary Player as a par-62 "executive" course and then known as Marsh Point, this course used to be the island's problem child. It was beyond quirky°it was maddening, with its severely sloping fairways and tiny, excessively undulating greens. But Player came back to make things right in 1996, not long after the current owners bought the resort. Spending $3.4 million, he added length, widened the greens and eliminated a lot of the weird bounces from its fairways. The result is a delight°a good-looking, fun, par-72 course. Among its highlights are holes 4, 5 and 6, which look out over the Kiawah River, oneof the prettiest vistas on the island.
Osprey Point G.C. Kiawah Island (800-654-2924, $89-$185) Osprey Point is the favorite of the Governors Club, a group of Kiawah Island homeowners who pay roughly $2,500 a year and get to play all five courses for a nominal fee. This is probably not because of its alligator population, biggest on the island. (One staffer tells of seeing 13 gators lined up outside the clubhouse, sunning themselves.) More likely it's because this Tom Fazio design is just fun. With most of its trouble to the left, out of harm's way for the typical slicer, the course plays a little easier than Turtle Point and a lot easier than the punishing Ocean Course. The course is beautiful to look at. It travels around and over numerous ponds, alongside natural vegetation, and is intruded on by only a few homes. No. 3, playing to 175 yards from the back tees, seems to have been lifted from a Salvador Dali painting. Hitting to its long, horizontal green, you have to carry a marshy wasteland that's dotted with a handful of dead trees. A "phantom wind" runs through the marsh, right to left, making the experience all the more surreal.
Oak Point G.C. Johns Island, S.C. (800-654-2924, $54-$95) The newest course in the Kiawah collection, the Clyde Johnston-designed Oak Point was bought by the resort in 1997. Though it is located in a neighborhood of unattractive homes, the owners are working hard to spiff it up. They've built a new clubhouse and are replacing its most problematic hole with a par 3 sporting a peninsula green. The course is meant to be an alternative for "budget-minded" Kiawah guests. It's a nice idea, but the fact is, Oak Point is no match for Kiawah's other courses.
If the Sanctuary's room rates are too steep for your tastes, there are some good alternatives. Kiawah's villas rent for about $220 a night per person in the fall and spring seasons°and that includes breakfast, a round of golf and a cart on all but the Ocean Course (which requires an extra $87).
In the winter, the same package drops to $148 a night, with $76 extra for the Ocean Course.
What kind of weather will you get in the off-season? It's a roll of the dice. If you're lucky you could get 75 degrees and sunny. Then again, it might drop as low as 40, with a brisk breeze. But you should be dry, at least. Kiawah's rainiest season is the summer.
The Sanctuary will add much to the nightlife on Kiawah, which until now has been almost nonexistent. But do yourself a favor: Pull yourself away from the hotel for at least one night-time trip into Charleston. It is hopping. You'll find art, antiques, music and great dining in abundance.
Start on East Bay Street, where first-rate restaurants like High Cotton and Magnolias go shoulder to shoulder with more casual places like Wet Willie's and the three-story Southend Brewery Smokehouse. Don't limit yourself to that one main drag, though. Many of the city's most interesting offerings are a little off the beaten path. One of the very best spots for live rock and roll, anywhere, was a little hole-in-the-wall called Cumberland's. Though it lost its lease this spring, it's back in business in new quarters on King Street. A freebie listings magazine called Charleston Barfly, available everywhere, will help you find Cumberland's and other hot spots in town.
Conquering 'transition areas'
By Steve Mitchell, Golf Academy Director, Kiawah Island Golf Resort
At the Ocean Course, large areas of natural sand surround most fairways and greens. Players ending up in these "transition areas" need to make a few adjustments to get back in play and salvage a good score.
At address, dig the insides of your feet into the sand deeper than the outside. Grip down on the club the same amount you dig your feet into the sand. Position the ball under your left eye and keep a bit more of your weight on your forward foot. Because this is not a bunker, you may ground your club (or even take a practice swing).
Make a shorter backswing than normal and focus on striking the ball first. This will help you make a downward strike on the back of the ball, giving the shot some loft.
Course ratings are derived from the exclusive 5-star Golf Digest Places to Play scale. A single star represents "basic golf." Five stars indicates "golf at its absolute best." Golf Digest's Best Places to Play guide, based upon the ratings of tens of thousands of readers, is available for $24.95.
Very good. Tell a friend it's worth getting off the highway to play.
Outstanding. Plan your next vacation around it.
Superb. Golf at its absolute best. Pay any price to play at least once in your life.
The equivalent of one-half star.
If a course has no star rating, it means that the course did not receive a minimum of 10 ballots, either because it is very new or simply was not visited by a sufficient number of Golf Digest readers. If you've played one of these courses and would like to rate it, click here.